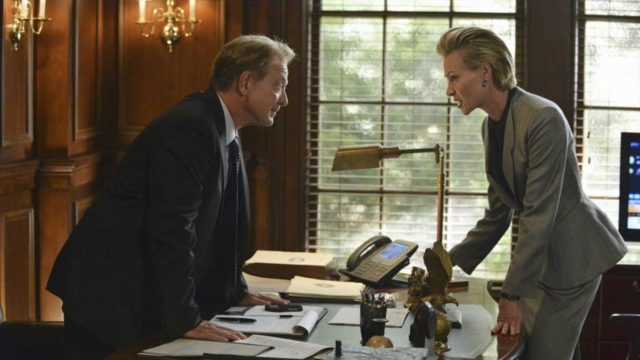 Tonight, Peus and the Mystery Woman murdered one of our beloved Scandal characters. And no, it was not Cyrus.
In "Trojan Horse," when Mellie tries to stand up to Peus and the woman, the woman uses a golf club to beat Elizabeth North. By the time Liv arrives, Elizabeth North is dead on the floor. By the end of the episode, Mellie has become the President, and Liv and Fitz decide to take on the man and the woman together.
Even though Shondaland is known to some as a place where many characters die, this is actually only the second recurring character who has been killed off on Scandal. The first was James, played by Dan Bucatinsky. In an interview with The Hollywood Reporter, Portia de Rossi, who played Liz North, said,
"It was my decision but not because I no longer wanted to be part of the show. It was more because I found a great business opportunity I wanted to pursue that was taking my interest away from acting and a career I've had for 20-plus years and putting it elsewhere that was very timing consuming."
However, even though it was Portia de Rossi's decision, we, as viewers, can't help but feel like there is more to come. By killing Liz, we are reminded of how violent Peus and the woman can be. Even though Mellie may be in the White House, Fitz and Liv are still vowing to take them down. With all that power, could more of our favorite characters be in danger?
Save
Tell us what's wrong with this post? How could we improve it? :)
Let us improve this post!