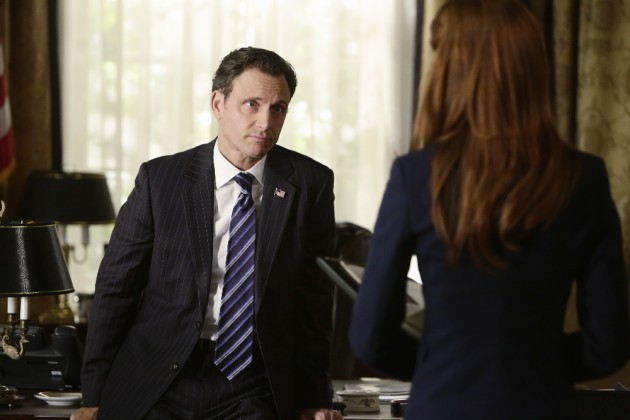 After a little break, and having left in the retina of the audience the image of Rowan Pope standing at Olivia's door behind her (sort of) new man, Scandal is back.
"I'm Just a Bill" opens with big evil Pope letting his daughter know that she has 48 hours to kill David's attempt to expose B613. Olivia, along with everyone else, knows that Rowan is not kidding around; in fact, him delivering a warning is more of a courtesy call. Rowan always wins at the cat and mouse game.
Daddy Dearest having resurfaced only adds altitude to the already high-stakes mission. Now, not only the danger becomes more imminent, but also the case turns 100% personal.
Speaking of personal matters, when Rowan leaves, Russell is on the floor and in a haze, a byproduct of whatever drug Liv's dad administered to him. In an effort to cover up what transpired, the crisis manager makes pretend that she is drunk and that Russell blacked out. The cheapest excuse seems to do the trick.
In the meantime, Marcus Walker, the ballsy activist who had became entangled with the Brandon Parker shooting and had even managed to silence Liv with the brilliant "your black card is not getting validated today," seeks for OPA's help. As it turns out, Walker is currently running for D.C. mayor and, on top of that, having an affair with Natalie, the wife of the current mayor. At this point, it becomes an established fact that happy marriages are a thing of science fiction in Washington.
The Gladiators and Liv meet with Marcus in the mayor's bedroom, where Natalie lies lifeless. In addition, her lover and now OPA client is covered in her blood. His compromising position is explained, however. Marcus and Natalie were together when they heard someone else was in the mansion, which prompted him to hide. As a result, he witnessed three masked men breaking into the bedroom and his lover being stabbed repeatedly.
Olivia suggests that they clean up the scene, dispose of the body, and pretend like no crime ever happened in front of Marcus. In all honesty, the so called "Plan B" was always the road to take. For some reason, Marcus called Olivia instead of the police. Just like in every case, it's all about the optics.
With everything set in motion, the mayor takes part in a press conference and asks for information about Natalie, while a "missing person" case officially opens. The issue at hand is that the police find emails sent from Marcus to Natalie, in which he threatens her. As a result, he is taken to the police station.
Hurricane Olivia makes her presence know at the police station, where she bluntly asks if her client has been arrested. When the captain says no, she "out-Popes" him and makes it clear that Marcus never set foot on to the DCPD premises. Once again, we are all reminded of who runs the town.
In the meantime, the B-plot of the episode shows the P.O.T.U.S. trying to do presidential things. His goal is for the "Brandon Bill" to be passed by Congress. If the legislation is approved, Mellie could benefit as well, and ride the victory wave while announcing her imminent run as senator for the state of Virginia. This causes the most under used characters, Abby, Cyrus, and Liz, to crunch numbers and come to the conclusion that the swing vote is none other than Susan, the new veep. In other words, yet again, Fitz's legacy hangs on a woman's hands. Skirts are clearly the president's karma.
Just when everyone believed that Susan Ross could be manipulated with little to no difficulty, she proves them wrong. Susan has a noble heart and seems pretty much incorruptible. Against just nodding yes and giving her vote, which would be a given move in the woman's place, she is committed to her job and insists in analyzing the 1,200-page document before making a decision. Long story short, Susan has became a pain in the neck merely because she has standards.
Meanwhile, the spy games keep developing. Jake finally gives his testimony to David and sheds light on the infamous Operation Remington. Olivia's ex unveils that both Rowan and Fitz were the ones behind a place carrying over 300 civilians being shot down. Olivia, who is present while Jake comes forward with the aforementioned bombshell, is crushed. Once again, bringing down B613 gains another personal layer. For inconceivable reasons, the crisis manager doesn't shut down the investigation nor does she comfort the president. Instead, she calls Russell.
Russell and Liv meet at her apartment, and he flat out tells her that he doesn't drink much and therefore doesn't believe that he could have been drunk. Olivia just wants to keep being Alex with him as a way to escape her complex existence. The casual–yet somewhat exclusive–friends with benefits arrangement continues between the two. As a note to that, Russell has always seemed like a plant to me, and I find it pretty shocking that a woman with Olivia's past and resources has not once tried to run a complete background check on him. I could understand Olivia trying to let her hair down, but her shutting off her gut and not taking proper measures to keep herself safe, particularly after her abduction, seems a tad unrealistic.
Back at the White House, Susan Ross tries to make sense of the Brandon Bill, which causes people to rush her even further; however, she does a great job at standing her ground. Susan is even able to freeze the First Lady out and make crystal clear that she will not be a V.P. that can be swayed in any direction. She is not a dummy, and every scene she is involved in is a delight to watch. Also, I adore the fact that every second in command Scandal has given us either has ended up being a sociopath or extremely honest, as the one constant is that they always embody a problem. They either try to kill Fitz or his bills.
When Fitz tries his luck by talking to Susan, she finally slaps some sense into him, which leads to them directing the document together and trying to formulate a new draft, which Cyrus profoundly abhors. Meanwhile, Mellie goes ahead and announces her intentions to run for Senate.
Regarding the case of the week, Olivia and Co. discover that the mayor was behind his wife's demise. His entourage hacked the email account and falsified the emails that allegedly had been written by Marcus, while the stabber was none other than his driver. As a result, Liv gives her client two options: keep his career intact or seek justice for his late lover. Later on, they confront the self-widower, who has no option but to resign. Just as the mayor steps down and Marcus is about to get a seat, he decides to announce that Natalie is in fact, dead.
Marcus, who basically said farewell to his political future, gives a truthful statement to the police, and surprisingly, no one decides to charge the Gladiators for, at the very least, "obstruction" and "disposal of a body." Then again, Olivia does seem to have the police force wrapped around her finger.
Later on, Olivia gets home just in time for another Pope vs. Pope battle. Though Rowan is threatening, Liv refuses to put an end to David's attempts to bring B613 down. She's taken a page from Marcus's book and has decided not to stand in the way of Lady Justice, even though heads will roll. All in all, now every character we know and love is in danger.
Speaking of lives at risk, Jake looks for Olivia at her office and is attacked by a man wearing a mask, who ultimately manages to gain the upper hand and subdues Ballard. The assailant removes his mask, revealing that he is Russell and then he proceeds to stab Jake while claiming that Rowan used to praise him. As suspected, Russell (or whatever his name is) is bad news and B613. Also, he probably made absolutely sure that Jake received fatal injuries, because otherwise letting him know who he is would be worse than a rookie mistake. That said, it was disappointing to see Russell, who managed to infiltrate Olivia's life, giving up free info about his identity to an agent. He worked for a covert organization; shouldn't his natural instinct be to remain in the dark? The scene is more for the shock value of the audience, but I felt spoon-fed.
All in all, the episode of Scandal had a good pace and entertained enough. However, there were sloppy elements to it, and the White House arc could easily be taken out of the installment and alter absolutely nothing.
Highlights:
– Everything Papa Joe.
– Susan has become the most entertainment aspect of the White House parts of Scandal, and though in a different manner, in this episode in particular, she wielded as much power over the Bill as Liv did over the DCPD.
[Photo via ABC]