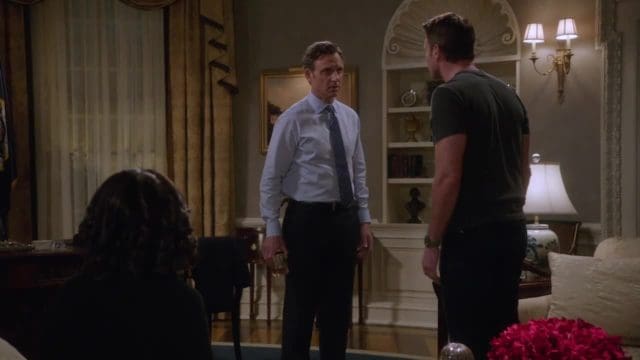 So. Scandal celebrated 100 episodes this week. Next week, we are back to the real life timeline. But before the new promo, let's recap where we left off real quick. Cyrus is still in prison. He's been beat up and knows that Tom didn't kill Frankie Vargas. He is also innocent. Huck is (presumably) still in the hospital recovering. We don't know the extent of his brain damage yet, but he's alive.
Quinn, meanwhile, has vowed to protect him, to help him with his blindspot, much to the dismay of Charlie. Abby is under the control of the man and the woman, but wants to get Cyrus out of prison. Jake thinks that they should just let Mellie be President and move on. Fitz and Olivia are both ready to fight for the truth.
Check out the promo below:
From the looks of it, David announces to America that Cyrus is indeed innocent. Even though everyone seems pretty happy about that, Rowan reminds us that by telling the truth, more blood will be shed. They are not going to be happy, and there will be consequences. Because let's not forget, Meg may be dead now, but Amanda is still dating David, and there is still that $3 million that could end up in Abby's bank account. So whilst Liv and Fitz are trying to do the right thing here, will it be more trouble than it is worth? After all, let's not forget that Cyrus is a monster for power.
Meanwhile, Mellie is not willing to give up the White House. She wants to fight for her presidency. The people may not have voted for her, but they didn't vote for Cyrus either. How far is she willing to go? Will she switch and support the other side?
Save