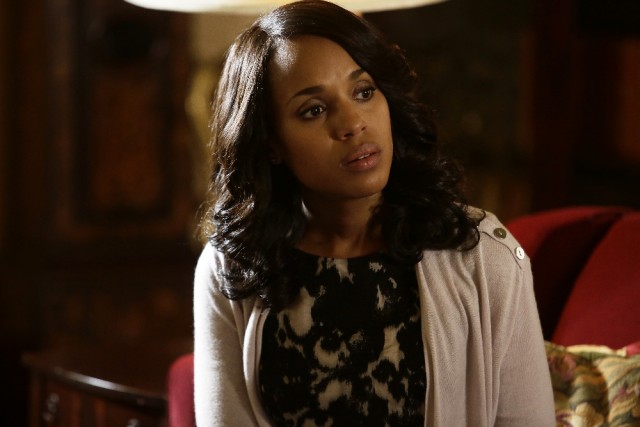 After a riveting Season 4 finale, filled with twists and shake-ups, Scandal is back.
The new season opens with once-upon-a-time vice president Sally Langston using her show "The Liberty Report" to (surprise, surprise) rant against Fitz. This time around, Sally is enraged because the POTUS is throwing an opulent dinner in honor of Prince Richard of Caledonia and Princess Emily, who happens to be American. Because she's Sally, she seems opposed to what is just plain protocol. Even though she insists that Fitz orchestrated the event in order to get Queen Isabel to agree with his plan to set a naval base in Caledonia, her segment, which is of inflammatory nature, seems gratuitous and pointless. As an ex-VP, Sally is aware that state dinners serve as a platform to close deals. Her column, however, works well on contrast with images of Liv and Fitz together.
The opening sequence does a good job setting things up, yet the fact that Olivia and the POTUS are acting so carelessly in the White House is a head-scratcher from the get-go, while Mellie being excluded from the event with the Royals makes zero sense. If Fitz really wanted that base, the First Lady would have been at the dinner, acting as the great schmoozer she is.
As the evening unfolds, Abby and Olivia gossip about the princess, who Abby judges for being defined by whom she married. This, too, is careless, since Emily hears her, and then makes a "poor princess speech" that Liv listens to intently. She empathizes with Emily, because after all, she is in a relationship with a powerful man. To that purpose, the interaction amongst the women is effective; however, it is very hard to feel sorry for Emily, a character that is superficially introduced and whose misery we don't really witness. We just acquire information through dialogue, and not the most poignant either. It's futile, at this time and age, to have ANYONE who has one way or another achieved a privileged status complaining about happiness. We all want it all, we all pay prices, and we all have choices. The princess doesn't really make a good case for herself, and in a show that normally embodies feminism, her diatribe feels 100% tone-deaf.
Cut to later that night. Emily dies in a tragic car accident reminiscent of Princess Diana's. While the paparazzi snap pictures of the royal's lifeless body, Liv covers her and asks for respect. Then she has a meet with the queen and the widowed prince, who ask her to represent them. It's a little bit far-fetched to think that the royals don't have their own team of fixers on retainer, but given that Liv is the best at what she does, let's pretend we buy it.
There are no more Gladiators. Abby is still working at the White House, and at this point of the episode, Huck's whereabouts are unknown. As a result, Quinn and Ms. Pope are in charge of finding the paparazzi who took images of the dead princess, and the media outlets that bought them in order to prevent the pictures from becoming viral. Money convinces most not to go public with the snaps, but ultimately, Liv has to raise the bet and offer something else in exchange. As a result, Prince Richard agrees to be photographed as he stares at the body of his dead wife at the morgue. However, there is still a catch: Quinn is unable to identify one of the paparazzi, and once she does, it is revealed that the mystery fake pap was not such thing, but a hacker/assassin instead. He got close to the princess' car, hacked the vehicle's computer, and caused the crash.
In the meantime, in the B-plot, Mellie throws a tantrum at Liz, accusing her of being a backstabber. The scene was the very definition of "rich." Sometimes, these characters seem to forget the games they have been playing. This time around, Elizabeth is the clear victor, yet the high of her win doesn't last long. Fitz, who had decided not to attend to his wife's swearing-in ceremony, changed his mind last minute, without informing his chief of staff, who, along with Abby, felt blindsided. That said, the POTUS took advantage of his proximity to the FLOTUS and personally delivered divorce papers to her. That makes three woman being blindsided by the same man; however, no one seems to be winning at anything.
Later on, Quinn and Olivia speculate about who could have orchestrated Emily's hit. America's best fixer wants to investigate the prince, but Fitz opposes. He REALLY wants his naval base. They argue at the Oval Office and raise all kinds of red flags, which results in Liz putting two and two together and realizing that Fitz and Liv are an item again. Here is my problem with the whole thing: as careless as the lovers have been, and given how smart Abby and Elizabeth are, the fact that they hadn't sniffed the affair seems to be a fare-fetched as a bad science fiction plot.
After the lover's quarrel, Liv finally goes back to her apartment, where she finds Huck. He is waiting for her to "fix him" because Quinn "broke him inside." Without gathering the specifics, Olivia breaks her friend's heart a little deeper and tells him that he needs more than her because she is unable to fix him. As good as the scene was, I would have loved to see more of the two. And overall, more Huck in the episode.
Out of options, Mellie visits Cyrus and asks for his help. Mirroring the events that transpired at Olivia's apartment, the former chief of staff break's the First Lady's heart when he tells her that he won't be helping her any longer. Just like with Liv and Huck, I wished the scene was longer, and that Scandal had given us more Cyrus throughout the hour.
Back in the case of the week, it is revealed that the princess was having an affair with her bodyguard and that she was pregnant. When Liv breaks the news to the queen, in an attempt to convince the woman to investigate her own son, the third bombshell is unveiled: it was the queen who had the princess killed, via hacker. Olivia, whose hands are seldom tied, tells the prince what his mother did, and Richard blackmails the matriarch, forcing her to abdicate.
Moving on, Huck pays Jake a visit, while Liv and Fitz discuss how high the stakes are for them (they always have been) and how problematic going public with their relationship would be. As they decide to wait before announcing their love to the world, Sally's segment bookends the episode as she outs them.
Throughout four seasons, Scandal has been one of those rare gems of a show. It seemed that the drama was never going to run out of steam. However, the Season 5 opener was underwhelming to state the least. It failed to provide a good follow up to the Season 4's finale and overall, it lacked the excitement that the show normally possesses.
With Cyrus, Huck, and Mellie on the outs, Scandal's balance was shaken, and their benched status affected the overall structure of the premiere. Not only is it easy to miss these characters, the glimpse we were provided regarding what they are up to now was not enough. Additionally, one of the core elements that make Scandal so enjoyable is the Gladiators coming together to solve a problem, and that was completely missing from "Heavy Is the Head." Lastly, the case of the week was not strong enough for audiences to connect.
In many ways, Scandal's premiere felt like getting back together with an ex. High expectations and a lukewarm hour killed the mood and posed questions regarding the future. Once again, I will trust that Scandal's writers will give us a great season. After all, this is a series that has lasted this long, but I admit that this episode of Scandal has got me a little bit worried about where the show is headed in Season 5.
[Photo credit: Nicole Wilder/ABC]