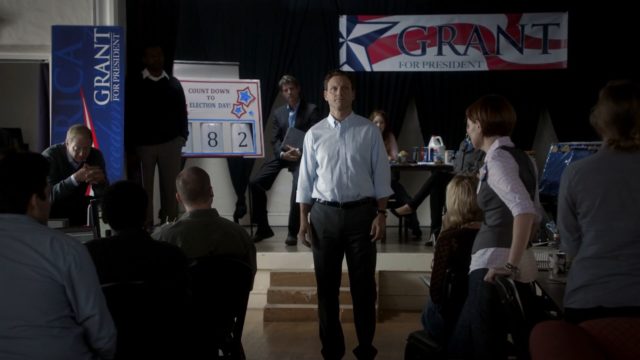 Good news. There will be two episodes of Scandal this week. The bad news? One will be a rerun. This week, at 8/7c, ABC will air season 1 episode 6, "The Trail," of Scandal during Grey's Anatomy's usual time slot. Let's revisit what happens in that episode.
According to IMDb, "As Gideon looks into Amanda's past, a series of events from the past are revisited." And whilst that may have been interesting 5 years ago, this is why you should watch it this week: Last week, we saw the 100th episode, set in an alternate reality where Olivia decided not to rig Fitz's election. In "The Trail," you get to relive how OPA really started. We'll see Huck whilst he was still broken, before Olivia saved him with her white hat powers.
We also get to see Abby, and Cyrus, and Mellie, back when we thought all these characters were good people, people who cared about more than having power in Washington. We also see David Rosen, back when he was an Assistant US Attorney. He even had his assistant, Alissa, played by Brenda Song. Remember those days? But, the main reason you should watch "The Trail?" You get to experience old school Fitz and Olivia once again.
We get to see the moment Fitz and Olivia met, the first time they kissed, and everything else afterwards. This episode is just a reminder of simpler times, before Fitz went to war over Olivia, before the politics got messy. After all, after watching them get married in the alternate reality, who wouldn't want a reminder of better times?
Whilst the 100th episode may have explored all the what if's, this episode is why we are where we are today. So before you continue watching Scandal, why not throw it back all the way to the very beginning?
Save
Tell us what's wrong with this post? How could we improve it? :)
Let us improve this post!