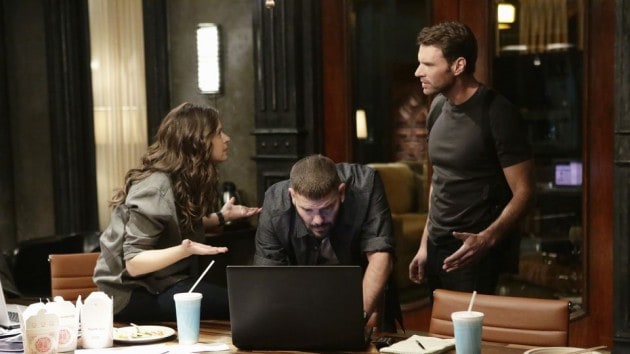 sc
This week's Scandal picks up where it left off, only this time around, the audience is not seeing things from Olivia Pope's point of view. There is no more running in slow-motion; instead, the kidnapping, orchestrated by the veep, who wants to start a war in exchange of Liv's safety, is a given fact. Now Fitz knows his sometime lover is missing, but before he can attempt to do a thing, he is notified and given proof of the fact that he is surrounded. Andrew has replaced the President's Secret Service detail by a squad of corrupt men from different agencies, while he has also added moles all over the White House in order to keep tabs on every single move Fitz makes. Even though it is unclear how the VP was able to pull such a move, what is clear is that not only he has found the POTUS's weak spot; he also has identified his blind spot and slept with his wife to boot. It is hard not to wonder if there is a curse that affects every single second in command that Fitz chooses to share the ticket with. So far, they have all turned against him, in different horrendous ways.
After Fitz demands proof of life, a still captive Olivia reads from cards what sounds like the traditional abductee speech that we have all seen far too many times. That choice to have that particular act be so standard, so carbon-copied, was a good one: kidnapping is a calculated act, while asking for ransom is itself a business; there are norms. Amidst this, Olivia's desperation to really say something, while she can only read, shines through. The look in her eyes is clearer than anything she is saying.
Given that the Crisis Manager can't plant a message for her team to decode, because she is being fed what to say to the camera (in short, that she has not been harmed, and won't be but that the price for her safe return is to declare war on West Angola), Liv still tries to leave yet another breadcrumb for the gladiators to follow. While reading the terms of her ransom, she asks for a glass of water, and she uses the glass to capture Ian's reflection, one that she knows her troupe will find. Atta girl! Now my question here would be how on earth the proficient group of captors thought giving her a vessel made out of glass was a good call. These are the same people that fooled Jake Ballard into chasing a ghost car in his underwear, the same people who made Olivia believe she was in foreign land. They had previously seen her try to break out by utilizing her bra; they knew she had outpoured and killed one of the captors, and they let the woman manipulate glass?
Meanwhile, in DC, an angry Huck terrorizes Elizabeth, who swears that she is unaware of Olivia's whereabouts. In parallel, Fitz meets with Tom, the fallen from grace agent who killed his son. Tom speaks like someone who has been brainwashed. Everything he says and the way he does it, is eerie. That said, Tom tells the president that there is no one in his entourage that he can trust and that there is only one safe place in the White House. In that very "safe place," Fitz meets with Jake and enlists his help to find the woman they both love.
Jake, Quinn, and Huck watch the ransom video that the POTUS handed Jake, and after further inspection, they find the reflection in the glass; however, that lead takes them to multiple dead ends. Ian is not on any database they can access.
In the meantime, Olivia has a conversation with Ian, where she tells him that the plan is never going to work, and that she knows that Fitz will not declare war on West Angola. She also calls her captor a pawn and a puppet, since by now, Liv figured out that he is not behind the whole scheme. In an interesting turn, Ian reveals that he is confident that the plan is going to be successful and cause a war as its byproduct simply because he bets on love, a novel notion associated to a man who is holding a woman captive.
Back at the First Family's residence, Fitz decides to make his wife privy to what is transpiring by whispering it to her ear. In an interesting turn of events, Mellie urges him to be a man. She states that they have not gone through everything that they have for a cheap screw, and that she thought Fitz loved Olivia. He confirms he does. War is ON.
In the middle of the raging war and the desperate search of Olivia, an old lady pops up at the OPA's offices and announces, to a very confused Quinn, that she is looking for "the black lady." She further clarifies that her own friend, Lois, Olivia's neighbor, is missing. With this new lead, Quinn, Huck, and Jake proceed to enter Lois's apartment in search for more clues. They find Olivia's ring, and they also take the router that the captors installed in order to execute their plan; the router helps them discover the kidnappers' identities.
Now that war has been declared, Cyrus gives the president a sanctimonious speech; however, in leu of a response, Fitz hands his right hand man a file for him to read and dismisses him. The folder has a written message, in English, no code, no attempt to cover any tracks, letting Cyrus know what is really going on. Once again, Andrew's team of eyes and ears proves a little too inefficient.
A second time terrorized, and this time tortured, Elizabeth pays a visit to the FLOTUS and lets her know that she didn't have anything to do with Liv's kidnapping; she also shows the scars resulting from Puck's antics. Just like that, the newly assembled Olivia Pope seat party team has gained a new ally.
Fitz's zipper is not the only slippery one. Andrew has a blind spot, too, and Mellie not only knows that, she is absolutely confident she can exploit that. It's an ironic plot twist that pays off tremendously. She seduces Andrew effortlessly, lets him know that she is aware that he has had Olivia taken, and then makes him believe she will be at the Oval Office by his side. It is not short of poetic justice that Andrew is taken down because he can't keep his pants on.
While Mellie pretends to be in cahoots with the VP, Olivia gets under her captor's skin. She provokes Ian by calling him a babysitter and tells him he can be a boss. Trying to cause the head of the kidnappers to rebel, she suggests he should sell her. Olivia is well aware that the President's enemies would pay top dollar for her. At the same time, being auctioned means she would be able to get presentable, which she longs. As she puts it, it would be a win/win scenario.
While Olivia's plan is set in motion, Mellie whispers to Fitz that she has taken care of the VP. After seducing him, she took his phone and proceeded to give it to Elizabeth, who took it to the gladiators. This time around, via ping, the team is able to get a location: a hangar in Harrisburg, PA. With this information, Jake enlists no other than David Rosen, who fake drug raids the location. However, they don't find Ms. Pope. Regardless of the results, it must be said that the plan was well-thought.
While the President wallows and is informed over and over that the action against West Angola is a disaster, he gets a call from a now presentable Olivia. He doesn't get more than a word out of her, though, since Ian who is now, all of the sudden, a businessman, tells the leader of the U.S. that his paramour is for sale.
Since word got out that Olivia is listed on the back market Ebay of sorts, Huck sees the chatter, which are more breadcrumbs to follow and by association, a glimmer of hope in the efforts to get the beloved Crisis Manager home, safe and sound.
"Where's the Black Lady" was a perfect episode, where the puzzle pieces were all round at first, and then they started to fit, as the characters quit scrambling and started working. The fact that there were so many powerful players at the table, and that surprising alliances were born, was very refreshing and also smart. Episodes like this one, with so many MVPs showing what they are made of and their room for growth in every front, are a clear example of why Scandal is the hit it is.
Highlights:
– Ian bets on love, yet Liv bets on her gladiators. And it's a tie. How great is that?
– It has to be said, even though Huck likes to torture, and that still irks me on many levels, I adore the fact that he is not just this damaged man who likes to see blood and scares the information out of people. He is technically savvy and at the end of the day, he is the key that opens many doors. Like it or not, he is a great asset, not only to OPA but to Scandal itself.
– Mellie is the one that gets to say "It's been handled" in this episode. Do I need to say more?
[Photo via ABC]