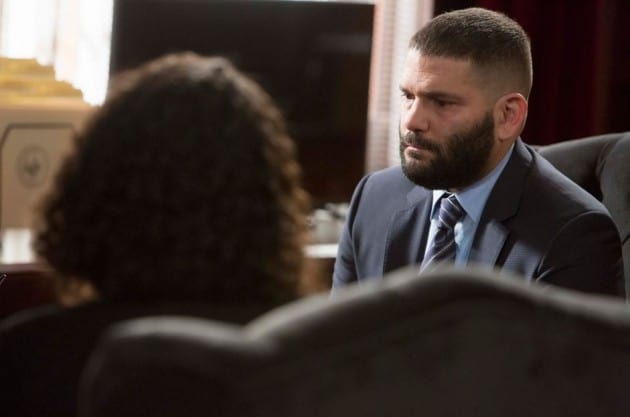 After last week's action packed episode, "The Lawn Chair," this week's Scandal opens with Susan Ross getting trained so she can appear to be more vice-presidentiable. Her first public engagement seems to be going well initially, until nerves get in the way and the woman lets out a hilarious but not very glamorous chuckle, that both renders her a joke and a ringtone hit.
Since Abby knows full well that Olivia does not want to associate herself with the White House, she summons her boyfriend, Leo Bergen, to help Susan so she can get the Senate confirmation.
Meanwhile, PTSD stricken Liv is self medicating with red wine in the confines of her apartment. Her self-imposed break ends when she hears that the landlord wants to get rid of the belongings of the neighbor who was collateral damage of her abduction. Seeing how Rose, the woman who a few episodes back trademarked "Where is the black lady?", was confronting the landlord, while still trying to find poor Lois, the Queen of the Gladiators relives the trauma of witnessing the old woman being shot, which also prompts her to decide to give Rose closure.
In a somewhat predictable turn of events, David is surprised by one Kim Muñoz, Huck's wife, who brings back to the table the B613 files. She not only announces that she has the documents, but in addition, she lets out that "Diego Muñoz," her husband, can testify and prove the ghost organization was not bogus. Rosen doesn't immediately put two and two together and therefore rushes to tell the gladiators that they have a problem. While Jake is ready to silence Diego Muñoz, Huck finally lets the men know that that is him while Kim is his wife. He also promises to handle the situation.
Even though Huck tries his best, Kim is dead set about having B613 face the music, which, let's just be honest here, is a naive notion. With Huck's hands tied, Jake suggests that he testifies. The catch is he would have to play dumb. Huck agrees to play along, and initially does so, but then breaks down and gives away some of the excruciating detail of his captivity in "The Hole," making Kim proud and bringing David Rosen close to tears. The scene is compelling and has enough things and lives at stake in it to keep the audience on the edge of its seat, the one problem is Huck knows a lot better than to do the heroic thing and risk everyone's necks in the process.
Back at the White House, Leo plainly keeps yelling at Susan, he pushes the woman so hard that his tactics backfire (surprise, surprise) and the almost VP quits: in the process she puts him in his place and calls her way to the vice-presidency a performance. It is funny that the politician had to go through "the Leo treatment" to discover the charade government can be. As much as Susan can be a puppet for Mellie and Fitz to use until "it's Mellie's turn," there is also the chance everyone, as in everyone in the world, might be capable of brainwashing the candidate; it really doesn't seem to take much for her to break, which is troublesome at best.
Damage control is necessary, and thankfully Abby decides the best course of action is to get rid of Leo and bring Liv, who now walks around her apartment holding a gun, to the rescue. Using her BFF superpowers, the former gladiator is successful at bringing Olivia over to Team White House in order to help them get Susan back, which Liv does effortlessly. The end result is that Susan goes to the confirmation hearing and charms the Senate. Having delivered, the candidate is almost Veep; however, Fitz's shenanigans in order to rescue Olivia have landed him in hot water with the Senators.
Since she cannot leave her job unfinished, Olivia talks to the president and reminds him that he, indeed, played with democracy. A puppy-eyed Fitz follows Olivia's wise advice and makes nice with the Senate, which leads to him and Mellie finally having Susan confirmed as vice-president.
Intertwined with the quest to get Susan to be the VP is Rose and late Lois's arc, which is set into motion after Rose keeps coming back to Olivia, who gets the gladiators to find out what happened to her innocent neighbor. At the same time, Liv discovers that the two elderly woman had virtually been in one another's lives since they were teens. They had been apart for a number of years, after Lois's parents suspected that they were too close for comfort, but had managed to get back together. Yes, they had lived a love true love story that could not end in a question mark.
The gladiators track Lois's body, thanks to the serial number of Lois's hip replacement that Rose provides them with. The woman's body was left in a state park, and Liv decides to romanticize Lois's cause of death to Rose, so she can get some closure without the nightmares. After all, aneurysm is a far better path to death than a bullet. Rose is heartbroken yet she is not looking for answers anymore. At the same time, helping the woman played an important part at giving Olivia some closure of her own. As a result, when she returns to her apartment, she disposes of the couch cushion that was stained with red wine, as a clear reminder of her abduction.
This episode of Scandal was well executed and powerful. It succeeded at keeping a grip on the audience; however, it was not as strong as its predecessor.
Highlights:
– David Rosen restarting his fight against B613 seems very promising, though completely dangerous. In my opinion, David, too, is someone who needs closure, and those files cost him his relationship with Abby. The least he deserves is to fight a good battle.
– Leo bullying the vice-presidency into Susan. Granted, his methods are cruel, but his take on things is unique. It is a risky move to basically state that a person has to be broken and corrupted to the core for that individual to make for a good candidate.
[Photo via ABC]