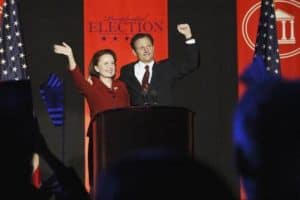 Was that incredible or was that incredible? I think this was truly the episode that Scandal has been leading up to all season.
Even though there was a bit of bouncing around between the flashbacks, present day at David's office and Gideon's apartment, overall the story that was told was definitely powerful. When Sally, or as I will always call her Ellis Grey, signed on as Vice President during Fitz's campaign she quoted the bible to Billy Chambers.
Her quote referenced something that went like 'Burn the weeds and save the fruit, but for now let them grow.'I'm not religious, but my interpretation of her mentioning this was that sometimes it takes longer for a plan to come into action or the truth to come out, but in time things will fall into place.
I know up until this week there was a lot of mixed feelings and dislike for the President. After all, we thought he knocked up Amanda Tanner and possibly had her killed. After the conclusion of last week's episode when we knew he wasn't the father and he showed up at Liv's apartment we knew that something was way off.
This week explained everything; especially during the montage at the end that alternate between the three main scenarios when everything was pieced together. Billy Chambers and Amanda Tanner were in on it together. He was the babydaddy. They were planning on blackmailing Fitz and getting him impeached to get Sally to take over the presidency. After all it's whom Billy originally endorsed.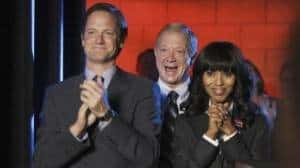 I can't believe I'm saying this, but I'm suddenly team Fitz and Olivia. Let me clarify that I don't condone extra-marital affairs; but let's also not lie- Fitz and Mellie were DOA. They put on a great show, a twisted but great show. It's clear that Mellie plays the role of first lady but isn't in love with Fitz either. Faking a miscarriage was just whoa.
Damn, you can't help who you fall in love with and that chemistry between Liv and Fitz was just palpable. The 'one minute'scene at the end had me all misty eyed. Sure the sex scene was steamy, but that one-minute of cuddling and the mere pinky brushing on the bus had my heart racing more than anything. I don't know how to describe it; it's just there.
One of the best parts about the flashbacks was seeing where the rest of Pope and Associates were. Huck in his homeless man attire, Abby in her Martha Stewart phase, and Harrison in on probation but still schooling people the way he does today was just perfection. However, getting to see the bond between Cyrus and Olivia had me question how she could ever blame him for murder. I am really surprised at that.
So now we have a hell of a lot more answers but a possibly dead journalist on our hands. One week until the season finale. Time to place your bets!
Tell us what's wrong with this post? How could we improve it? :)
Let us improve this post!