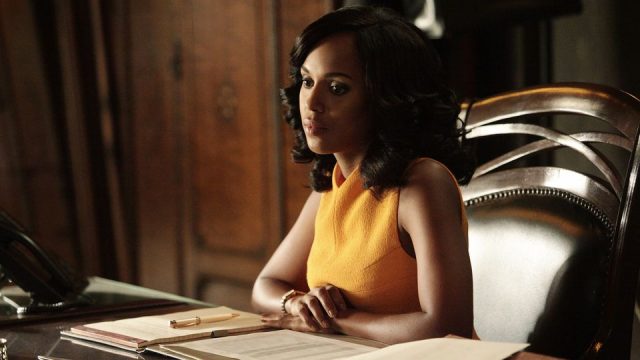 Scandal's fifth season will wrap up on ABC in a couple of weeks, but news is already breaking about Scandal Season 6. This bit of news doesn't have to do with any of the crazy, OMG storylines that fans of the series are used to seeing; instead, it's more of a real-life plot twist. ABC has officially cut the Scandal Season 6 episode order from 22 to 16, according to TVLine.
So what's the reason for ABC's decision? Why would the network shorten a season of one of its most popular series? The answer is pretty simple: Kerry Washington's pregnancy. As fans of the show will remember, this is similar to what ABC did two years ago, when the network reduced Scandal's Season 3 episode order from 22 to 18 due to Washington's first pregnancy.
It was recently revealed that Scandal's leading lady was pregnant with her second child, and as TVLine also reported, the news of Washington's new pregnancy had the network contemplating whether or not to hold Scandal Season 6 until midseason. As of right now, that midseason premiere date has not yet been confirmed (and probably won't be confirmed until ABC comes out with its fall schedule in two weeks), but it appears to be a very likely option, as it would allow ABC to air all 16 Season 6 episodes of the drama uninterrupted beginning in January or February.
Scandal fans, what do you think about this Season 6 news? Are you bummed that you'll be getting less episodes of Olivia Pope and the Gladiators next season, or do you think a shortened episode count could help cut out filler and give Scandal more creative energy? Comment below and let us know.
[Photo via ABC]