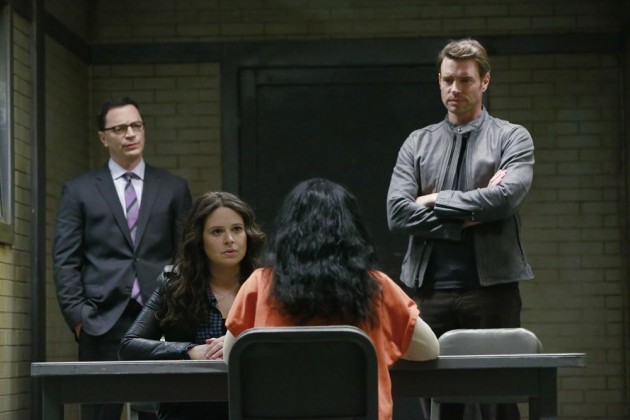 The new installment of Scandal begins with a still in the dark Abby waiting to meet Olivia on "their" park bench, holding two cups of coffee. When her BFF fail to show up, the now White House staff member calls Liv, only to be greeted by the answering machine. This propels Abby to pay a house visit and find the red wine stains inside Olivia's empty apartment and, subsequently, to barge into to the OPA headquarters. Quinn and Huck deflect every question made by Abby and then tell her she is not a gladiator anymore. She is part of the White House; they cannot trust the White House. The whole sequence is heartbreaking.
Back at the aforementioned White House, Fitz is expressing his concern to Mellie about Olivia's well-being, and his wife assures him he'll get Olivia back. How supportive and proactive the First Lady has proven to be is both endearing and strange, yet before those mixed feelings can be processed by the audience, or even the First Couple, Cyrus enters the room bearing vengeance in the form of executive orders to terminate the entire Secret Service staff and to sign in the Navy Seals as the new detail. To boot, Mr. Beene also has in his possession the VEEP's resignation letter. While all of those papers Cyrus carries seem very purposeful, there is still a problem: they are nowhere close to getting Liv back. Fitz decides it is time to play dirty and asks Cyrus to summon Jake: the White House will take part in the bid for his on-again, off-again woman on the side, but a woman he'll always love.
The President and his advisers, plus Jake, discuss their course of action once Olivia's auction goes live. Fitz highlights the obvious; he is negotiating with terrorists. Then Jake fills in the gladiators about the POTUS's plan. Huck wholeheartedly believes Olivia is toast and thinks about the worst case scenario, which he describes in detail, on one of those almost panic attacks that he sometimes exhibits. Jake suggests they get money and buy her back, but Quinn shuts the idea down by reminding her teammates that they don't have the kind of dough needed; they are no match when it comes to comparing bank accounts with criminals. This causes Huck to blurt out that he has the capital: over two million dollars that he transferred from BC16's account to his own. He considered that to be back pay from the time he was at The Hole. Now that there is an obscene sum of money on the table, the next step is to find the "dark net" where the auction will take place.
In the meantime, seconds before the auction starts, Olivia feels insulted by Ian's calculation that she might be worth around $500 million, and she tells him she is not worth a dollar under a billion dollars. Ian's face lights up like a Christmas tree, but his glory is short-lived; all of a sudden, Gus, the man who Liv had hit, and who had also expressed his opposition to the new plan, pulls a gun and shoots Ian, getting blood splattered all over Olivia's face. While she is in shock, the bidding starts. Millions are offered while the new boss tries to terrorize Olivia, who uses her sharp tongue to fight back. As it appears, Gus, who was initially so against following Liv's auction suggestion, is very much on board and in charge.
Given the fact that the OPA team is struggling to find the auction, they reach the conclusion that they need an invitation to be part of it, and in order for that to occur, they must have an "All Star," a well known international terrorist, on their corner. David, the always honorary gladiator, and the official gladiators pick none other that Olivia's mother to be their All Star. They see her in prison, and Maya agrees to help only if she gets a few perks in return, such as a library, books, cellmates, etc. In other words, the woman has been bored to death for years. David says no to every demand; however, Quinn finds a middle ground and suggests to hang a flatscreen tv outside of Maya's cell. A deal is made.
Since something has to be done regarding Andrew, and he as not only denied to resign but also threatened to expose the true reasons why there was a military intervention in West Angola, Cyrus pays a visit to Elizabeth, who seems to be packing. He tells her that there is no way she can run away, since he has put her on over a dozen watch lists and reminds her that he will always hunt her down. Then he announces to her that she will have to testify against Andrew, in exchange, she will not go to jail, but will forever work for him. Blackmail has always suited the President's right hand.
Over at wherever it is that Olivia is being held, while the warm body of Ian lies cold still where he was shot, Gus and the hackers look at the evolution of the auction. Olivia eyeballs the phone over the coffee table. For some unthinkable reason, the three captors do not seem to think that having their backs to her is a mortal mistake. The new boss is so overtaken by the dollar signs that he appears to have forgotten that the petite woman he is now selling caused him to have to get 17 stitches. However, Gus gets the phone, shutting another door to freedom for Olivia.
Later on, Gus is nowhere to be seen. Because he has not leaned that Liv has the ability to actually turn her own captors and feed them different strategies, this gives her the opportunity to pull a Will McAvoy speech on the hackers. She tries to convince them that if they go along with Gus's plan, they will never be able to make their dreams come true. She also promises them that if they release her to the U.S., they will be protected and compensated. Unfortunately, one of the hackers tells her his family struggled his whole life, and that he dreamed of money. Then the bidding reaches a billion dollar offer. Cutting the head of the snake for a second time seems to be an impossible task now. Money always does the talking.
Over at the White House, Abby is distracted while briefing the President. Fitz asks her what is going on, and when she confesses she is worried about Liv, for the first time, he decides to brief her. This new information causes an enraged Abby to yell at David for not making her privy to Olivia's abduction. David simply tells her she had no right to know. However, Abby makes a compelling case as to why she should have been told that her only friend had been kidnapped. David pours her a drink and tells her that Liv is not her only friend.
At night, Fitz joins Mellie, his now buddy, at the White House balcony. In one of her bursts of honesty, Mellie declares that they both sleep better when Olivia sleeps between them, and as crazy as that sounds, evidence proves she is right. They both seem to really like each other again. What once divided them has now bonded them. Mellie also tells her husband that they have to let Andrew go free, or he will spill the beans about their affair. They embrace and talk about their hopes and dreams, during which Mellie comes clean with what we've always known: she wants to run for President. Fitz accepts to let Andrew walk. It is wrong, but Mellie deserves that much.
In a dark office inside OPA, and after Jake had to cut a few heads, given that Huck followed Maya's instructions and killed three man, Olivia's boyfriend and Quinn discuss Huck's darkness. Jake is clearly worried, but Quinn still vouches for her ex. Speaking of the devil, he barges in and announces that Maya's plan did work; they are now part of the auction. He also explains how they can now trace Liv's location. The problem is that whilst they attempt to do just that, the auction is suspended, and they are in the dark once again.
In parallel, Olivia gets woken up and smells the "You have been sold to Iran." Practically at the same time, Fitz is briefed about the same thing and advised that the best course of action is to neutralize the asset. He, of course, refuses to.
While everyone is scrambling as to what to do next, a hooded Olivia is delivered to whoever paid top money to get her.
"Gladiators Don't Run" was yet another Scandal episode that delivered both entertainment and quality. As always, it was interesting to see new alliances forming, power shifting, and old bonds being reconfigured. That said, every character had the chance to shine, and that balance underneath the spotlight made the episode solid.
Highlights:
– Abby being the only character who was not actively trying to get Liv back was an excellent call. That way, she was able to become the part of Scandal that shows raw feelings. While everyone else was scrambling, she was being hurt for being shut out. She also had to come to terms with the fact that Olivia is her only friend and that she is not a gladiator. Added to that she was singled out as the one non participant on her pursuit, it is understandable why she felt so betrayed and powerless. Her situation, as the friend, was also the most relatable one, considering the context of the episode.
– Jake offering to cut heads instead of Huck seems brutal and heroic in equal measure. It is not 100% clear if he offered to do such a thing because that was his way of showing compassion towards Huck or because he was afraid the thrill of decapitating would turn Olivia's friend into a monster. He did refer to Huck as an animal, though.
– Huck stealing BC16 money was brilliant. He mentioned it so casually that the impact was even bigger.
[Photo via ABC]