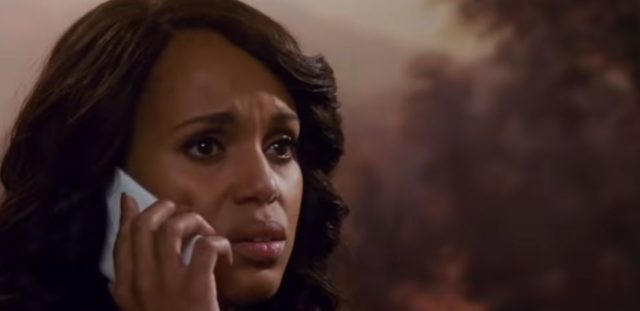 Right after Scandal ended last night, the promo for next episode came on. And now, we have a preview video below: The log line for Season 6, Episode 13 is as follows:
"As the future of the country hangs in the balance, Olivia and Fitz are at odds with Rowan, and Jake employs surprising tactics to manipulate the Mystery Woman, on "Scandal," airing Thursday, May 4th on ABC."
What stands out about the promo is that it is completely different from the log line. Not a lot is mentioned about Jake's "surprising tactics," which will certainly be a surprise indeed. In addition to that we don't see a lot about Liv and Fitz being at odds with Rowan. We only see Fitz grabbing him by the jacket. Instead, the focus of the promo is to show that Peus is in control.
It's interesting to note that Peus will be the one with all the power in next week's episode. As he threatens to detonate 9 bombs, I am curious to see how he handles this new power of his. Before this, Mystery Woman was always the one making the demands and setting up plans, so I'm excited to see how this changes with Peus.
Also, side note, let's just recap the rapid shots we see towards the end of the promo. We see David Rosen punch a blond woman (Mystery Woman?), we see Fitz accuse Rowan of working with Peus and Mystery Woman, we see some sort of chip, and we see a knife in blond hair. Could this episode be the end of Mystery Woman? Was Jake there to clean up the mess? It also looks like Mellie may want to offer herself up. The promo ends with Peus informing Liv that one drone has gone off, and there are 8 more to go.
Check it out below!
Tell us what's wrong with this post? How could we improve it? :)
Let us improve this post!