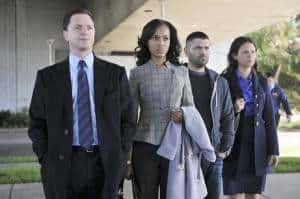 Scandal's latest installment 'Crash and Burn'provided us with perhaps the most heart-pounding episode to date. We left off last week with the abduction of Amanda Tanner and wasted no time jumping into the search for her.
Each week we learn a little bit about the team at Pope and Associates. This week it was all about Huck. I have to say I was totally hooked.
I felt the same way as Quinn when she said to Harrison, 'What could possibly be more important than Amanda right now?'Then we saw the plane crash and jaws hit the floor.
I have to say, I know that a plane full of people should trump the search for one missing girl, but I felt so invested in the story of Amanda Tanner that I felt it difficult to get involved with the plane crash investigation.
Huck has always been somewhat quiet but at the same time all knowing. Alas he is not just some super smart tech guy, but rather the ex-CIA black ops guy who used to go all Dexter on people.
We found out that he was so warped in the head from his life in black ops that he ended up homeless and living on the subway when Liv found him and saved him. It's this loyalty and gratitude to Olivia that allowed him to slip back into his old habits in order to find out where Amanda's dead body was.
Now we get the next big piece of information, Amanda was pregnant but it wasn't the President's baby. Someone else is blackmailing the President and calling for his resignation. Olivia thinks that Cyrus is behind Amanda's murder but I'm not so sure. I am sure that the first lady knows far more than she leads on and that there is something shady about the Vice President.
Anyone else want to chime in with theories? All I know for certain is that Scandal keeps getting juicier!
Tell us what's wrong with this post? How could we improve it? :)
Let us improve this post!