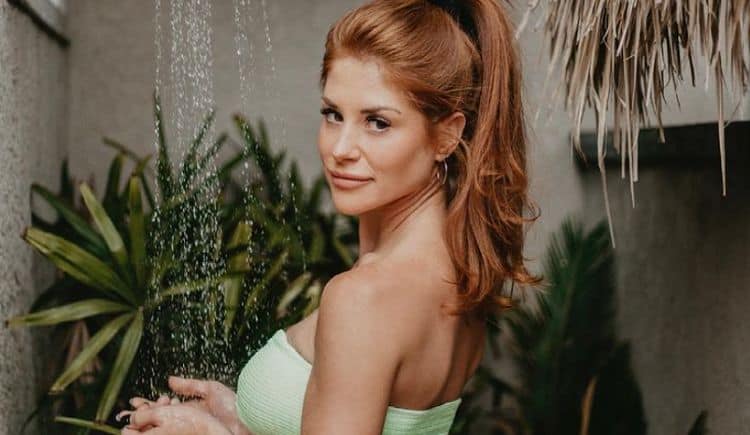 Every season of The Bachelor is full of its fair share of surprises, and so far, it looks like season 26 isn't going to be any different. During the first episode, Bachelor Clayton Echard found himself on the other side of the competition when three women decided to eliminate themselves. Among them was Samantha Jeffries. Many people happened what happened to the beautiful redhead, but even in her short time on the show, she got a lot of attention from viewers. Although her quest for love on The Bachelor won't be going the way she initially planned, she is still grateful for the unforgettable experience. Here are 10 things you didn't know about Samantha Jeffries.
1. She's An Occupational Therapist
One of the reasons why Samantha has had a hard time finding love is because she has been so focused on her career over the years. She is an occupational therapist and she really loves what she does. We weren't able to find any specific information on where Samantha works or how long she has been in the field.
2. She's An Ohio Native
Samantha is originally from Ohio and she's very proud of her roots. Being from the Midwest is something that she and Clayton would've had in common. He is from Missouri. These days, however, Samantha lives in the San Diego area and it looks like she's really enjoying being a California girl.
3. She Loves To Travel
Even though Samantha has been very focused on her career, that doesn't mean she hasn't taken the time to enjoy life. She loves to get out and see as much of the world as she can and she has gotten the opportunity to visit some very cool places. Some of the countries she's been to are Mexico and Croatia.
4. She's A Dog Mom
Samantha is a very dedicated pet parent. Her dog, Millie, is her pride and joy and Samantha even has a highlight section on her Instagram profile dedicated to Millie. Samantha doesn't just love her dog, though. She is a very serious dog person and she plans to open a dog sanctuary one day.
5. She Didn't Feel A Romantic Connection With Clayton
Lots of people are probably wondering why Samantha chose to leave the show, and the answer is actually pretty simple: she just didn't feel any sparks with Clayton. In an Instagram post, she wrote, "Clayton and I privately talked night one. He was attentive, charming and kind. However, a romantic connection is important in a relationship. And I've made it a point in my life to not force anything I'm not feeling. As much as I wanted to stay, it would not have been fair to try to take his heart, as well as take the opportunity away from a woman who was all in."
6. She Wants To Have A Family Some Day
Samantha loves being a dog mom, but she also wants to have children someday. Having a family is one of the things she's really looking forward to. That said, she is back to square one when it comes to finding the perfect partner. However, she isn't giving up on love or starting a family.
7. She Loves To Go Skydiving
Samantha is a very adventurous person and she loves a good thrill. While most people are terrified at the thought of jumping out of a plane even once, Samantha has already gone skydiving 12 times. It wouldn't be too surprising if she decided to go skydiving a few more times before it's all said and done.
8. She's A Social Worker
Although Samantha is an occupational therapist, she initially went to school to study something else. She attended the University of Cincinnati where she earned a bachelor's degree in social work. Her Instagram bio notes that she is a licensed social work although it's unclear whether she's ever worked in the field.
9. Her Faith Is Important To Her
While we don't know the specifics of Samantha's religious beliefs, it's clear that her faith plays an important role in her life. Her Instagram bio contains "Jeremiah 29:11". The verse reads, " For I know the plans I have for you," declares the Lord, "plans to prosper you and not to harm you, plans to give you hope and a future."
10. She Loves Music Festivals
Samantha loves listening to music but she doesn't just like to do it through her headphones. Going to music festivals is one of her favorite things to do and she particularly enjoys EDM festivals. All of the music fans out there know that nothing compares to the feeling of a live show.