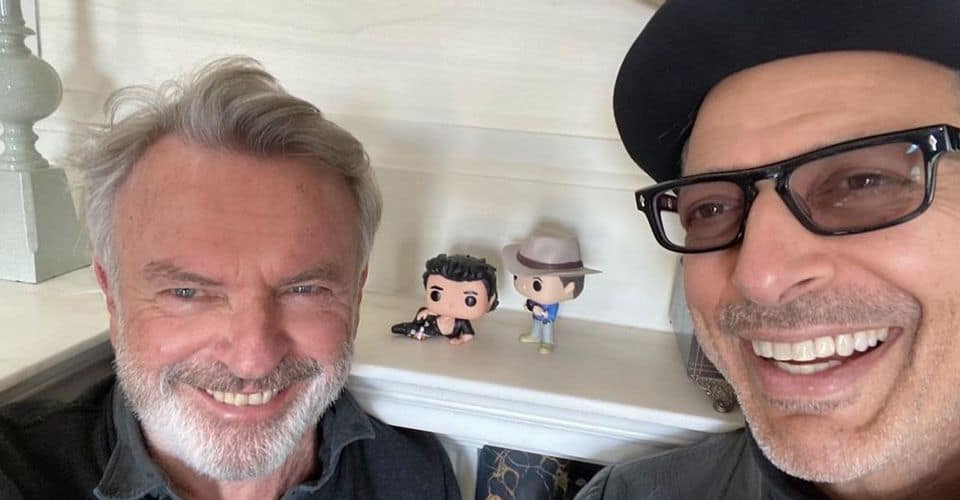 That's a rather special friendship right there to be certain since the Funko Pop of both men puts their Jurassic Park characters into perspective quite nicely as the Ian Malcolm Funko has been a big hit since it arrived, and while the Alan Grant Funko might not be quite as popular, together the duo is a must for any collector. As two of the actors that kicked off the whole Jurassic Park idea, Sam Neill and Jeff Goldblum have been friends for quite a while, and in order to celebrate Goldblum's birthday, Neill posted this picture of the two of them standing in front of Neill's mantle with their iconic images in the background. It's easy to say that a lot of people that star in blockbuster movies might form lasting friendships and get along with each other over the years as they stay in touch. But to have the likeness of your costar on your mantle, that's a special and touching kind of remembrance that means a little something extra. Plus, having your costar's likeness in this fashion is, well, hilarious and definitely telling.
These are two of the OG's of the Jurassic Park experience after all, and to think that they've stayed in touch and remained friends for so long is nice to hear, especially since the word is that in Jurassic World: Dominion, they'll be joining up with Dr. Ellie Sattler, aka Laura Dern, again in order to take on the issue of dinosaurs that are running loose in the wilds and suburbs of North America as it was made clear from the ending of the last movie, Fallen Kingdom. With dinosaurs wandering the continent it's fair to say that there's going to be a bit of trouble, to put it lightly, since humans and dinosaurs have never existed together in the same space in such a capacity, at least not since Jurassic Park II, when the foolish attempts to bring dinosaurs to the mainland as attractions failed miserably, letting a T. Rex loose in San Diego, which proved to be disastrous
Of the cast members that have been a part of this entire experience, only Dr. Ian Malcolm has been able to see the effect of dinosaurs on the island and on the mainland, so he has a bit more experience than others when it comes to this type of situation, but even he is bound to be at a disadvantage since in The Lost World, there was only a single T. Rex loose. In Dominion, there are going to be many, and there's no way of telling how the dinosaurs are going to react to their current surroundings. A short clip was released a while back concerning a dinosaur encounter with a family that were camping in their trailer, and it was anything but peaceful. Bringing back the original characters from the first movie is bound to prove interesting since while Goldblum is the only one that's had a part in the Jurassic World movies at the moment, Neill and Dern did manage to make it back of the third movie, which was thought to be less interesting than the first movie somehow. To be fair, people didn't really know what to think about the second movie either, despite the fact that there were more dinosaurs and the same effects that had been made just a little better.
Whether Neill and Goldblum had known of each other before the movie or not is kind of irrelevant since this expression of friendship is kind of nice and uplifting, but it's also a good sign that it's one that's filled with a lot of good humor as well since to be honest, I'm not sure I would be be putting a Funko like this of a friend on my own mantle. All due respect to Jeff Goldblum, but that pose has driven a lot of people wild, while others have just rolled their eyes and enjoyed the actor's eccentric nature on camera. With that being said, one can't help but appreciate Sam Neill for a moment like this since it is amusing and it is something that is bound to get passed around the internet for a while. It's going to be a lot of fun to see Neill and Goldblum on the same set after so long.
There is a belief that we'll get to see them both in the next Thor movie as well, though this feels like a bit of rumor, though it could be real. Whatever happens, it will be nice to see these two together again, and it will be interesting to see if time will have softened them to each other or not, since Alan Grant and Ian Malcolm weren't enemies, but Malcolm wasn't exactly Grant's favorite person through part of the movie.