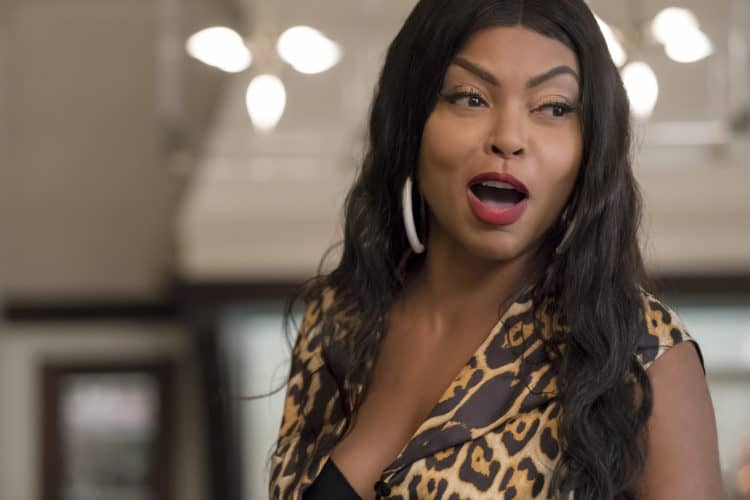 Actors are artists first. The task they have is to breathe life into characters and portray them as best as they can. Roles come in all shapes and forms; minor ones, major ones, roles that are easy as pie, some that require nudity, others that are too chaste, and it goes on and on. Once in a while, an actor comes across a character that raises an eyebrow, or a job that they deem too risky, either because of the nature of the character they are to play or circumstances surrounding the making of the film or television show. These characters fall in either of those categories but managed to pay off in a big way for the actors:
1. Taraji P. Henson As Cookie on "Empire"
Asked what she thought of her character Cookie from the hit show Empire, Taraji P. Henson said she almost turned down the role. " She scared the hell out of me. She beat her son with a broom. She dropped the F-bomb on her gay son and I was just like, 'People are not gonna like her.' But that was me judging. So, once I stepped back and I stopped judging and I looked at her as a human, then I was able to empathize and I was like, 'You know, I can bring some humanity to her." Lucky for Taraji, Cookie became a fan favorite and earned her a B.E.T Award for Best Actress. Taraji also received a Best Actress Award at the Critics Choice Television Awards, and the Emmys. A spin-off of the show, starring Taraji, is also said to be in the works.
2. Jennifer Lawrence As Katniss Everdeen in " Hunger Games"
For Jennifer Lawrence, taking the role of Katniss was a risky affair because she was a big fan of the book and was afraid it would be ruined. In fact, Lawrence nearly turned down the role. Speaking to Robin Roberts, Lawrence revealed that it took her days to make the choice to take the role because she was worried she'd be bored after making the first movie. Fortunately for her, that was not the case. In her portrayal of the role Katniss, Lawrence went on to earn herself a nomination for Best Actress at the New York Film Critics Circle Awards. She also earned herself the Best Actress Award at the Saturn Awards, Broadcast Film Critics Association Awards, and the Empire Awards.
3. Michael Rainey Jr. As Tariq St. Patrick on "Power"
Sometimes characters start out nice and wow the audience, but slowly morph into being unlikeable. That's exactly what happened to Tariq St. Patrick who ended up being a 'spoiled brat', getting his twin sister killed, and eventually killing his own father. By the end of the show, it was clear that Tariq wasn't in the good books of fans. What was unprecedented was that Rainey would get his own spin-off, Power Book II: Ghost, that fans are loving. Umy Aziza, a fan of the spinoff series, writes: " It's simply amazing how you got us hooked all over again. I was a little skeptical about how Book II would turn out. But I'm here, in love. Love how Tariq is turning into Ghost in his own rules. Can't wait to see how it all unfolds. In the end, I hope they make up with Tommy. He did learn his trade from him after all, and they were really close in the beginning. Looking forward to the rest of the season."
4. Matthew McConaughey As Killer Joe Cooper In " Killer Joe"
For a long time, Matthew McConaughey had been boxed into the romantic comedy scene. Having appeared in films such as How to Lose a Guy in 10 Days, McConaughey found romcoms to be easy. Speaking to Associated Press, McConaughey said, "There was a time two years ago when I was receiving romantic comedy and I was receiving action adventures that I said two things: 1, 'I feel like I've done that before.' 2, 'I like it but I could do it tomorrow.' And I said 'You know what? I don't want to do something that I feel like I can do tomorrow. I want to do something I go 'Woah! That turns me on, but I don't have the answer.'" So McConaughey took a 20-month hiatus from Hollywood and returned with a new identity away from his rom-com past. Roles like Killer and Mud marked McConaughey's 360-degree career pivot.
5. Lupita Nyong'o As Adelaide Wilson in 'Us'
For Lupita Nyong'o, some roles are scarier than others and playing Adelaide Wilson in the film Us was one of those roles. Just like Matthew McConaughey, the 12 Years a Slave actress likes challenges. " I think when you are afraid of something, it's because it's something in yourself that you haven't explored. It's the fear of the unknown. I think that's what leads us to be close-minded often." Nyongo said at a past interview. Lucky for Nyong'o, Us became a worldwide hit, grossing an estimated $255 million against a $20 million budget. The film received numerous awards and nominations and achieved critical acclaim.
Brandon, a viewer of the film, who was impressed with its execution, wrote of it: " I find myself thinking about Us time and again due to how unforgettable and fresh the movie was. Right from the start, the black screen with the information and underground tunnels instantly works to set the unsettling mood. For once in a movie, I could really feel and relate to the anxiety and fear that Adelaide had when going to the beach. I had goosebumps, chills, and was absolutely speechless with it all. The plot twist, in the end, makes you watch the movie in a different way which I love." Brandon's analysis only confirms Taraji P. Henson's hunch that humanizing characters does work in the end. The actor has no control over the audience's reaction, but that process of giving a character life, however scary, can morph into something beautiful that audiences appreciate. That said, shouldn't actors take more roles that scare them? So far, the formula seems to create top-notch art.
Tell us what's wrong with this post? How could we improve it? :)
Let us improve this post!