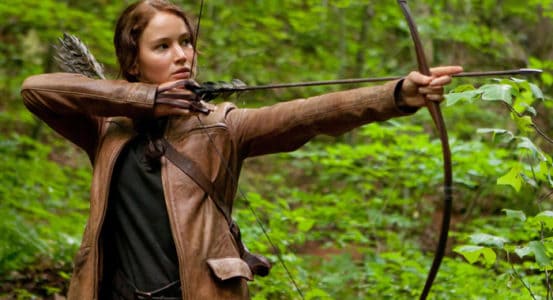 Acting is an unconventional career path. An actor's life, therefore, is far from the norm; early call times, ridiculous hours, and irregular paychecks. Perhaps Michael B. Jordan put it best when he said," As an actor, it's such a solo mission…It's a fearful business. It's a lot of uncertainty. You never know what's gonna happen and what the future holds." It's not uncommon to find aspiring actors taking up odd jobs to make ends meet while they keep attending auditions. Rejection can take a toll on any upcoming actor, no matter how strong. For one to make it, a strong belief in the craft and passion go a long way. While some are lucky to land roles that catapult them to fame straight away, that's not always the case. A lot of trust in the process is needed, and in the 2010s, these actors put in the work enough to land their biggest roles:
1. Jennifer Lawrence ('Winter's Bone', 2010)
Prior to becoming one of the highest-paid actresses in Hollywood, Jennifer Lawrence was deep in the business, trying to find her footing. Hers was a journey that began when a talent scout singled her out in New York, leading to her first job in an episode of Monk. Her big break came in the form of 2010's Winter's Bone, in which she played the role of Ree Dolly, a part that earned her an Academy and Golden Globe nomination.
2. Octavia Spencer ('The Help', 2011)
As an actor, Octavia Spencer has a single goal; to find the truth in every situation. " If I'm not truthful, then you see an actor acting," she says. Hers, therefore, is a story of years of hard work coming to fruition, given that her career dates all the way back to 1996 when she played the role of Nurse Annette in A Time to Kill. It wasn't until 2011 that the world got to experience Octavia's magic as Minny Jackson on The Help, and give her the ultimate nod.
3. Dane DeHaan ('Chronicle', 2012)
DeHaan's career began when he was an understudy on Broadway. Born to a computer programmer and an executive, the actor made a name for himself by portraying teens even when he was way in his 20s. DeHaan's first role on television was that on Vincent Beckwith on an episode of Law & Order. In 2012, he landed his big break when he appeared on the Josh Trank-directed movie, Chronicle.
4. Chadwick Boseman ('42', 2013)
Acting wasn't Chadwick Boseman's first love. At Howard University, he studied what happens on the other side of the lens; writing and directing. He was introduced to the stage through his brother, who was a terrific dancer. When he was getting started, he thought of film as an 'ambiguous concept'. Little did he know that it was a matter of years before he would land the role that would change his life, that of Jackie Robinson on the biopic, 42. On his approach towards the role, Boseman said, " The thing that set in once I had a week of celebrating was, children would know Jackie Robinson from my performance."
5. Jack Falahee ('How To Get Away With Murder', 2014)
Jack Falahee's love story with How To Get Away With Murder began when he first saw the script, and it was love at first sight. "…Captivated me. From the first page, I was hooked and I was tearing through it to see what would happen to these law students," Falahee said in an interview with Be Asia. The actor, whose career will be a decade old in 2022, played the role of Connor Walsh until the show ended in 2020.
6. Lupita Nyong'o ( '12 Years A Slave', 2013)
In 2014, Lupita Nyong'o gave the world a phrase that would stand the test of time, " No matter where you're from, your dreams are valid." None but the Oscar Award-winning actress embodies those phenomenal words, as her journey to landing a role In 12 Years A Slave did not come easy. In between, she worked as a production assistant, starred in a couple of films such as Shuga, and wrote and produced a documentary.
7. Constance Wu ('Fresh Off The Boat', 2015)
In 2019, Constance Wu made headlines when she expressed her disappointment that Fresh off the Boat, the very show that made her a household name, was being renewed for another season. Later, when shooting wrapped for the final season, Wu shed a couple of tears, saying, " I just really loved the cast and crew so much. It was really sad." Fresh Off the Boat goes down as the job that opened a ton of opportunities her way, given that her career dates back to 2006.
8. Millie Bobby Brown ('Stranger Things', 2016)
In the history of major awards, Millie Bobby Brown holds the record as one of the youngest actresses to ever get a nomination. For her role as Eleven on Stranger Things, she received two Emmy nominations and an equal number of Screen Actors Guild Award nominations. Asked who her first role model in the industry was, Brown mentioned Hannah Montana, who she wanted to be like. We'd like to guess she's living that dream, in a different way.
9. Tiffany Haddish ('Girl's Trip', 2017)
Of all actors and the roles that got them known, none is as close to one's personality as Tiffany Haddish's character off of the 2017 box office success Girl's Trip is. Haddish weathered a tumultuous childhood and found refuge in comedy. Little did Haddish know that stand-up comedy would eventually lead to her winning a Grammy with a Netflix special, and starring alongside some of the best actors and actresses of our time.
10. Letitia Wright ('Black Panther',2018)
For Letitia Wright, the road to having a role on the cult classic Black Panther was a long one, and spiritual at that. At some point, she decided not to act anymore, and dedicated her life to Christ, forgoing an opportunity to star alongside Nicole Kidman. The decision would come full circle when, in 2018, the actress got her moment as Shuri, a role that earned her the recognition she deserved, a Screen Actors Guild Award, and an NAACP Award. For Wright, acting is a platform that she uses in her service of God.
Tell us what's wrong with this post? How could we improve it? :)
Let us improve this post!