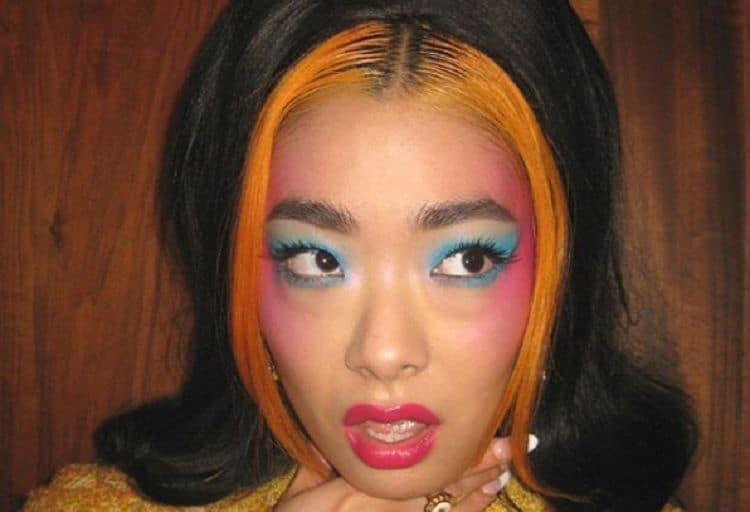 If you haven't already been won over by Rina Sawayama's hopscotch approach to pop, then you're about to be. Her debut album, Sawayama, drops on April 17, and already, critics are lauding it as the album of the year. Featuring a kaleidoscopic blend of nu-punk, R&B, and Britney-era pop, Sawayama has all the makings of a classic. With Rina's star about to go stratospheric, now's the time to find out more.
1. She's been performing since 2013
Despite the buzz that's been gathering around Rina's career for a while now, it's taken her some time to get around to releasing her first full-length album. Not to say she hasn't been busy in the meantime. Rina's first steps on the road to solo success (before going it alone, she performed in a hip-hop group called Lazy Lion alongside future Wolf Alice bassist, Theo Ellis), came in 2013 with the single 'Sleeping in Waking'. Since then, she's released a flurry of further singles (including 'Where U Are' and 'This Time Last Year' in 2015, and 'Cherry' and 'Flicker' in 2018), toured with Charlie XCX, and dropped her first mini-album, Rina, in 2017.
2. COVID won't stop her
Rina might be in lockdown mode like the rest of, but unlike a lot of other artists, she's not letting the virus stop her plans. Rina's release date for her debut album has been set as April 17 for a while now, and virus or no virus, that's the date she's sticking with. "I just needed to get the album out — I've been sitting on the record for about five months, so it feels like I'm going a bit crazy and it sort of stops me from writing new stuff," she explained to CNN earlier this month.
3. She's the new critic's darling
Her debut album might still be fresh from the press, but Rina has already made her presence felt in music circles. For the past few years, she's reigned supreme as the queen of the "best of" list, featuring on everything from The Guardian's 18 for '18 to the 2017 Dazed 100 and Pitchfork's Best Pop and R&B Albums of 2017.
4. She sees writing as a form of therapy
Rina might be living the dream now, but growing up, it was a different story altogether. The years after her parents divorced were plagued with difficulties for the star, who's spoken openly about how her teenage years were a mess of conflict, depression, and rebellion. But even in her darkest days, she had an outlet — writing. Even now, putting pen to paper feels like a form of therapy to the singer, as she explained to CNN. "This album was really satisfying for me because I was able to harness all those frustrations and anxiety and depression and all the drama that went on during my teenage years," she shared.
5. She identifies as Pan Sexual
Rina officially came out in 2018 during an interview with Broadly, although by that time, her orientation was already as clear as day to anyone who'd ever listened to her lyrics. "I've always written songs about girls. I don't think I've ever mentioned a guy in my songs, and that's why I wanted to talk about it," she said. "For me, there's still a lack of representation," she said about her decision to discuss her sexuality publicly. "I just think the reason I wasn't so comfortable with my sexuality was because there was no one on TV or anywhere that I could point to and go, 'Look mom! This person is what I was talking about!'"
6. She's modeled for Versace
Despite saying she always felt like the "ugly duckling" during her time at Cambridge University, the rest of the world clearly doesn't agree. In tandem with her music career, Rina has enjoyed huge success as a model, featuring as one of the muses for Versus Versace's fall-winter campaign in 2017 and as the face of supermodel Jourdan Dunn's collaboration with the UK fashion brand, Missguided.
7. She's launched her own YouTube channel
Rina's always loved makeup, and thanks to her new celebrity status, she's now got the perfect platform to tell the world all about it. "Rina TV" debuted on YouTube in 2013 and today, serves as much as a means for Rina to share her make up tips with her fans as it does her music.
8. She's pushing against the stereotypes
If there's one thing Rina refuses to do, it's conform. Talking to Contact Music about her style, she spoke about her growing unease with the way Asian's are stereotyped in the fashion world. "I think the number of Asian faces is definitely increasing, and I love to see that fashion brands are giving Asian people a personality," she explained. "But I still see campaigns where brands want to portray the Asian talent as the quiet one. It's almost like there isn't much communication going on behind the scenes."
9. She's a Brainiac
Rina's intelligent, creative brand of pop didn't come from no-where. The Japanese born singer has brains, and she's got the qualifications to prove it. Born in Niigata, Japan, but raised in the UK from the age of 5, Rina's academic record is almost as exemplary as her musical one. After graduating top of the class at high school, she won a place at one of the UK's most prestigious universities, Cambridge. Despite the distractions of her blossoming modeling and music career, she ended up graduating with honors in politics, psychology, and sociology.
10. She looks to the 2000s for inspiration
If you recognize the sounds of your youth in Rina's music, it's not an accident. In the 2000s, nu-metal, pop-punk and sickly -sweet R&B dominated the radio waves and if Rina has her way, they soon will again. "Everything kind of picks up from different bits of the 2000s, she explained to Consequence of Sound about her decision to bring noughties pop back in vogue (albeit with a very modern spin). "I think music was so diverse then. You had nu-metal, like Limp Bizkit's 'Rollin"; but you also had Justin Timberlake in R&B and pop. Then you had a whole huge wave of R&B like Ashanti and Ja Rule and Destiny's Child, etc. Then you had Kylie [Minogue], and then you had the resurgence of girl bands: like Girls Aloud, Sugababes, Atomic Kitten. So yeah, the album kind of picks from all those places really."
Tell us what's wrong with this post? How could we improve it? :)
Let us improve this post!