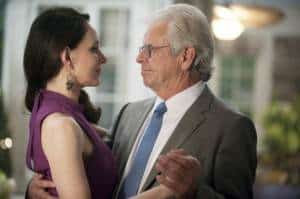 Oh. My. God. How is it possible that Revenge keeps getting better and better week after week? What started out as a complex plot to bring down a family has become a delicious treat that continues to deliver twists at an alarming rate. Here's the most important things that happened in this week's Revenge:
Grandpa Grayson Came to the Hamptons: Victoria called in one of her biggest supporters – Conrad's father – to help her with the divorce. She rightly believed that he would tell Conrad to grant Victoria an equitable settlement in order to keep the process civil. Naturally, Conrad was furious that Victoria had gone behind his back and basically ratted him out to his old man.
Jack Found the Treadwell Tape: Jack irrecoverably got himself involved in the sticky Grayson situation when he found a stray Treadwell tape under a bed in his apartment. Since it had Amanda's name on it, he was extremely interested in watching it and even asked Nolan to help him find a way to view it. Naturally, Emily didn't want Jack to see the tape or get involved in the whole situation, which lead to….
Amanda Clarke Returned: Emily called on Fauxmanda to convince Jack to hand over the tape. It looks like she didn't get as far out of town as we had thought. Since Jack has been worried about her since her unexpected disappearance, he immediately came calling. But he refused to hand over the tape, despite her pleading, and the two got into an argument. He stormed off and she chased after him, but she wasn't seen again before the end of the episode.
Jack Learned the Truth: Despite Emily's insistence that Jack never view the Treadwell tape, Nolan decided to let him watch it, swayed by his declaration that Nolan had been a true friend. In the tape, a young Amanda asked Treadwell to find that dark-haired lady named Victoria who kissed her dad. Now Jack knows all about Victoria's affair with David Clarke.
Emily's Plans Are Thwarted, But the Truth Comes Out: At a Grayson family dinner (complete with Emily and Declan), Emily had planned to have Charlotte receive the tape where David revealed Charlotte's paternity, but that turned out to be completely unnecessary. Conrad did reach out to Charlotte, apologizing for treating her poorly lately. Jack's appearance at the dinner caused a shock, since he directly confronted Victoria about having an affair with David and not helping Amanda when she was younger. This was one of the best confrontation scenes on Revenge thus far. Daniel tried to defend his mother, saying that David had attacked her as Victoria had claimed. But Conrad was tired of the lies and flat out told everyone that Victoria had had an ongoing affair with David and Charlotte was not his biological daughter. Yikes.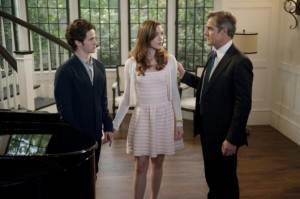 Conrad Could Lose Control of His Company: Conrad told Charlotte that he would support her no matter what, but Grandpa was furious with Conrad over how he had handled his family at dinner. He suggested that Conrad was no longer fit to run Grayson Global and suggested that Daniel take the reigns, since he was the only person who bothered fighting for their family any longer. Conrad was understandably desperate to hang on to his legacy, and while Victoria was furious that Conrad had revealed the truth to Charlotte, she seemed happy that Daniel could take over the company.
Charlotte Is Upset: Naturally, Charlotte was stunned by the news that David Clarke is her father, and despite Declan's insistence that Conrad won't stop being her father, she appears to have decided to go on a bender.
Emily's Secret Stash is Discovered: Emily reamed Nolan out for allowing Jack to view the tape, insisting that all major reveals should be done her way, especially since Jack is now on Victoria's radar more than ever. And while Emily has been forced to adapt to unexpected situations on previous episodes of Revenge, tonight marked her biggest surprise. When she arrived home from dinner, she found that that the floorboard that hid the box with her true identity was missing, and an engagement invitation was in its place. In other words, someone has discovered Emily's secrets and is clearly setting her up – intending for something big to happen at the engagement party.
This week's episode of Revenge was one twist after another, delivering big on payoff and emotional revelations. Like I said, it's absolutely delicious fun.
Speaking of the engagement party – the big event will take place on the February 15 episode of Revenge. Will Daniel be shot? You'll have to tune in to see. In the meantime, watch a preview here and don't forget to vote in our poll about whether Daniel is the victim on the beach.