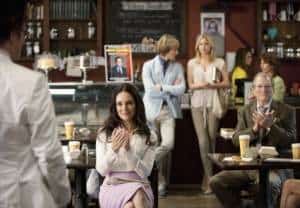 I've been enjoying the shift in focus on Revenge from taking down one person a week to the longer-term goal of focusing in on the Graysons. But sometimes you just want some plain old fashioned revenge, don't you? Emily dished it out this week. And HOW.
Many years ago, shortly after David Clarke's trial, a reporter named Leo Treadwell met with Clarke. He insisted that he was the victim of a conspiracy, but without proof, Leo was a bit hesitant to put Clarke's allegations out there. He did meet with a 9 year old Amanda Clarke, who told Leo she thought her father was innocent. All of Clarke's information eventually convinced Leo enough to approach the Graysons for an interview. They shot down Clarke's claims as outrageous, of course, but Leo couldn't be disuaded. After all, he had no money and nothing to lose. That's when Victoria stepped in. While her "bribe" wasn't exactly explained, it's clear that she offered Leo a chance at both fame and fortune. Leo transformed himself into Mason Treadwell and published a book that further vilified David Clarke, leading Amanda to believe her father was guilty until Nolan brought her the truth many years later.
Fast-forward to present day Revenge, with Mason now in the Hamptons for a reading. Naturally, Emily wants to meet the man who helped the Graysons publicly destroy her father's life and she's also interested in some good old-fashioned revenge, the likes of which we haven't seen for a little while. Victoria, meanwhile, also used Mason's presence as an opportunity to have him gather research on Amanda Clarke. Of course, the Amanda we know today didn't know Mason, who approached her at the Stowaway. But when Emily found out Mason was speaking to Amanda, she told Amanda the truth about her plan and also used her to try and scare Mason into exposing the conspiracy at a reading at Victoria's. But when Victoria learned he was planning on being truthful, she whipped him back into line.
Of course, Emily's plan wasn't so silly as to have Mason confess. Please. This is Revenge. No, she wanted to destroy everything he held dear, which included his house, literary artifacts and the only draft copy of his memoirs. Using Nolan as a diversion, she slipped into Mason's house and set a fire using his own cigarettes. Mason returned home to find all of his prized possessions going up in flames.
You know, as I learn more and more about the individual conspirators – besides the Graysons, of course – my desire to truly understand the conspiracy grows. Perhaps the only thing that's sometimes missing from Revenge in these sort of stand-alone episodes where Emily spends an hour taking down a single person is a deeper understanding of why they chose to be a part of the conspiracy. I mean, people like Lydia were driven by fear and opportunity, while Mason did it for fame and fortune. Did all of these people choose to destroy the Clarkes only for money or power? How lucky for Victoria and Conrad that they were surrounded by so many superficial and greedy people. What, then, were Victoria's reasons? Obviously the show will be holding on that explanation for a while, but the conspiracy itself remains one of the most fascinating issues of Revenge for me. Think of all the people that had to come together just to take down this one man. It's staggering. I really hope we'll be getting more flashbacks as time passes, as well as a deeper understand of why these individuals made these decisions.
Speaking of flashbacks, a piece of history yielded a shocking – although somewhat expected – revelation in this week's Revenge. Before burning Mason's house, Emily stole the tapes of his David Clarke interviews and Clarke told Mason that 6 months earlier, Victoria gave birth to a baby girl named Charlotte. Guess who Charlotte's father is? Hint: it's not Conrad. Ohhhhh, things just got interesting.
So we had a take-down and a revelation on this week's Revenge. You'd think that was enough, but we were also treated to a subplot that is steadily heating up. Daniel got it into his head to combine his shares in Grayson Global with his mother's shares so they could take over the company and force Conrad out. Unfortunately, Daniel's shares are in trust. His father was all set to release them until his lawyer made him wonder whether Daniel wanted them to help Victoria. Conrad released David's money, but attached a condition to his shares: he could only access them when he turned 30 or got married, whichever came first.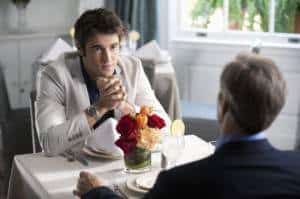 Daniel saw no problem with these conditions and told Victoria he would simply marry Emily, since he already loved her. Naturally, Victoria was less than pleased about her son marrying a woman she didn't trust. She tried to plant a seed of doubt in Emily's head by having Ashley allude to Daniel's plan. In the end, Victoria's lawyer told her to let Daniel marry Emily – after all, he just has to get married….not stay married.
In a really minor subplot, Deacon was upset about Charlotte heading off to her fancy prep school soon because they wouldn't get to spend any time together. These poor kids have very little to do on the show lately. Fortunately, with Emily's new information, Charlotte might join the "A" plot.
Amanda also showed Jack her wilder side in this week's Revenge. He's a bit uptight, so he wasn't exactly happy about it. But she was growing more and more concerned that there's something between Jack and Emily. Eventually he apologized and told her he would make more of an effort not to be such a stick in the mud.
Overall, this was a great episode. Despite the "C" plots, the storyline involving the Mason take-down was terrific. Sure, it was obvious what Emily would do the minute she learned Mason only had one copy of his memoirs, but it was still fun to watch. I particularly liked that we seemed to get more flashbacks with him than previous conspirators that Emily has targeted and felt that rounded him out a lot more. And I was thrilled that the show finally confirmed the Charlotte speculation, which many fans have been wondering for a while. We're quickly closing in on the original engagement party from the pilot and the discovery of who died on the beach. I, for one, can't wait!
An all new episode of Revenge will air on January 18 at 10:00 p.m. ET on ABC. Daniel's going to propose! Watch a trailer and browse through photos for the episode here.