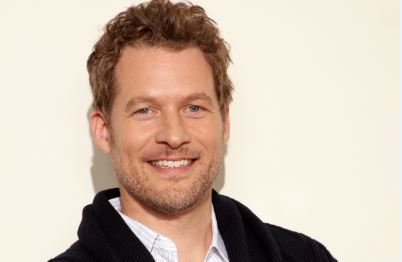 The fourth season of ABC's Revenge has, in many ways, felt like a rebirth for the series, and one of the main reasons behind that rejuvenation has been the show's resurrection of David Clarke. Believed to be dead throughout the show's first three seasons, David was revealed to be alive in Revenge's Season 3 finale and has been a major player in many of the events that have taken place during Season 4. In an exclusive interview with TVOvermind, the actor who plays David Clarke, James Tupper, spoke about his character's new role in the back half of Season 4, his constantly evolving relationship with Emily, and an upcoming Revenge scene that he calls "the craziest whopper you've ever seen."
TVOvermind: You were a guest star on Revenge for its first three seasons, mainly only appearing in flashbacks, until they resurrected your character in the Season 3 finale. When Season 4 started, you were upgraded to a series regular. How has it been for you to have the chance to work with actors you maybe didn't get the chance to work with before? How have you found the upgraded role so far?
James Tupper: It's the longest introduction to a character in television history. I would turn on the television in our third season, and every scene or two, they would be like "That's not what David Clarke would have wanted." Or something like that. You know, they've been talking about me forever, and the really fun thing for me was the fact that, you know, I think 20 years in prison really changes a person, obviously, and he's struggled with a lot of emotional and mental things being alone in his mind. I think he struggles with connecting with people, and that's really fun to do that. And at the same time we shoot flashbacks, and then I go back to being a financial analyst who's really optimistic on the beach and loves life, and it's really fun to play those two things.
David's main mission this season was to take care of Malcolm Black. Now that Black's dead, what's David's role going to be in the back half of Season 4?
He's going to fix things up with Victoria, because now she's confessed what she has done. The whole time David was gone she was in his heart; she was the love of his life. David came back, and he hoped to be reunited with her. David is in a lot of conflict about that, how she's treated [Emily], but at the same time, she still occupies that position.
And I think with Emily, David wants to get back to the moment he left. She was a young girl, but of course, she's not that anymore–she's changed. She's adapted, she's got a skill set, and she's surviving under a false identity, and David has a desire to try to connect with her and heal himself and create some type of father-daughter relationship that functions.
There are so many things that I'm playing with, and then I think I have a relationship coming up with somebody. Courtney Love also comes on the show…It's exciting. She was asked, "If you could do any show, what show would it be?" And she said, "Revenge." She came on the show and she was like a fan….She was automatically close with us, which was really cool.
How does David plan on regaining what he and Emily had together? He's changed so much, and obviously, she has, too. How are they finding their way back?
It's interesting because I think the bond of father and daughter is the same as it ever was, but the needs change. You know, as a parent myself, my six-year-old is different than my twelve-and-half-year-old. The needs of Emily as an adult have changed. The struggle I think is that she feels like she grew up alone, which is fair enough, even though she knows it wasn't David's fault. But she still thinks she's all alone, and she struggled and created this person, and now David needs to get through to that in order to establish and understand the love they have for each other. It's a big part of that fight.
Revenge has felt really rejuvenated this season. It feels newer and fresher than it has in years, and I think a large part of that has to do with the re-introduction of your character.
Can you tell the Emmy nominating committee that? [Laughs]
[Laughs] I will do my best to pass it along.
I really appreciate you saying that. I'm having probably the most fun I've had in a role. I love the two levels of him; I love the two sides of it. I'm having a ball. Although my family tells me I'm not allowed to bring [David] home. When we first started doing [Revenge], I shoot scenes and then come home and still be sort of like David Clarke, and my wife would say, "Get that guy out of here!" [Laughs]
What are you most excited for Revenge fans to see in the back half of this season?
I wish I could tell you what we're shooting tomorrow [this past Friday, Feb. 27]. What we're shooting tomorrow is the craziest whopper you've ever seen. And you wonder, how do they even come up with this stuff? The story moves so quickly. In other stories, you meet the girl, go on a date, and then the episode will be over. On Revenge, it's like you meet the girl, get married, get divorced, and get revenge in one episode, and you're like, "What happened?" That's the fun thing. They keep being able to surprise people, but I can't ruin it. I can't tell you what we're shooting, or it wouldn't be fun.
You know if you can't really tease it too much, it's going to be one of those "oh wow" moments.
Oh man. It's a whopper. I'm sorry I can't tell you.
Can you tell me what episode you guys are shooting right now?
Episode 20.
And you're doing 22 episodes this season?
23.
Obviously, Revenge is your main gig right now, but is there anything you having come up, any other projects you're working on, that you're excited about?
I shot a movie earlier in the year, but my wife, Anne Heche, is starring in [USA Network's] DIG [which premieres Thursday, March 5, at 10 p.m.], and they had the premiere last night in New York. It was super exciting. I think it went really well. I wasn't there, but by all reports, it got a standing ovation. It's a little like True Detective. They're doing ten episodes, and that's the whole story, so it's like a ten-hour movie. And it's done by the guys that did Homeland, so that's the thing I'm most excited about.
I actually got the press kit for DIG with the first three episodes and was planning on watching them tonight.
Oh really? That's wild!
It's one of my most anticipated shows of the year. I'm really excited about it. These miniseries and anthology series that are out now are really cool. What do you think about television moving in that direction? Especially because you guys on Revenge are doing 23 episodes a year.
I'm really happy doing television…When they shot DIG, it was ten episodes over ten months, so they really shot it at the speed of a film, and I think the quality is going to be elevated in that way. I think it's amazing. I would love to do something like that.
Well, I hope you don't get the opportunity to do something like that too soon, because I'm loving having you on Revenge. [Laughs]
[Laughs] Thanks.
Getting to see David in the present in this season of Revenge has been one of the cooler things the show's done, and I'm really enjoying it. It was a pleasure getting a chance to talk with you, James.
Hey man, that's awesome. Thanks for that. I really appreciate it.
Of course, and best of luck shooting the rest of the season. I'm really looking forward to it.
Thanks Chris.
Follow James on Twitter (@MrJamesTupper) and make sure to tune in when Revenge returns with new episodes this Sunday, March 8, at 10 p.m. on ABC.
[Photo by Jeff Berlin]