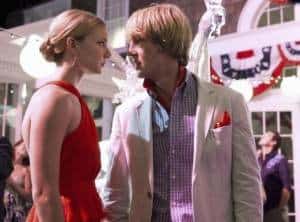 Did I miss something on Revenge? How is Lydia still alive? She fell five stories onto a car – which she crushed – and she just ends up in a coma? Did they hint at this in the previous episode? Do I need to go back and watch her finger twitch or something?
To be honest, I kind of thought they would follow through on killing Lydia, if only because it was such a game-changing moment. It seems a bit less dramatic to just put her in a coma. But, I can deal. After all, she was getting pretty awesome in the last episode and I would have been sad if they had deprived me of future moments where she finally stood up to Victoria. The ultimate cat fight, people!
But let's not get off track. Tonight's episode of Revenge was a bit slower-paced than the previous ones to date. No one's life got destroyed and no one fell onto a car, but the plot did move along nicely. Let's begin with Nolan and Emily, who were both shocked by Lydia's new comatose state and the evidence they held of Frank being responsible for said comatose state. In order to prevent any fingers from being pointed at them should Lydia awaken, they decided to go on the offensive and sent an anonymous email to Conrad, along with the video of Frank and Lydia.
Naturally, Conrad was shocked, but he decided to deal with the matter quickly. He told Frank they should "part ways", gave him a check and offered up his plane so he could get the hell out of the Hamptons. Frank was less enthused about this plan. Later, Conrad was forced to show Victoria the video to prove Frank is a very bad man. But instead of leaving quietly, Frank approached Victoria and professed his love for her, albeit in a very creepy manner. When she refused to have anything else to do with him he decided to go do some investigating at Lydia's apartment and learned that Nolan was seen entering it.
Frank quickly realized that Nolan was somehow involved in making that video. He wrongly thought that perhaps Conrad was the one giving Nolan the orders. But, as he soon told Victoria, if Conrad didn't make the video, then who is the mysterious third party interfering in their business? Well, we know it's Emily, and I think Frank is starting to realize that as well. After all, as Nolan warned her about Frank, "he's better at this than we are". That's right, sweetheart, Frank's been around the block, and now he's coming for you.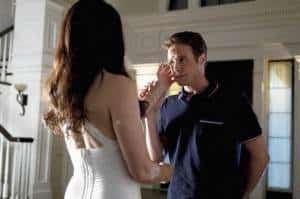 Meanwhile, Tyler is still acting incredibly creepy. I keep veering between "he's in love with Daniel and is jealous of Emily" and "he just wants to take over Daniel's life". I think my first instinct is stronger, but there's a shred of doubt. Bottom line is he's crazy either way. When Emily poked serious holes in one of his stories and embarrassed him at dinner, he decided to take some revenge by drugging Daniel during his first shift at the Stowaway. When he put his friend to bed, he sort of made a pass at him. When Daniel rejected him, Tyler decided to show the fact that he's quickly approaching "crazy town" but banging himself in the head and then telling Victoria that Daniel had attacked him after drinking. Emily quickly delivered a warning that she was on to him and his shady ways.
Finally, the Porter boys both made some grand gestures with their respective lady friends, but only one of them ended up getting the girl. Declan wanted to take Charlotte out to a fancy restaurant, but that idea didn't end well because he has no money. Eventually he laid his cards out on the table and told her that, but she didn't seem to care. Jack, meanwhile, who is being pushed by Nolan into pursuing Emily, told her he has feelings for her. Unfortunately, Emily shot him down because she's with Daniel. Well, she's with Daniel because she's trying to get revenge against his family for destroying her life. But, you know, she's with Daniel.
All of this, of course, begs a few questions:
Why is Nolan pushing so hard for Jack to get together with Emily? Is he trying to interfere in her plans for some reason we don't know? Or is he doing it for her best intentions because he thinks she'll be happy with Jack?
What is Tyler's ultimate plan here? If he really loves Daniel and can't have him, will he settle for disgracing Daniel and essentially taking over his life? Or was that his plan all along?
Will Lydia ever awaken from her coma? If she does, will she be horribly damaged from falling onto a car from five stories above or no?
Will Frank learn Emily's secrets? And if he gets too close, how will Emily react?
If Frank does learn something about Emily, will Victoria be prepared to trust him again?
How did Frank manage to keep his love for Victoria a secret for all these years? Seriously, is he the most patient guy ever?
Like I said, this was a slower episode of Revenge, but enjoyable nonetheless. And it set up some interesting storylines going forward. I can't wait to see how Mr. Frank "Because he's better at this than we are" Stevens reacts next week. To tide you over, check out photos and a trailer for the November 2 episode here.
By the way, did you know that ABC offers one free song for download from each episode of Revenge? This week it's "Second Friend" by Megafaun. Go take a look at ABC's Music Lounge for more details.