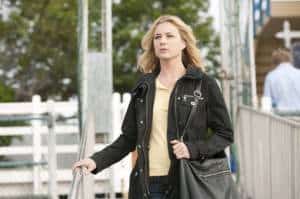 Now that's how you do a cliff-hanger and Revenge has left us with one humdinger of a finale with several twists to the story (for a full round up head here). The ultimate shocking moment is what Nolan (Gabriel Mann) has discovered in the evidence that would convict Conrad Grayson (Henry Czerny) of hiring someone to murder David Clarke (James Tupper). Warning spoilers ahead for Revenge and Alias.
The huge reveal is that Emily's mother is still alive and is somehow involved in the overall conspiracy of the show. There is a certain Alias vibe to this and there are also shared characteristics between Emily and Sydney Bristow (Jennifer Garner) that we will be exploring.
For most of the first season of Alias we were led to believe that Sydney Bristow's mother had died in a car crash; this wasn't the case and it turned out that Sydney's mother is also a spy and an integral part of the organization that Sydney is attempting to bring down. This introduction and the casting of Lena Olin in this pivotal role of Irina Derevko in Alias' second season opened up a world of stories and conflict for both Alias and Sydney. Derevko had abandoned her daughter by faking her death and it looks like we will be seeing a similar story in Revenge for Emily. Emily not only had to grow up thinking that her father was a terrorist but she also believed that her mother was dead; if and when they do get reunited this is not going to be a pleasant reunion and could make Emily's dealings with Victoria (Madeleine Stowe) seem rather cordial.
Emily is like Sydney Bristow in more ways than her mother's shady past; she is resilient, a fighter but she also has a level of compassion. What Emily could learn from Sydney is a thing or two about disguises; glasses, bangs and a different hair color doesn't necessarily conceal who you are. Both characters had traumatic experiences that cut their childhood happiness short and both have been trained for the roles they have taken by experts. Now that the Revenge conspiracy web is getting bigger there is even a hint of SD-6 to the proceedings so even though Emily isn't a professional spy she is certainly trained for the part. Emily even has her own gadget maestro in the form of Nolan, though he is a much snazzier dresser than Marshall (Kevin Weisman) ever was on Alias. Of course the shows are also different in many ways, but Alias does serve as a cautionary tale of getting bogged down in too much mythology and conspiracy so Revenge should make sure that it stays focused on the emotional and personal aspects of the tale.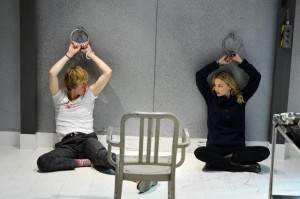 Emily is not only the driving force of this story but she is also the emotional heart and even though we have seen her use emotions to manipulate we know that despite Emily's tough exterior she is vulnerable in certain scenarios. This is especially true with Jack (Nick Wechsler) and Emily becomes exposed when he is involved. Emily was going to tell Jack the truth about who she really is but alas Amanda (Margarita Levieva) has returned with some unfortunately timed big baby news.
Lucky for Emily she has Nolan, not just for his tech skills but also as the one person who knows who she really is and Nolan can provide friendship and champagne at nine in the morning even if Emily think this is somewhat inappropriate at this early hour. Major props need to be given to Emily VanCamp who gave me chills in this episode as she flips from a state of distress to a renewed desire for her original goal particularly with her delivery of "Let it play."
Revenge has certainly come a long way since the pilot and what started as a woman equipped with a photograph and a red sharpie pen has developed into a more expansive narrative. This is of course needed for the longevity of the show and while it looked like we could get bogged down in mythology and conspiracy, bringing it back to a personal level for Emily with her mother is a really good move. Emily now has added motivation along with her desire to see the Grayson family pay for their part in the whole plot and it is hard to believe that Victoria was on that plane when it blew up. This then sets up another conflict if we get a meeting between Victoria and Emily's mother; expect the ultimate side eye.
The all important question then is who would you cast as Emily's mother? It has to be someone who will match the fierce determination of Emily and who can also go head to head with Victoria. Any thoughts as to how this reveal will impact season 2? Let us know your suggestions in the comments below.
For all of our coverage of the show, including sneak peeks, reviews, spoilers and more, browse and bookmark our Revenge page.
Tell us what's wrong with this post? How could we improve it? :)
Let us improve this post!