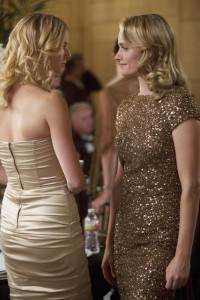 Things took a turn for the murderous on this week's new episode of Revenge. I don't want to sound like a broken record, but this show really does keep getting better and better. This week's episode featured Lydia's not-so-triumphant return to the Hamptons.
The scorned woman was determined to return to the fold, now flush with $10 million of Grayson money. The first item on her agenda was getting her house back from Emily, who wasn't impressed with Lydia's threats. Her second step was to get Victoria to welcome her back into society. But Victoria was understandably resistant to that plan. Lydia, fortunately, came prepared. When Victoria refused to acknowledge her, she told Conrad she was more than happy to reveal her part in the David Clarke frame job and pin the blame on the Graysons. Conrad, understandably, crumbled under that kind of pressure.
The truth is that Conrad's company was laundering the money for the terrorists who brought down that plane and then he framed David for it. But Victoria has always felt guilty for their part in that tragedy and her guilt was nearly overwhelming in this episode, particularly when confronted with the victims'family members at a charity dinner (the Graysons started a charity to help the victims after the plane crash).
Before we get to that charity dinner, we need to talk about the fact that Lydia discovered some very incriminating information about Emily. She warned Emily that she was determined to find her dirty little secrets and it was easier to do so than she thought it would be. In an old photo of a New Year's Eve party, Lydia spotted a 'just-released-from-juvie'Amanda Clarke in the background.
When Nolan (who now had the ability to spy on Lydia thanks to a camera he set up in Emily's house that was unknowingly shipped to Lydia's house) realized that Lydia was on to Emily, the pair came together to expunge all record of Amanda working that party. Emily also made a point to ship some incriminating evidence to Lydia, making it look like she was the one behind the recent public scandals and take-downs.
Victoria was forced to play nice with Lydia at the charity party in order to keep her from exposing the truth, but she later told her former friend that there would never be any reconciliation because she loathed her. Despondent, Lydia returned home to find Frank in her apartment, convinced that she was responsible for the recent scandals. Their fight eventually led to the balcony, where Lydia eventually fell….right onto a car in the street.
Now Lydia is dead, Nolan has most of the fight on tape, and Frank needs to figure out a way to make sure he doesn't go down for what happened to her.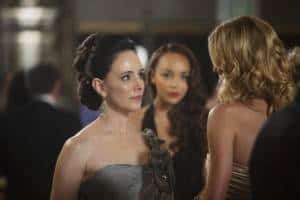 Meanwhile, back in the Hamptons, Charlotte is still angry with Victoria for what she said in the previous episode. Victoria tried to placate her with an expensive car, but that just ended with Charlotte and Delcan getting pulled over for speeding. Fortunately, Daniel got the pair out of any trouble.
Speaking of Daniel, he quickly became aware of what a manipulator Tyler is and also learned the shocking news that his father cheated with Lydia. This led him to quit his job at his father's company. Where will he work? Well, he asked Jack if he could take the bartender's job at The Stowaway. I smell an odd-couple type situation brewing. In the end, Emily and Daniel celebrated their renewed closeness by making their relationship physical.
So, like I said, that was one hell of an episode. Fans who weren't that happy with the more procedural aspects of the show saw that get off track, at least for now. And we all got a shock I didn't see coming. Lydia's dead, you guys! Things are getting crazy on Revenge!
Here's some questions for next week:
Will Frank be exposed for his part in Lydia's death? Will Emily jump at the chance to take him down?
How will Victoria deal with Lydia's death? Will she be relieved that she's gone or will it just pile on to her guilt, since Frank made it seem like Lydia killed herself?
Will Daniel actually take Jack up on that bartending position and how will Queen Victoria respond to that new development?
What will Tyler do now that Daniel clearly doesn't trust him?
Finally – and this is probably a question for the season as a whole – but do you really think that Emily feels something for Daniel, or is it all just part of her plan? I honestly don't know.
Next week's episode of Revenge has Emily and Nolan trying to deal with Lydia's unexpected death. View a trailer and photos for the episode here.