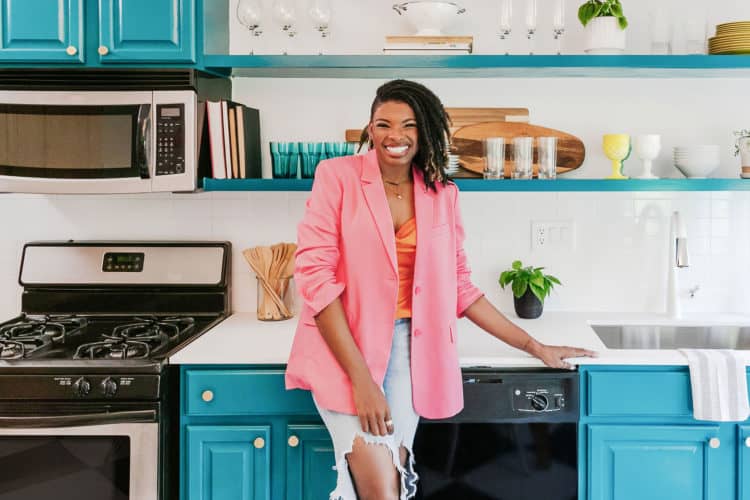 Anyone who has ever lived in a rented house, apartment, or condo knows how frustrating it can be to feel like you can never truly make the space your own. Due to rules from landlords that prevent tenants from permanent changes in their units, renters have very limited options when it comes to home design. However, there is a world of possibilities for those who are willing to get a little creative. That is something HGTV will be exploring in the new series Reno My Rental. As you may be able to guess by the title, the series focuses on rental-friendly renovations that people can do to make their space feel a little more like home. Keep reading to learn 10 things you didn't know about Reno My Rental.
1. Cameron Hamilton Is The Star Of The Show
One of the things that makes Reno My Rental so special is the fact that it is hosted by Cameron Hamilton. Hamilton is a talented interior design whose star has been on the rise for the last several years. Some may recognize her from HGTV's competition show Design Star: The Next Gen which she previously won.
2. Season One Is On The Shorter Side
Now that binge-watching is many people's favorite way to watch TV, lots of us love it when shows have long seasons. Unfortunately, though, that isn't the case with Reno My Rental. Season one has just six episodes. On the bright side though, that means you can binge the show in one or two days.
3. The Show Got It's Start On Discovery +
Even though Reno My Rental premieres n HGTV on January 14, that isn't the first time the show has been on the air. The series actually started on the Discovery + streaming service, but it must've been so popular that the network decided it was time to bring it to cable.
4. Homeowners Can Also Enjoy The Show
Sure, the Reno My Rental is primarily aimed at renters, but they aren't the only ones who can appreciate the show. Even if you own your home, you might see some renovation ideas that you want to try in your space. The show can also be great for landlords who are looking for some easy ways to upgrade their units.
5. There's No Word On A Second Season
At the moment, it doesn't appear that Reno My Rental has been renewed for another season. However, the fact that it made it all the way to HGTV is a pretty good design that the show will be brought back. For now, though, we're all going to have to wait ad see how things play out.
6. The Show Was Filmed In Tennessee
There are several shows on HGTV where filming takes place in different cities in states. That isn't the case for Reno My Rental, though. The series was filmed in the Memphis area which is also where Cameron is based. Unfortunately, if you don't live in Memphis, you'll probably never get the chance to be on the show.
7. Renters Will Use Their Own Budgets To Fund The Renovations
When people watch home renovation shows, one of the first things they want to know is who's paying for what. When it comes to Reno My Rental, it looks like the renters are responsible for covering the costs of their renovations. While some people may think it's a waste to pay for renovations in a space that you don't own, the good news is that many of the renovations can be reused in the renter's new space when they move.
8. You Can't Follow The Show On Social Media
At the moment, Reno My Rental doesn't have any official social media profiles. Viewers who want to stay in the loop with the show will have to follow Cameron Hamilton on Instagram. Hopefully, however, Reno My Rental does eventually get some social media profiles because it offers the kind of content that would do really well on Instagram.
9. Viewers Will See A Variety of Upgrades
No matter what kind of renovation projects you're into, there's a good chance that you'll see something you like on Reno My Rental. Cameron and her team will tackle different rooms and perform different kinds of upgrades. Viewers will enjoy seeing all of the different possibilities.
10. Cameron Enjoys Working With Local Businesses
Patronizing local businesses is one of Cameron's favorite things about Reno My Rental. Cameron told Commercial Appeal, "One of my goals as a designer, especially working with renters, is to introduce them to all of the creative resources that are right in their own backyard. Any way that I can incorporate the work of local vendors and artisans into my designs, I do".
Tell us what's wrong with this post? How could we improve it? :)
Let us improve this post!