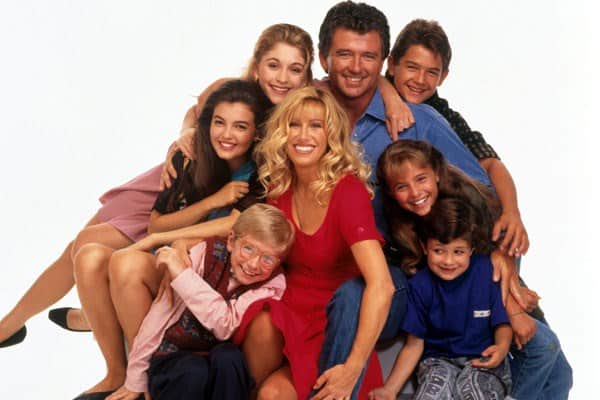 "Step by Step" was a popular family sitcom throughout the 1990's. The television series appeared on ABC from 1991 to 1997 and spent its last season on CBS. The show centered around the Foster-Lambert family, a blended family dealing with daily life. Frank Lambert was a divorced father of 3 and a contractor. He meets Carol Foster while on vacation in Jamaica and they impulsively get married. Carol is also divorced with 3 children and runs a hair salon out of her home in Port Washington, Wisconsin where Frank also happens to live. Their 6 kids all have problems with the whirlwind marriage and the disruption it causes in their lives. Over the seasons the family learns to blend together as they all tackle their own teenage issues. Eventually, Frank and Carol have a baby together, Lily. Frank's nephew Cody also joins the cast and lives in a van in the Foster-Lambert's driveway.
Here's what happened to the cast of "Step by Step".
Patrick Duffy (Frank Lambert)
Patrick Duffy already had a great career as a television actor when he joined the cast of "Step by Step" as the family patriarch. Duffy is best known for his role as Bobby Ewing on the hit 1980's television show "Dallas" and its spinoff "Knots Landing" which he also directed some episodes. Since "Step by Step", Duffy has continued to act, produce and direct. He voiced Bobby Ewing on "Family Guy" and reprised the role on the TNT "Dallas" series in 2012 through 2014. Duffy appeared on the soap opera "The Bold and the Beautiful" and NBC's "Welcome to Sweden" in 2014. He is a spokesperson for the "Miracle-Ear" hearing aid.
Suzanne Somers (Carol Foster)
Best known for her role as ditzy blonde Chrissy Snow on "Three's Company", Somers acted in several films and television shows. She also was a fitness spokesman for the Thigh Master". Somers became a healthcare spokesperson after finding out she had stage 2 breast cancer and opting for controversial homeopathic treatment. Since "Step by Step", Somers has launched a line of anti-aging products, written cookbooks and a 2010 book on alternative cancer treatment.
Brandon Call (JT Lambert)
Brandon Call was a child actor before playing JT Lambert, Frank's son, on "Step by Step". He was on shows including "Baywatch", and "Magnum PI". Toward the end of "Step by Step's" run, Call was shot during a road rage incident but was not seriously injured. He did not pursue acting after the series ended in 1998.
Staci Keanan (Dana Foster)
Before being cast in the role of the eldest Foster daughter on "Step by Step", Keanan acted on television. After "Step by Step", Keanan continued to act and reunited with Duffy and Christine Lakin in 2010's comedy "You Again". Keanan appeared in several films including in 2009's "Sarah's Choice", 2010's "Holyman Undercover" and "2010's "Death and Cremation".
Angela Watson (Karen Foster)
Unfortunately following the end of "Step by Step" Angela Watson discovered that her family mismanaged her earnings from the sitcom. She founded Child Actors Supporting Themselves in 2000 to help young actors learn how to manage their money. Watson continues to act in small film and on stage. She is a spokesperson for Hugs America.
Christopher Castile (Marc Foster)
The child actor had appeared on film in "Beethoven" and "Beethoven 2" before his role as braniac Mark Foster on "Step by Step". Castile gave up acting after the series ended. Today, he is a political science professor at Biola University in Los Angeles.
Christine Lakin (Alecia "Al" Lambert)
Following her role as tomboy Al Lambert on "Step by Step", Christine Larkin has had a successful acting career. She guest starred on television shows including "Boston Public", "Veronica Mars", "CSI: Miami", "Bones" and "Family Guy". Lakin appeared in films including "Valentine's Day" and "Parental Guidance".
Josh Byrne (Brendan Lambert)
The youngest of Frank Lambert's children, Brendan, disappeared from "Step by Step" with no explanation. It may because of the newest Lambert-Foster, baby Lily. Josh Byrne had appeared in "Who's the Boss" and in the film "Mr. Saturday Night". Byrne stopped acting when he left "Step by Step".
Sasha Mitchell (Cody Lambert)
Sasha Mitchell played the lovable nephew of Frank Lambert who lived in his van the family's driveway. Mitchell had some bad luck in the late 1990's and was involved in a domestic dispute with his children's mother and won custody of the children. Mitchell buffed up and continued his acting career. He appeared on television shows including "JAG", "ER" and "NYPD Blue"