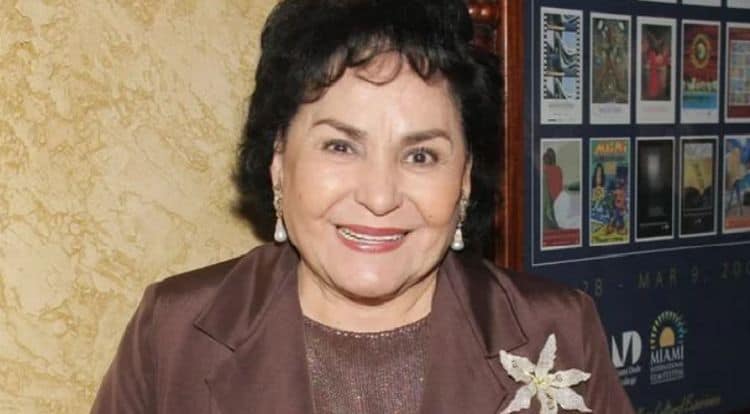 The news of Carmen Salinas' death hit the world hard. It's tragic when a life is lost, but even more so this close to the holiday season. The iconic actress lived 82 years, and her death is still shocking despite the fact that she suffered a stroke that left her in a coma back in November. Her life was well-lived. Her career was one that spanned decades, and her memory is one that will last a lifetime. She managed to do what so many people only dream of doing, and she did so with class, elegance, and sophistication. She's a star, and she is a woman who will always be remembered for her outstanding career, her legacy, and the life she lived to the fullest. Let us honor her and remember the life she lived.
Her Early Life
She was born Carmen Salinas Lozano on a fall day in 1939. She was born on October 5, 1939, in Torreon, Coahuila, Mexico. Growing up in Mexico, she didn't go far from home to begin her career, and she chose to spend her years close to home. She began acting in 1964, and she never looked back. The role was in a television show called Casa d vecinidad, and that was just the start for her. She'd go on in her career to star in more projects in one lifetime than many could imagine. Her work includes appearing in 70 theater productions. She starred in 30 television shows, and she acted in approximately 115 movies. While the bulk of her career was spent in Mexico, she did make movies in the states, too. During her time as a new actress in the industry, she would meet and marry her first and only husband, Pedro Plascencia. They welcomed their first child together, a son by the name of Pedro, in 1956 – the same year they wed. She also has a daughter by the name of Maria Eugenia. Sadly, she lost her son to cancer in 1994. She is survived by her own daughter. One of her most notable works was her role in the movie, "Man on Fire," alongside the exceptionally talented Denzel Washington and the stellar Dakota Fanning that was released back in 2004.
Her Health and Death
It was announced in November of 2021 that the iconic actress suffered a stroke and was taken to a hospital in Mexico City. She was surrounded by her own family at the time, but her condition was listed as delicate – and it remained so over the course of her month-long coma. From what little information was released following her stroke, she was in the hospital in a coma in the intensive care unit. She was receiving respiratory assistance, but her doctors informed her family that her organs were stable and functioning on their own. The swelling in her brain was a dangerous concern, but doctors did believe that the swelling would eventually subside. While her condition did not change much over the course of the month she remained in a coma, her family never lost hope that she would come out of this. Sadly, she did not come out of her coma, and her death has rocked a nation. Her family has not yet released any personal information about her death or any impending funeral services for the late actress, but fans have reached out to her family online to share their heartbreak, their condolences, and even the thought that she's in a place without suffering and has reunited with her late son, whom she undoubtedly missed every moment of her life for the past 30 years.
Though she continued to work in the acting business following her divorce and the death of her son, she also took an interest in the political field. She served her home country as a politician for many years later in life, and she took her role seriously. She was a Member of the Mexican Chamber of Deputies for the Institutional Revolutionary Party, which she ran for in 2015. She made history as a deputy for being the only deputy without a higher education – or without a complete primary education. She only went to school until she completed her primary school education, and she did not go back or finish her educational career following that. She went into the acting business, she pursued her dreams, and she changed her life – she welcomed two kids, she changed the game for actresses in her genre, and she made history. She's a legend, and she will be greatly missed by all who were touched by her.
Tell us what's wrong with this post? How could we improve it? :)
Let us improve this post!