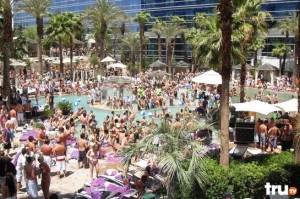 Last week's Rehab was notable because volatile Matt had a (temporary) mellowing-out. By the end of the episode, however, he was back to his usual abrasive yet entertaining self. What's he going to do this week? (Let's admit it. We may dislike him, but we certainly can't forget him.)
It's 9:15 AM, and time for the pre-shift meeting. He's briefing the staff on being focused while Kenyon continues to look like a statue. The doors open promptly at 10:00 AM, and cue the montage of bottle blondes and plastic body parts. Sharon is getting a story from one of the VIP hosts about a 22-year-old who just married a 67-year-old woman. His name is Isaac, and it does not surprise me that he refers to her as his "sugar mama" and wants to flash off the Rolex she just bought him. That shows where his priorities are. He's been on screen for about a minute and I already want to rid the universe of him.
Jessica pulls Matt's assistant aside, asking him to go fetch her some feminine necessities. It's not so bad except for that he runs into Matt while doing it and of course, Matt has to mock him. Meanwhile, Jake has to deal with a very upset woman. "Crying women drive me crazy," he admits. "I have sympathy for women crying, sure. But when they're crying about being removed from the pool deck for being violent, I have no sympathy." Yet he's clearly uncomfortable and it's Sharon to the rescue. She calms the woman down and then, to teach Jake a lesson, makes him deal with the woman's need for food. It's the first time I've ever seen Jake throw a fit. Sharon goes off to walk the hotel guest line, where she sees a Rehab wristband being sold. She immediately confiscates it and kicks out the guilty party.
Unfortunately for us, we have to go back to Isaac and his elderly fake spouse, who admits to Jonna that she married him because she "needs a son." It's really quite sad, because he's so clearly not caring as he blows thousands of dollars of her money and takes advantage of her. He brags about how he "doesn't give a [damn]" and no one says no to him. Jonna tries to show her just how much of a tab he's running up, but can't get her to cut him off. You know it's sad when even several of the money-obsessed waitresses are trying to find a way to put a stop to this.
Chantel and Jessica have to deal with a belligerent guy at the bar who claims that Jessica never gave him a drink. He is clearly not in a need of another. This is a time where I'm actually happy to see Matt, who is able to get the guy to go away.
A massive fight breaks out on the pool deck when one guy gets offended at another's treatment of his girlfriend. One of the people in the fight is the idiot Matt just had to deal with. Security breaks the brawl up fairly quickly. No one is thrilled at being thrown out of the party, but they're all probably better off. The woman involved is still running her expletive-laden mouth on the way out. Sometimes I swear this show is a practical PSA for watching how much alcohol you consume.
Matt's assistant doesn't believe that a woman really left her number with Jessica until Matt tells him that it is not a practical joke. Having second thoughts, he goes to look in the trash where he threw out the piece of paper that Jessica had passed to him, but of course he can't find it.
Sharon goes down to medical, where she finds one of the insane Canadians who was harassing her when she was trying to help the distraught woman earlier. He asks if she's married and says he wants to do things to her. She claims she's flattered, but the look on her face at the time says otherwise.
We end the hour on a vaguely positive note: Isaac's new "wife" closed out her tab and left him high and dry. He and the girl hanging off his arm are drunk and in a panic. He has to pawn off his Rolex to pay for the drink he's holding, and he still has no remorse. I don't normally wish ill on people, but he's one of those people that I wish would be hit by a bus. He has no reedeming qualities whatsoever.
At the end of the day, Matt is almost mellow. It is, as he says, "just another one down."
I want to take a sidebar and address a rude comment left to me a few days ago, referencing the fact that Rehab, contrary to appearances, is at least partially scripted. It's a little misdirection on the part of TruTV, which likes to say it's showing "actuality" instead of reality TV, when several of their series (such as Operation Repo and Southern Fried Stings) are actually either scripted or reenacted. It's not at all surprising that Rehab is scripted; that's the main reason that I've never taken to it as much as I loved Discovery's American Casino, which actually was an unscripted look behind the scenes of casino operations. Yet that doesn't detract from my want to discuss and dissect it, just like I do with all the other shows I cover. The only difference is that Rehab is most definitely a guilty pleasure.
At least I know how not to behave next time I'm in Vegas.