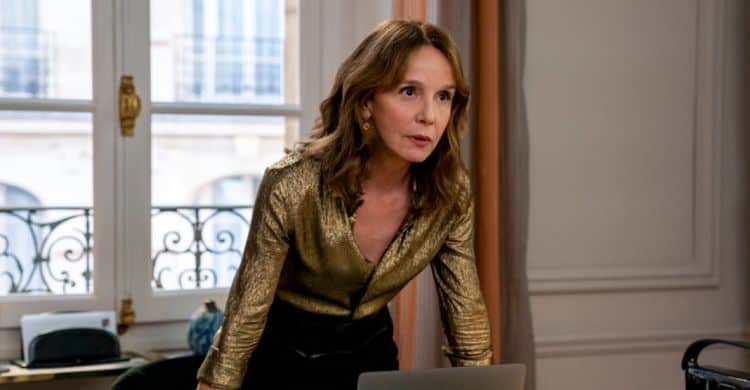 For most of her career, Philippine Leroy-Beaulieu is a name that many Americans probably weren't too familiar with. However, that started to change in 2020 when she was cast in the Netflix series Emily in Paris. Her role in the show introduced her to an entirely new audience, and it didn't take people long to fall in love with her. Philippine's character, Sylvie Grateau, is a tough businesswoman who is all about getting the job done. Her role in the show has helped open the doors for more opportunities and she will be in an upcoming Apple TV+ series called Liaison. Keep reading to learn 10 things you didn't know about Philippine Leroy-Beaulieu.
1. She Was Born in Italy
France is the country that is most commonly associated with Philippine, but she was actually born in Italy. However, her parents are originally from France. In fact, her father is a well-known French actor named Philippe Leroy. She spent much of her early life in Italy before moving to France as a teenager with hopes of starting a career as an actress.
2. She Loves Fashion
Fashion has been an important part of Philippine's life for as long as she can remember. Her mother worked for Dior for many years and had a great sense of style. Over the years, fashion has become one of Philippine's favorite ways to express herself. Ironically, though, she never wanted to become a model.
3. She Enjoys Taking Pictures
Philippine has spent the majority of her career in front of the camera. In her free time, however, it appears that she also enjoys stepping over to the other side. Her Instagram profile makes it very clear that she loves taking pictures and she's also a natural at it.
4. She Got Her Start By Doing Commercials
Everybody has to start somewhere, and for many actors — including Philippine — that somewhere is with commercials. After doing some commercials early on in her career, Philippine decided that she wanted to focus on sharpening her skills. She then decided to enroll in drama school.
5. She Likes Being Out In Nature
Just because Philippine has spent most of her life in the entertainment industry doesn't mean that she is obsessed with the glitz and glamour of it all. She has remained a very down-to-earth person and she still enjoys the simple things that life has to offer. When she gets time away from work, she enjoys spending time exploring the beauty of the outdoors.
6. She's A Fairly Private Person
Over the years, Philippine has been relatively tight-lipped when it comes to her personal life. Since drama is often associated with celebrities who overshare, it's easy to see why she has chosen to keep her personal life away from the spotlight. That said, a lot of her fans would probably love to know more about her.
7. She Embraces The Aging Process
Getting older is hard for many people, especially those in the entertainment industry. But it's something that Philippine has learned to be okay with. During an interview with Glamour, she said, "I understand the insecurity, the pressure that we get, especially in our business. But if somebody doesn't start saying, 'This is my age, and this is who I am, my wrinkles are my wrinkles, I own my wrinkles, this is my whole life…' it's kind of sad. Aging gracefully is being a kinder person than you were when you were younger, because life kind of polishes you. And having a better understanding of how people feel, who people are, and having more compassion and less competition with everybody else"
8. She Thinks The French Should Work On Their Sense of Humor
Since its release, Emily in Paris has gotten lots of criticism from people in France because they don't like how their country and culture are depicted in the show. However, Philippine believes that many people in France need to lighten up and learn how to laugh at themselves.
9. She Likes to Read
Not only does Philippine enjoy being part of great stories, she also likes to enjoy them just like the rest of us. She really enjoys reading although she probably doesn't get nearly as much time to do it as she'd like. Every once in a while, she shares a photo of a book she's reading on Instagram.
10. She Doesn't Wear Sunscreen
Wearing sunscreen is something we are all taught to do to protect ourselves from the sun's harmful rays. That said, many will be surprised to know that sunscreen isn't a part to Philippine's skincare regimen. Philippine told Glamour, "I was raised in Italy where we're taught since we were kids never to be in the sun at certain hours. At 12 o'clock, you get out of the sun until 4, and never stay in the sun during those hours. But I've never treated the sun as my enemy. It's good. It's your vitamin D. It's joyful; it's happy. While I don't wear sunscreen, I do wear a hat and sunglasses. Or I'm in the shade."
Tell us what's wrong with this post? How could we improve it? :)
Let us improve this post!