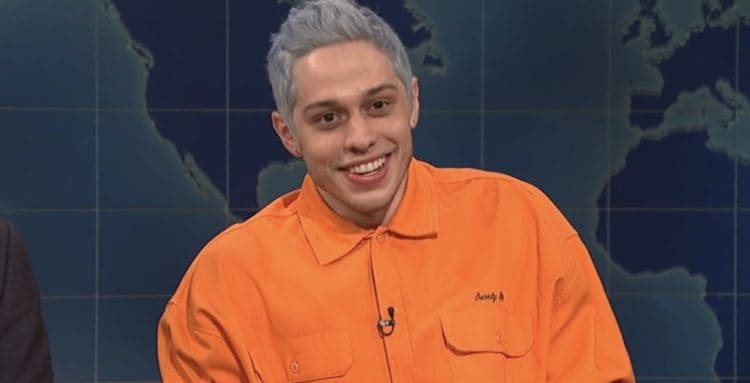 Pete Davidson, a name unknown to some and loved by others, has had quite an impressive year from linking up with Kim Kardashian after being engaged to Ariana Grande to hosting comedy specials and having a movie based on his life has now led to the actor's current status. The comedian recently left SNL, along with 3 other cast members, after the show wrapped up its 47th season and now Pete Davidson can focus on his recently announced show, now headed to Peacock, and likely still in association with Lorne Michaels and Broadway Video. Below, we've gone over the details on Pete Davidson as of late and his new show set to be headed to Peacock, the streaming service of NBCUniversal.
Pete Davidson
Pete Davidson instantly made SNL history when the comedian joined the cast in 2014 as he was, and remains, the youngest member to ever join the infamous late comedy sketch show. From the instant fame associated with being not only an SNL newcomer but also the youngest, Pete Davidson quickly was able to work the perspective into his work on the show, as well as his comedy outside of it. Pre-SNL, Pete Davidson appeared briefly on "Brooklyn Nine-Nine", "Guy Code", and "Wild 'n Out", but since the comedian joined SNL he has been featured in movies such as "Big Time Adolescence", in which he was an executive producer. From getting more comfortable on SNL and doing his own form of comedy, Davidson released his first standup special in 2016, while his second premiered in 2020. Something commonly associated with the actor was his firefighter father who died in 2001 during the attack on the World Trade Center. Some of the most interesting roles Pete Davidson has had include "Suicide Squad" and the voice of Marmaduke in the reboot animated film of the same name released this month. Most interestingly, when it comes to the comedian's acting career, Pete Davidson had a film based on his life, called "The King of Staten Island", that he wrote and starred in which also had Bill Burr, Steve Buscemi, and other actors fans of Pete Davidson would recognize. Most recently film-wise, Pete Davidson appeared in his friend Machine Gun Kelly, and Mod Sun's, film "Good Mourning". Overall, although the show will of course, at least before premiering, be compared to "The King of Staten Island", but if the concepts presented were too similar, it's likely that Peacock wouldn't have picked it up so only time will tell what comedic direction the half-hour comedy will take.
Peacock
While lately, every television company has a streaming alternative, Peacock has continually shown that they bring one-of-a-kind content comparable only to Netflix and Hulu. Peacock has had some monumental shows so far already, having only launched less than two years ago, such as "Joe vs Carole", "Angelyne", "MacGruber", "Killing It" and many more from several different genres. Peacock has also been home to some reboots as well such as the "Fresh Prince of Bel-Air" reboot "Bel-Air", "Punky Brewster" and the recently canceled "Saved By The Bell" reboot. Even in the fashion of Netflix reviving shows, Peacock has also saved shows from cancellation on NBC, until canceling them itself, such as the case with "AP Bio". Overall, as shows like "Killing It" getting a mature rating could mean the Pete Davidson show headed to Peacock could be a raunchy, and brutally honest, and Pete Davidson himself has tended to be.
Pete Davidson Show Headed to Peacock
"The King of Staten Island" was heavily pushed as a movie based on Pete Davidson's life but the film was more loosely autobiographical, while the new show, "Bupkis", will be a more heightened version of the comedian's life, which may be more similar to his real-life in aspects that the Judd Apatow movie wasn't. The new Pete Davidson comedy show headed to Peacock has had few details emerge but one casting detail has come to light since the announcement of the show on Peacock. Since the initial announcement of Pete Davidson's show headed to Peacock it has also been announced that Edie Falco, of "The Sopranos" and "Nurse Jackie", would be playing the role of Pete Davidson's mom. While currently only Falco and Davidson have been confirmed to appear in Pete Davison's show, "Bupkis" on Peacock, Davidson, Lorne Michaels, Andrew Singer and others are part of the writing and production teams. Overall, while the show was rumored to be caught between either Peacock or Prime Video, it's unsurprising that the show was eventually picked up by Peacock, due to their connections with Lorne, SNL, Broadway Video, and NBCUniversal.
Tell us what's wrong with this post? How could we improve it? :)
Let us improve this post!