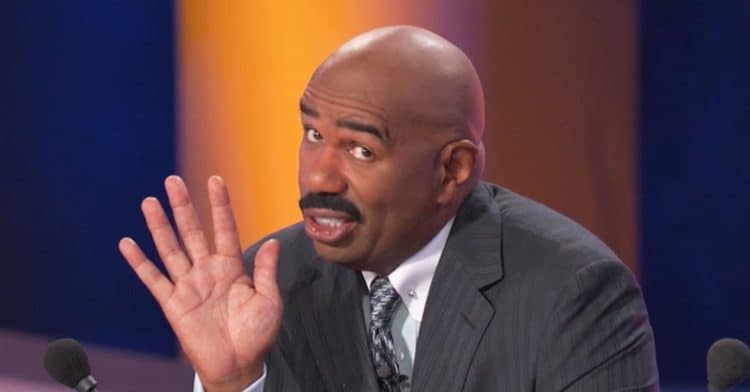 If you love your "Judge Judy" and your "The People's Court" and your "Hot Bench" and all the other glorious judgy shows, you can add Steve Harvey to your lineup in 2022. ABC announced he'll be starring in a primetime court show (in case your afternoons are full of all the other judge shows) called "Judge Steve Harvey." He'll be both judge and jury for people when they bring their small claims or possibly even bigger disputes to him, and ABC says he'll base his decisions on "his own life experiences and some good old common sense." They're calling it a "courtroom comedy series," so he'll likely have some funny observations while he gives his rulings.
So far, there are 10 episodes ordered. MysticArt Pictures is in charge of casting, and they say they're looking "nationwide for roommates, friends, siblings, neighbors, co-workers and more that have humor, heart and passion who are ready to settle their case by a legendary celebrity." Fortunately for them, all the costs are going to be paid by the production, not by anyone involved in the case. Filming will begin in October. Judge shows began with actual judges who practiced in actual courtrooms for years before they came to preside over TV cases, although lately, celebrities like Jerry Springer have taken to hearing cases for TV as well. While there's no evidence that Steve Harvey has a law degree, he does have some experience mediating disagreements and warring family members. He is the host of Family Feud and Celebrity Family Feud.
He also had an "Ask Steve" portion of his syndicated show "Steve" where he would give audience members advice about their problems.
https://www.youtube.com/watch?v=Mbs3uZVMpY8
So even if he doesn't know the particulars of every legal dispute, he'll have plenty of practice to fall back on in giving advice! Along with "Judge Steve Harvey," here are a few more judge shows with which you can fill your time. Judge Judy, of course, still presides over most of our afternoons. She's actually finished for good on that show this September, but "Judge Judy" will continue to air with taped, repeat shows for a long time. She's now working on a new show, "Judy Justice" for IMDb TV.
Jerry Springer is hosting "Judge Jerry," which is another arbitration-based court show where he decides small claims cases. He wears a judicial robe and bangs a gavel, and he even took a course so he's now a certified judge who can make these decisions. He did already have a law degree and was even a practicing lawyer for many years before he became known for his off-the-wall show "The Jerry Springer Show." "Judge Jerry" is definitely more subdued…although there's still plenty of drama. Naturally.
"The People's Court" has been on for more than thirty years – it's the second-longest-running courtroom show on TV. It was the first of the small claims court, arbitration-style shows, and it started with Judge Wapner, along with bailiff Rusty Burrell and Doug Llewelyn as the host and court reporter. Now, Judge Marilyn Milian is in charge. The longest-running court TV show is "Divorce Court."
"Divorce Court" actually started in 1957 and used actors to reenact actual divorce cases. It was on for 12 years and then went off the air…to come back in 1985. The current edition has been on since 1999. The show features real couples who have filed for divorce and who argue their cases before the judge. She decides things like alimony. Sometimes, she'll even refuse to rule and give the couple time to reconcile instead.
When ABC announced Steve Harvey's new show, they also made a few more announcements about upcoming shows they have in the works. They announced "Shark Tank" will be back in October for Season 13, and Kevin Hart will be one of the guest Sharks. ABC will also have a two-hour special to celebrate the 50th anniversary of the opening of Disney World. Whoopi Goldberg will host, and Christina Aguilera will be one of the performers during the special. "Celebrity Wheel of Fortune" will also continue for a second season, beginning at the end of September. Jason Alexander, Von Miller, Tori Spelling, and Raven-Symoné will be among the celebrities playing the gameshow this season. There are several other game-and reality shows that will be on ABC during primetime, including "Celebrity Dating Game," "American Idol," and "When Nature Calls with Hellen Mirren" which has a crazy title, cute and funny nature videos, and Helen Mirren. We're sold.
Tell us what's wrong with this post? How could we improve it? :)
Let us improve this post!