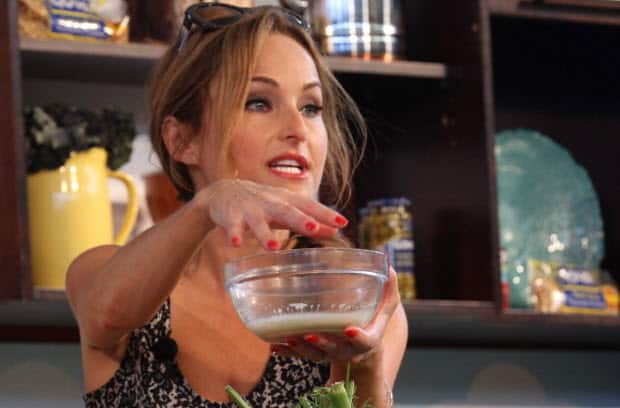 One thing that I've really gotten into lately is cooking. For whatever reason–probably the fact I'm getting older–I've moved from microwavable dinners to using fresh, organic vegetables on pretty much everything that I eat now. And since I tend to learn and get inspiration from seeing other people do it, there are a few cooking shows that I just can't help but watch. But what are the ones that every single person should make sure to tune into? Keep reading and you'll find out the best cooking shows on TV.
5. Everyday Italian with Giada De Laurentiis
There are few ladies that I'd rather have making me something in the kitchen than Giada De Laurentiis. A combination of both talented and gorgeous, Giada stars on this show by cooking vibrant recipes that are both easy to make and absolutely phenomenal to eat. There's a reason she has been on TV for so long–because the girl can cook!
4. Anthony Bourdain: Parts Unknown
Anyone who knows anything about Anthony Bourdain knows that he is one of the finest chefs on the planet. And his show, Anthony Bourdain: Parts Unknown, shows just a small sample size of the life he lives, traveling around the globe to experience different cultures and their delicacies. An irreverent show that is more than just food, the chef proves that he has one of the coolest jobs ever–and it's documented for viewers to watch.
3. Top Chef
An obvious choice, Top Chef has been around for 11 seasons, making it not only stand the test of time, but also developing some chefs that have gone on to big things. With chefs forced to deal with pressure and tough love from judges, this show is what led the recent trend of cooking competitions, and continues to lead in the area.
2. Cutthroat Kitchen
If the name itself doesn't pique your interest, than maybe you should check your pulse, because Cutthroat Kitchen is like the Survivor of TV shows. With contestants making their bid as the best chef, they have crazy kitchen ideas that are fun to watch and difficult to understand. Underlying sabotage by other chefs makes this a show that grabs ahold of viewers pretty fast.
1. MasterChef Junior
As addicting as the original MasterChef season was–which I watched on Hulu in two days–the junior version is even better. Featuring kids that range from eight to 13 years old, the contestants compete in a variety of cooking challenges that are both fun and challenging. It's seriously incredible to see what kids so young can creatively come up with and make–which is a far cry from the Mac and Cheese I used to cook at their age.