Romance is a part of any show on TV. Everything from The Vampire Diaries to even Game of Thrones has relationships that we root for and want to see succeed. During 2013, television featured a countless number of great couples on the networks, cable, and even on Netflix, but while they all had great moments, some standout above the rest. Here are my top picks for the best TV couples of 2013.
15. Dexter and Hannah (Dexter)–Despite my utter disdain for most of what made up Dexter's final season, Hannah McKay was not one of my major issues with the show. In fact, I found myself rooting for Hannah and Dexter throughout most of the series' final episodes (as the two of them planned to move away to Argentina together to escape the warrant for Hannah's arrest), even though I knew that they were most likely doomed to be one of the many ill-fated couples on this list.
Photo by Frederick M. Brown/Getty Images
14. Ava and Boyd (Justified)–If you would have told me during Justified's first season that by season four I'd be rooting for Kentucky criminal Boyd Crowder and fierce female Ava Crowder to get married, I would have never believed you. But here I am, with season four of Justified having wrapped earlier this year and season five less than a month away, and I'm still crushed by Ava's arrest in the season four finale and Boyd hopeless, crestfallen walk through the house that he and his fiancé were supposed to own and live in together. It will be interesting to see how Boyd and Ava's relationship grows and changes during season five with Ava now behind bars.
Photo via FX Networks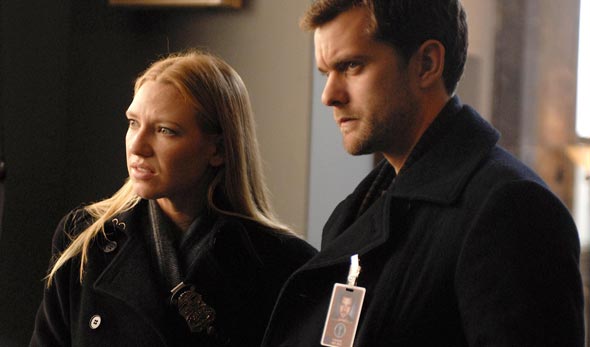 13. Peter and Olivia (Fringe)–The only reason that Peter and Olivia are not in the top ten on this list is because Fringe didn't air too many new episodes of its final season during 2013. However, how could I not talk about the couple whose love spanned over five seasons, multiple universes, and two different timelines? The final sequence of Fringe, which featured a happy and together Olivia and Peter playing with their daughter, Etta, was everything that fans of the series and the couple had wanted for them since Olivia and Peter first kissed back at the end of Fringe's second season.
Photo via FOX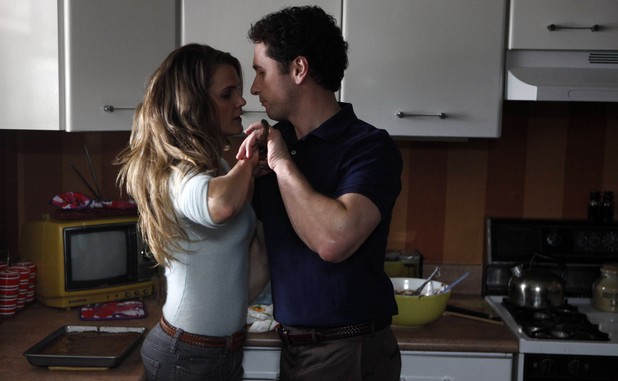 12. Phillip and Elizabeth (The Americans)–"Come home." Two words spoken by Elizabeth Jennings in Russian to her husband in the season one finale of The Americans, and that was the moment that solidified this series as not just a great spy thriller but also a great relationship drama. Phillip and Elizabeth's relationship had moved backward and forward and backward again, finally reaching its iciest patch when Phillip decided to move out of the house, but with one simple request, Elizabeth thawed the frozen tundra that had separated the couple, opening up new and exciting territory for The Americans to explore in season two.
Photo via FOX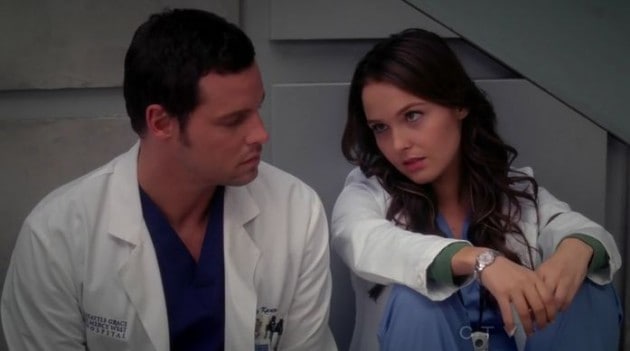 11. Alex and Jo (Grey's Anatomy)–I'm extremely behind on Grey's Anatomy this season (I've only seen the first two episodes), but I will say that during Grey's very "meh" season nine, watching Alex and Jo go from friends to more than friends was a pure joy to watch. The insistence between the pair that there was nothing more between them than an almost brother-sister connection could be seen through by almost all the Grey's characters (and the entire audience), but that didn't make watching the two of them dance around their feelings, dealing with everything from abusive boyfriends leaving black eyes to trees falling through houses during a super storm, any less enjoyable.
Photo via ABC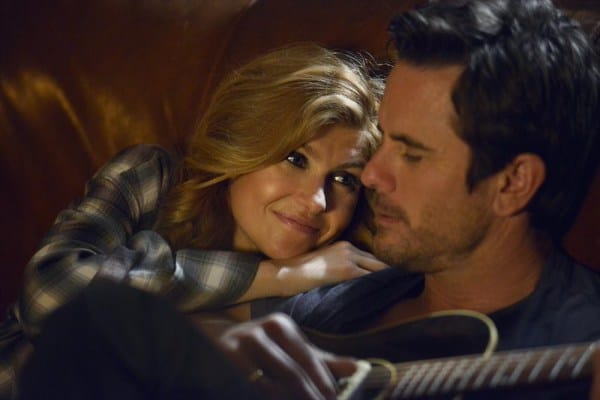 10. Rayna and Deacon (Nashville)–Although the country drama's second season has separated the two lovebirds after last season finale's horrific car crash, during the end of Nashville's first season, nothing was more enjoyable than watching Rayna and Deacon have the chance to be a happy couple, finally showing viewers what all those love songs the two of them wrote together were about. Hopefully, 2014 and the back half of Nashville's second season finds a way to reunite the pair, if only so that viewers can be treated to more incredibly romantic country duets from the couple.
Photo via ABC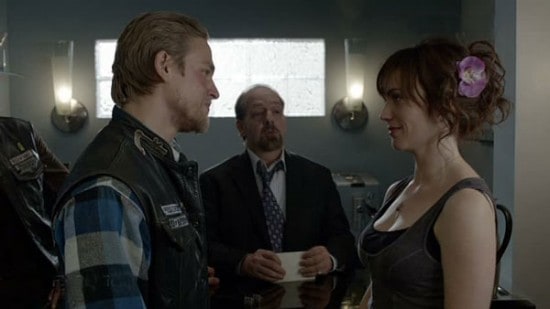 9. Jax and Tara (Sons of Anarchy)–While most of the interaction between Jax and Tara during this season of Sons of Anarchy involved deceit and betrayal, the pair's tearful reconciliation in the park during the season six finale and their final moment of happiness together in Tara's hotel room reminded viewers why they've rooted for this couple to make it through together since the beginning of Sons. Unfortunately, as anyone who has seen the finale knows, tragedy struck, as Gemma brutally murdered Tara, thinking that she had betrayed Jax and the club, ending any chance at happiness the two of them potentially had.
Photo via FOX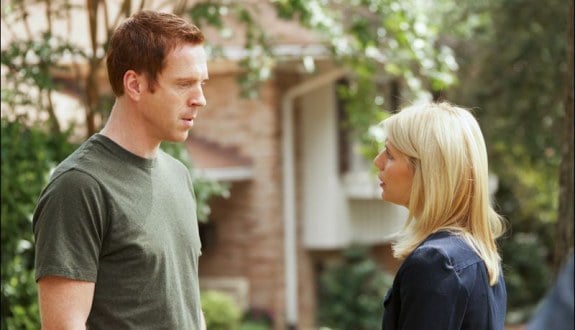 8. Carrie and Brody (Homeland)–While the argument can be made that Homeland has leaned too heavily on its central romantic relationship throughout its run (specifically during the show's second season), during the final few episodes of season three, and especially during this past Sunday's finale, the connection shared between Brody and Carrie has been Homeland's beating heart. The bond that the couple has shared since the series' first season has been the emotional lifeline that Homeland throws to its audience, allowing them to not only gasp in amazement at the show's great actions sequences or intense interrogation scenes but also emotionally connect to the characters enduring these impossible situations. It will be interesting to see how Homeland will move forward in 2014 after Brody's death, but thankfully, the emotionally powerful scene of his hanging allowed for one more heartbreaking moment to be shared between him and Carrie, 2013's most tragic couple.
Photo via HBO
7. Booth and Brennan (Bones)–This fall, Bones finally gave long-time viewers what they had waited over eight seasons for: the wedding of Booth and Brennan. In typical Bones fashion, things couldn't go that easily, as the church that the pair was supposed to get married in burnt down. However, that wasn't enough to delay the couple's nuptials. As Brennan says to Booth during the episode, "We've waited long enough." Fans of Bones agreed and were happy to see Booth and Brennan finally tie the knot.
Photo via FOX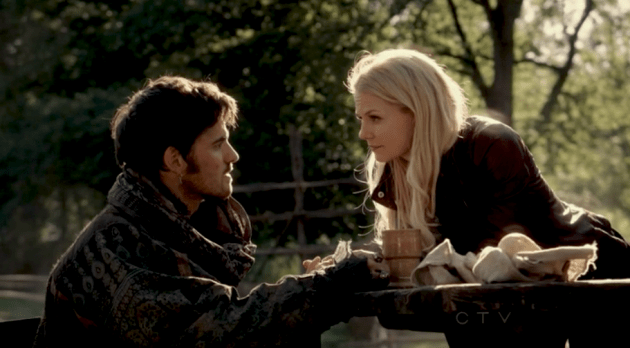 6.Hook and Emma (Once Upon a Time)–I watch a lot of TV (too much, a lot of my friends say), and almost no other couple on TV can match the unadulterated chemistry between Captain Hook and Emma on Once Upon a Time. Fans of the series (and of the couple) were finally treated to a kiss between the pair in this season's fifth episode, and it didn't disappoint. And while some viewers may believe that Emma's heart truly lies with Neal, I would point to the mid-season finale of Once Upon a Time and say to them, "But who was the person who came back for Emma and Henry?" That's right: it was Hook.
Photo via ABC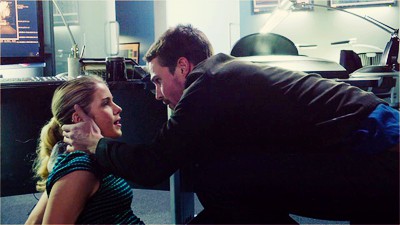 5. Oliver and Felicity (Arrow)–Even though they are technically not a couple, very few pairs of people got me more excited to watch TV during 2013 than the combination of Oliver and Felicity on Arrow. Whether it was Felicity's awkward innuendos about how she's attracted to her boss or Oliver breaking his "no kill" rule by shooting The Count in order to save Felicity (As he told her, "He was going to hurt you. There was no choice."), these two were not at a loss for romantic moments during this year. And nothing against Katie Cassidy's portrayal of Laurel Lance, but the chemistry between Oliver and Felicity completely overshadows (and is much more enjoyable) than any manufactured "will they or won't they" drama between Laurel and Oliver.
Photo via CW (Warner Bros)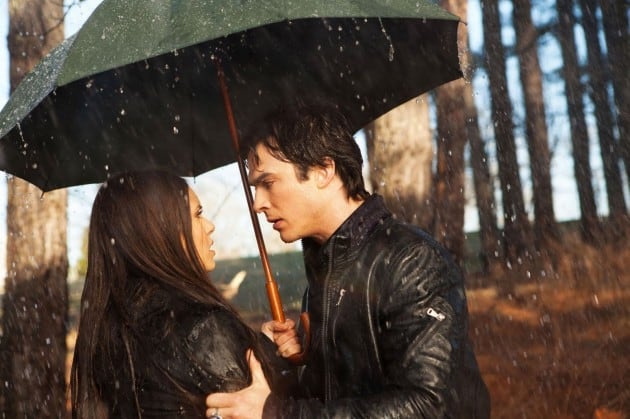 4. Damon and Elena (The Vampire Diaries)–After almost four years of being taunted and teased by The Vampire Diaries showrunners, fans of Damon and Elena (Delena, as online fans affectionately call them) were finally given what they've been wishing for since the start of the series: Damon and Elena together as full-fledged couple, after Elena became a vampire and finally realized that her feelings for Damon were more than just simple attraction. From the romantic height of the pair's season four finale kiss to numerous other strong moments provided throughout the first half of The Vampire Diaries' fifth season, there was no shortage of Damon and Elena scenes to go crazy over. However, what probably caused fans of the couple to go the craziest was the fact that the writers had Damon and Elena break up in the show's winter finale, not allowing the pair (and their fans) to go on hiatus on a good, happy note
Photo via CW (Warner Bros)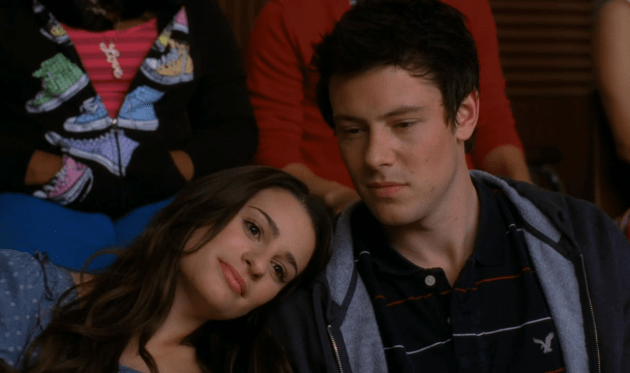 3. Finn and Rachel (Glee)–Throughout its fourth season, specifically in the show's Valentine's Day/wedding episode, "I Do" (where Finn and Rachel shared a romantic duet of "We've Got Tonight" and Finn told Rachel that no matter who either of them was dating at the moment or where they were living, it did not matter. They were endgame.), Glee made it clear to audiences that Finn and Rachel were the show's central couple and that, no matter how long it took over the course of the show's run, they would find their happy ending. Unfortunately, real life tragedy struck with the passing of Cory Monteith back in July, leaving a gaping hole in both the real life of Glee's cast and crew and in world of the show. However, despite the fact that Finn and Rachel will never actually share in their own happy ending on screen, the show's writers provided us with a lovely story of things would have go down with Rachel's speech to Will during the Cory Monteith tribute episode, "The Quarterback." As Rachel tells Will, "I had it all planned out. I was going to make it big on Broadway and maybe do a Woody Allen movie and then, when we were ready, I would just come back and he'd be teaching here and I'd walk through those doors and say, 'I'm home.' And then we'd live happily ever after." Sounds pretty darn perfect to me.
Photo via FOX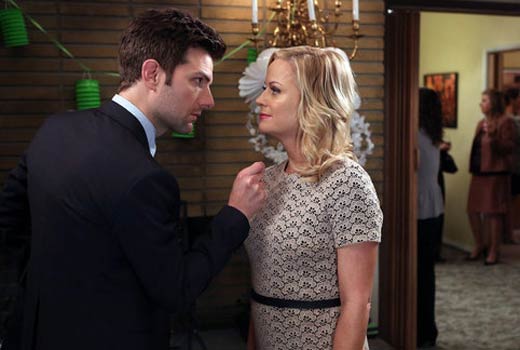 2. Ben and Leslie (Parks and Recreation)–Despite Booth and Brennan's wedding garnering all the attention this fall, I'd make the argument that the wedding of Leslie and Ben on Parks and Recreation from earlier this year simply cannot be matched. The entire ceremony was perfect: from Ron walking Leslie down the aisle and then punching Councilman Jamm, to Leslie's "I love you and I like you to," to the wonderful montage of flashbacks we were treated to while the couple expressed their vows (the episode, "Ben and Leslie," was originally written as a series finale for Parks and Rec, in case NBC did not pick the show up for a back nine order). Their wedding episode alone establishes Ben and Leslie as one of the top TV couples of 2013.
Photo via NBC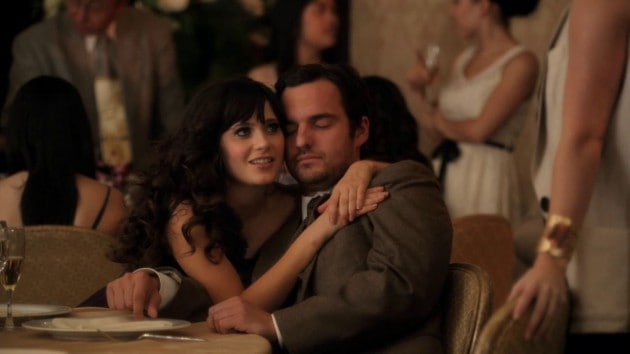 1. Nick and Jess (New Girl)–My favorite couple on TV during 2013 was also the best couple on the airwaves. From the beginning of this year, with Nick and Jess's epic first kiss in "Cooler" to the two of them finally deciding to be a couple in the show's second season finale, "Elaine's Big Day," to the first half of season three, where the New Girl writers have shown that Nick and Jess are just as a great as a couple as they are when they were bickering back and forth, not trying to deal with the attraction that they both had for one another, New Girl has illustrated why Nick and Jess are the best couple on TV right now. I cannot wait to see what kind of craziness these two get into when New Girl returns in January.
Photo via FOX
Who are your top couples from TV this year? Comment below and let us know.