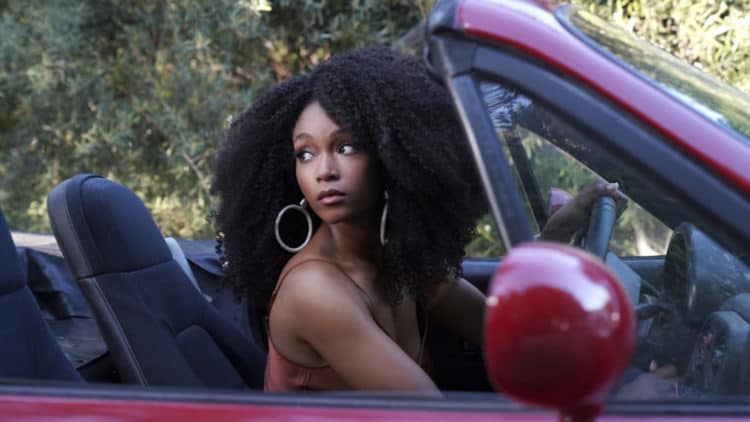 For the past six years, we've watched YaYa Dacosta play the beautiful nurse April on Chicago Med. In this soapy Fox drama, Dacosta is the lead character; Angela Vaughn, a strong-willed single mom determined to reclaim her family's name and build a successful haircare business. Here are 6 reasons why we love Angela on Our Kind Of People:
1. Angela is a good mom
As a product of a single parent family I know first hand how difficult it can be to raise a kid alone. Angela Vaughn does a great job at handling the challenges of single parenthood. When Nikki gets arrested after being involved in a school fight, Angela decides to move them to Oak Bluffs a small tight-knit community in Massachusetts that she believes will be a better environment for her daughter. In the first episode, we find out that Angela is dealing with the loss of her mom. Raising a kid while grieving can be incredibly difficult. However, Angela is able to remain focused on being there for her daughter while building a business that can provide amazing opportunities for Nikki.
2. She's a hard worker
Leah Franklin Dupont believes that Angela has ulterior motives. In reality, Angela is a hardworking and ambitious woman with dreams of her own. Angela isn't interested in the Franklins money and she makes this clear when she turns down a generous check from Leah to leave town. Over the years, Angela has built a strong online following showing black women how to care for their natural hair. Before she came to Massachusetts she was selling her hair care products out the back of her car. Now she's determined to take things to the next level by officially launching her brand. In episode 2, she makes Nikki the face of her brand which has started to garner a lot of attention after Leah revealed that Angela was her father's illegitimate daughter.
3. Angela's all for charity
Angela is all for supporting people especially black businesses. Most of the pilot is centered around a charity event hosted by the Dupont family and sponsored by Raymond Dupont's business. Angela wants to get on Leah's good side while supporting a good cause which is why she writes a check for about $100 bucks which is generous for a small business and a single mom. Leah scoffs at the "meager" check and refuses to take it.
4. Bold and Audacious
If it's one thing you can expect from Angela is a witty comeback. Leah tries her best to tear Angela down with her snide remarks and mean girl antics but Angela doesn't hesitate to put her in her place and call her out for being a stuck up prick. In one scene, Angela bites back at Leah by making fun of Leah's split ends and lackluster tresses. Leah has tremendous influence in the social circles of Oak Bluffs and while Angela desperately seeks a spot in these elite groups to solidify her business success she sure isn't willing to sacrifice her self-respect.
5. She's relentless
Angela isn't afraid to go after what she wants. In fact, the first time she meets Leah and Raymond DuPont she pitches her business in hopes that they'll consider her for the grant program they have in place for small black business. The Duponts are the most powerful family in the community it took a lot of guts for Angela to be so forward but she makes it all seem so easy. Angela doesn't let anything hold her back or damper her spirit. When Leah turns her nose up at the $100 check she wants to donate at the DuPont charity event, Angela holds her head high and keeps it pushing. Most people would have cowered away in embarrassment. Angela's bold personality and super realness is refreshing especially when compared to the snobby elites. Although she wants a spot in these inner social circles to boost her business endeavors she doesn't try to be something that she's not to appeal to these people.
6. Her Hair Care Business Is Inspired By Her Mom
Angela's mother was also a hair dresser. Her mom's lifelong dream was to start a black hair care line. At the core of Angela's ambitions and passion is the desire to bring her mom's dreams into fruition. Some of the products in her line are her mother's very own recipes. Angela always believed that her mother deserved more and by making this hair care line successful with the recipes she taught her she'll be accomplishing her dreams as well.
Tell us what's wrong with this post? How could we improve it? :)
Let us improve this post!