This week, Person of Interest wasted absolutely no time getting back to business in their first episode since their brief winter break. If you missed any of the significant moments from the winter finale then all you need to know is that Carter finally had her face-to-face with our duo, Reese's former employers want him dead, and Reese got shot in the midst of it all. That's where we start off as Finch races to get Reese proper, if somewhat unorthodox, medical care from his wounds. Not much time is spent dealing with any of that though as we skip right ahead to his recovery and their next POI case. Meanwhile, Carter starts to make her way out of being referred to constantly as a '˜meanwhile'in these reviews as she gets a much better understanding by episode's end of what it is that Finch and Reese are out trying to do.
As any fan of the works that JJ Abrams has been involved in could tell you, the man loves his boxes. It was hard to watch this episode and not focus on how often boxes were the core focus. Whether it was the machine itself during flashbacks to Finch and his former partner Nathan back in 2005, or the '˜box'of the apartment building where Reese and Finch set out to crack their latest POI. That in itself was like a puzzle as they had a set number of people they had to watch and figure out where exactly their threat was in the building itself. By now it's become an expected thing to have a twist regarding the exact situation of the person of interest of the week so I couldn't be the only person waiting for the reveal that building super, Trask (Dexter's David Zayas in a fun appearance as the POI), was not actually the perpetrator. Instead, he was just a concerned outsider like Reese and Finch toward a girl with an unwanted admirer.
So like any POI episode, it's really all about the performances and the little moments that stand out from the cases. One of the smartest things this show does is to refuse to stick Finch in a room filled with screens and have Reese be the only man out in the field. In this episode the two were forced to switch their usual roles as Reese was still laid up by his gunshot injuries. Even though neither was quite as proficient as the other in these different tasks, Reese got to show off that he's not so bad himself with computers while Finch got to learn the simple joy of using a good finger jab to the eyes in order to stun an assailant. Besides, if you think a pesky thing like crutches would stop John Reese from taking down an opponent, (and tossing him through a window), then you don't know him that well–the man knows how to make use of just about any implement.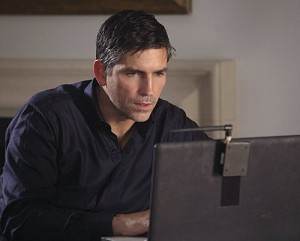 But the best part of the episode had to be the flashback to 2005 when Finch was still able-bodied and the machine was in its earliest stages. Since the beginning of the show, these have been the flashbacks that are the ones which demand to be seen. Even when little bits of information are given about Finch's past it's just never enough. I can't wait for everything to be placed in front of us, and for the truth behind the dissolution of Finch and Nathan to be revealed. All we know right now is that Nathan was the face of the machine to the government. He also, according to the nifty graphic at the end of the episode, was found to be a threat by the machine. It was bad, it was damaging, and I really want to see what happened with those two. It's probably the serialized television fan in me that gets so invested in the ongoing arcs of the show more so than just what the case happens to be this week.
Not to mention it's a shame that the show's procedural nature might be preventing people from taking it seriously in an awards season sense as Michael Emerson continues to pull off some excellent work as both versions (past and present) of Harold Finch. He has managed to portray two halves of a whole man as the past Finch is noticeably different from the man that's been left to pick up the pieces of whatever tragedy left him with that limp and heightened sense of paranoia. Finch's past in addition to his solid, and sometimes unexpected, comedic timing make Emerson's portrayal of Finch one of the most endlessly fascinating characters on TV right now.
Thankfully, Carter's finally inching that much closer this week to being a full-fledged member of the Machine team. I loved that Finch used the metaphor of being thrown into the deep end by his siblings to learn how to swim in order to illustrate to Carter what it is they do. She was given a name and a set of circumstances surrounding this person in order to figure out why the machine chose him. When she realized that Finch and Reese were attempting to prevent violent crime it certainly gave her a sense of context for all of the situations that her man in the suit has been involved in over the past few months.
I'm sure it won't be long before she becomes another asset for Finch to use when he and Reese have their hands full again like the time the machine spat out multiple numbers. It'll make all the difference in the world to have Carter fully exist in their world soon as the character felt so out-of-place for most of the first season as the law enforcement agent hunting our duo down. I can't wait to see what their first POI case working together will be like and I'm sure we won't even have to wait that long at all.