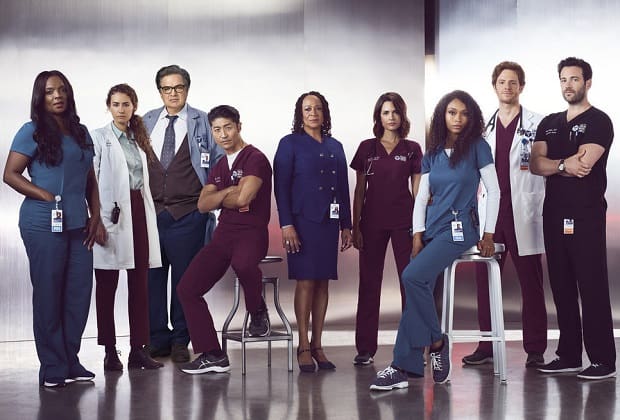 "Chicago Med" revolves around the most highly-skilled medical team in town as they save lives, while also navigating some very unique interpersonal relationships. According to IMDb, the show takes place at Gaffney Chicago Medical Center where the dedicated doctors, nurses, and other staff members are facing challenges every day as they're doing whatever it takes to treat their many patients. The show was created by Michael Brandt, Derek Haas, and Matt Olmstead. Dick Wolf is one of the Executive Producers of all of the episodes over the years. The stars of the show include Yaya DaCosta, Torrey DeVitto, and Nick Gehlfuss. The first episode premiered November 17, 2015, on NBC and all 100 episodes were brought to you by the production companies Wolf Films and Universal Television.
100th Episode
"Chicago Med" aired its 100th episode on March 18, 2020. It was directed by Michael Waxman and the writing credits include Michael Brandt, Derek Haas, Meredith Friedman, Diane Froloy, Matt Olmstead, Paul R. Pun, and Dick Wolf. This Season 5 Episode 17 drama runs the gamut of emotions so be sure to bring your Kleenex. According to Country Living, the writers wanted the 100th episode to deliver a strong emotional punch while also paying off all of the story and character arcs that they had been developing throughout the 5th season of the show. And, it definitely delivered all that and more!
April and Ethan
For months now, we've been yelling at our TV screens "No, don't tell him!" every time that a scene with Ethan (Brian Tee) and April (Yaya DaCosta). The secret that she had been keeping was about the passionate kiss that she shared with the dashingly handsome and absolutely brilliant Dr. Crockett Marcel (Dominic Rains). So, what did we learn from this storyline? Not that we're promoting dishonesty, mind you, but, if it's in the past, leave it in the past. And, that goes double if the truth is going to devastate someone you love and send them into a violent tailspin. April's error in judgment (for the second time) sets Ethan off and he attacks Crockett right in the middle of the ED. Not cool, Ethan. We also learned that Ethan's decision to start a fist-fight with Dr. Marcel was almost as stupid as April deciding to double her hormone dosage of hormones and not tell anyone that she did. This landed her in a hospital bed and led to the equally stupud disclosure. After all, doctors prescribe a specific dosage for a reason and secrets are kept secret for a reason. The situation also led to a great line from Sharon Goodwin (S. Epatha Merkerson), who remarked, "I can't have my doctors coming to blows in the ICU."
Will and Asher
Meanwhile, Dr. Hannah Asher (Jessy Schram) is back at work at the hospital after her stint in rehab, which came about at the hands of Dr. Will Halstead (Nick Gehlfuss). She treats April but barely speaks to Will because he literally sicced the drug dogs on her. It's also clear that everybody in the ED knows about her little drug problem and this causes much consternation on her part. However, later in the show, she stops Will in the parking lot and confesses that he saved her life and she is grateful to him for intervening. The scene ends with Will asking her to go out with him again. What we learned here is that all's well that ends well.
Maggie and Ben
After cheering them both on through their fight with cancer, Maggie Lockwood and Ben Campbell are ready to tie the knot….. Or are they? Maggie turns into Bridezilla as everything goes wrong while she's trying to frantically do everything herself. When they lose their venue due to a sewer backup, Ben takes over, telling Maggie that he knows it's just the fear of her cancer coming back that's making her crazy. At the end of the show, she's escorted into a surprise wedding fairyland in, of all places, the bowling alley where Ben plays on a league! It's a beautiful scene and ends with everybody at the wedding bowling with those funny light-up iridescent balls, including the bride in her flowing gown. Perhaps the lesson we learned here is that, with a little imagination and the help of some good friends, the perfect wedding can be just about anywhere.
Dr. Daniel Charles and His Daughter
Dr. Charles (Oliver Platt) has a teen daughter named Robin (Mekia Cox). He hasn't been much of a father recently due to his wife's illness and death. His ex-wife thrusts the daughter back into his life and he takes her to the hospital with him for his shift. She witnesses a sad scene in the ED where a child is going to be taken away from her mother by DCFS and Robin gets very upset. Dr. Charles tries to explain the situation to her saying that she may not have been a "good mother". This strikes fear in her heart since, as she says, he hadn't been a very good father. She's afraid that they'll take her away from him but he promises to dfo better and that they'll never take her away from him.
Munchausen By Proxy
Meanwhile, back to the young mother who brought her little daughter to the ED for treatment. As it turns out, she had been red-flagged by a number of other local hospitals because her daughter didn't present any of the symptoms that the mother said she had. Dr. Strauss (Anna Belknap) is convinced that the mother is suffering from Munchausen by Proxy, a mental illness where a parent either makes a child sick intentionally or simply says the child is ill for the purpose of garnering attention. However, neither Dr. Natalie Manning (Torrey DeVitto) nor Dr. Charles believes that the diagnosis is correct. So, Dr. Charles talks to the mother and discovers that a difficult birth and the near-death of the baby girl have simply caused the mother to be hyper-vigilant out of the fear of losing her. He sets things right with DCFS, Goodwin agrees with his diagnosis, and Dr. Strauss tells them that it's on them when the child ends up back in the hospital with a serious injury. What we learned from this storyline is that often things aren't what they appear to be.
Kudos
OK, so we learned about plenty of diseases that we'd never heard of and how they're diagnosed and treated. We also learned that doctors, nurses, and hospital administrators have very challenging jobs that make them work very hard but they love every minute of it! And, last but not least, we learned that Dick Wolf simply doesn't know how to make a bad TV show. Kudos, Dick, on a great medical drama that keeps us glued to our TVs every week that it's on. So, find out for yourself by tuning in to "Chicago Med" NBC on "Chicago Wednesdays" at 8 PM EST/PST. And, then be sure to stay around for the wild rides on "Chicago Fire" and "Chicago PD". You really don't want to miss any of them!
Tell us what's wrong with this post? How could we improve it? :)
Let us improve this post!