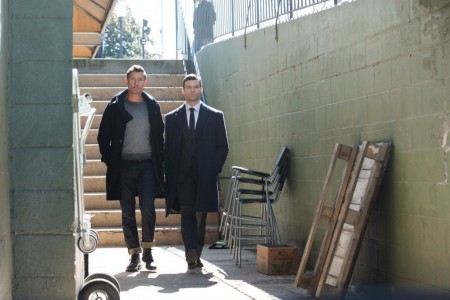 The Big Bad has been in our midst all season long on The Originals. Only now the difference is everyone is onto Lucien. Hayley and Klaus investigate what he's doing with reported missing wolves while the rest of the family take a literal trip down memory lane in Mystic Falls. A rare Matt Donovan sighting topped off this exciting episode.
For all intents and purposes, I'm taking a stab at a simple new nickname for whatever Lucien 2.0 actually is: FrankenLucien. He's a monster hybrid Original wannabe with extra strength werewolf venom to take down any vampire. He's been reverse engineering a cure for werewolf bites and using random vampires as test subjects. By extracting the venom from all existing 7 wolf packs and scheming to get the last white oak wooden bullet, he's been planning this transformation rather extensively. Let's not also forget he also saved enough of the potion to bust Aurora out of her imprisonment and turn her into a monster as well.
What a lovely future in store for the Mikaelsons with their greatest enemies taking the upper hand here. For a second after Klaus' attempt at healing Finn of his werewolf bite, I thought another twist was coming. It would have made sense if the actual venom Lucien used to turn himself into a hybrid would only serve to counteract Klaus' healing blood and then technically frame Klaus as triggering his eldest brother's final death. The prophecy would be coming true if that were the case, as it would be death by family even if it was technically orchestrated by foe.
Finn never had an easy life and he never let his siblings forget it either. It wasn't until his deathbed that they all put aside their differences and stayed with him in his final moments. The 4 remaining siblings took turns spreading his ashes after his death because after all, family is always and forever. Definitely a tearjerker of a scene there! No one's words were more sincere than Klaus' message that he will be avenged. I don't doubt him.
Kol's anger issues are becoming more apparent to Davina. When he's confronted about his temper, he makes a valid point. He's been a witch, a vampire, a ghost, and a witch stuck in another person's body. Talk about an identity crisis. He doesn't know how to readjust to one supernatural status if he's never been able to get comfortable in all his long life before.
It was a treat to see Matt and Elijah exchange their pleasantries in Mystic Falls. Both such gentlemen as they stood their ground. Only Elijah could make a threat to violently disembowel Matty Blue-Blue and still make viewers think it's the most polite offer in the world. Seriously though, Matt's eyes were looking extra blue tonight. Maybe it's because he was M.I.A. on The Vampire Diaries and I just missed his bright eyes not scowling at all his friends.
This episode also marks Joseph Morgan's debut as director, which he proved himself to be one of the best in my opinion. He had an excellent story and cast to work with of course.
What did you think of "Behind the Black Horizon"?