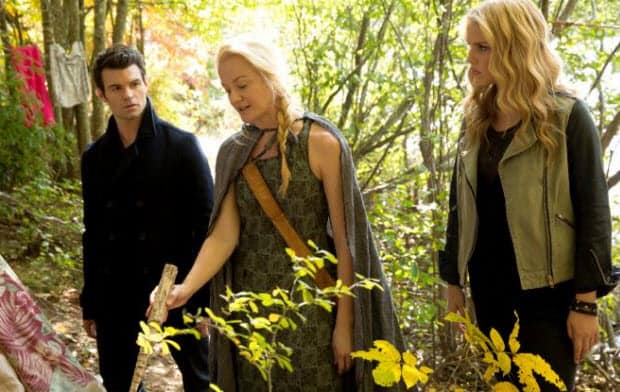 This wasn't an action-packed episode of The Originals as you might have expected for a midseason finale. However, the make-ups, break-ups, and new alliances formed set up a very interesting second half of the season.
With Thanksgiving fresh in our minds, we get to see a vampire twist on a Thanksgiving dinner of sorts. Klaus is seated at the head of the table of vampires in his new/old living quarters. He's raising a glass for their victories and defeats as the human waiters and waitresses are compelled to slit their wrists and pour their blood into the vampires' glasses. It's important to note that Hayley is seated at the other end of the table, but she only speaks up when Klaus announces a wolf hunt to begin the next night. To try to earn the vampires' trust, he encourages the hunt so that they aren't worried about the possibility of his baby's blood being used to sire hybrids.
Meanwhile, Elijah and Rebekah are checking up on Hayley. She begs them to protect the wolves that Klaus just set a target on. Rebekah reluctantly agrees after just saying that they're not the "vampire rescue squad". The two Original siblings have to keep fending off Klaus' vampires they find prowling around the werewolf camps. Aside from Rebekah's mild teasing of her big brother's feelings for Hayley (which was cute to see Elijah almost blush in response), not much happened out in the Bayou. Eve, a member of Hayley's family whom Elijah met last week, was there to just fill them in on the fact that there's more werewolf activity than ever in the area, all because word of the vampire/werewolf baby has spread. The most important thing to come out of this storyline was when Elijah and Rebekah found a ring on a wolf that belonged to their mother Esther, which implies that Klaus' paternal family may be linked to the wolves in the area.
Joseph Morgan's delivery of so many great lines was perfect. My favorite quote was, "for the record the level of awkwardness we're all currently experiencing is entirely genuine" after Marcel walks in to discover that Klaus has Cami under compulsion. Marcel was only there to warn Klaus that they have a meeting with the human faction. That's where things got very interesting. A few weeks ago, we first saw this human faction of political and law enforcement leaders that met in the church with Father Kieran. This meeting they've called with Klaus and Marcel is to serve the purpose of reminding the lead vampires of their rules. Klaus' hot temper doesn't tolerate their "rules" very well, and the humans retaliate in appropriate fashion. They attack a bar full of vampires in the middle of the day so that the vampires without daylight rings all burn up.
This really got Marcel and Klaus back on the same page. Klaus was pleased to see Marcel actually show some emotions for once, and they team up to annihilate everyone on the human faction, except for Father Kieran. I'm glad he was spared, even though I don't care for his niece at all. I'm thinking there's still a lot to learn about this man of God.
Cami returns home to a bunch of post-it notes written to remind her to check her bag for something. She finds a tape recorder in there, and it was recording the whole time she was under Klaus' compulsion. Horrified and scared, she goes to her uncle Kieran for help. Kieran tells Klaus that it's time for Cami to leave for good, and Klaus agrees. As we saw last week for the first time, it seems the Original vampires possess the convenient power to be able to share their memories by just touching someone. Before Klaus compels Cami to forget everything and leave the city, he shows her glimpses of his past, including the tortures he endured at the hands of his father because of his werewolf nature. She sympathizes with him, but he still sends her packing.
Hayley proposes that she, Davina, and Josh can all help each other since none of them want to be Klaus' "prisoner". Hayley earns Davina's trust by telling her that Agnes, the last elder witch, had been killed by Elijah. Davina didn't want to believe her, because for some reason that means she can't be sacrificed to complete the Harvest so she's free. She only believes Hayley when Josh confirms that truth, and this got Davina upset because Marcel never told her. She thinks he's just keeping her locked up to use her as his own puppet, but I'm not entirely sure that's the truth. I would think that the witches are still a threat to her, and Marcel is probably still looking out for her. I could be wrong, but things are never as simple as they seem on this show. After all, we haven't seen the witches in a while so they must be up to something, right?
I admit that I just find Cami boring, so I was happy to see her leave until Davina screwed that all up when she went crying to a confused Cami. She used her magic to undo all of Cami's compulsions, which means she's not going anywhere now. Ugh. I don't understand what Davina thinks Cami (a human) could do to help free her (an all-powerful witch) from Marcel (one of now two reigning vampires).
I can't go without mentioning a few other important scenes. Rebekah had chosen Marcel over Klaus last week, but it turns out Marcel has other priorities that he values over his relationship with her. I felt bad for Rebekah, but she clearly isn't letting this break her heart again. She warns Marcel that she knows the words that could make Klaus hate him forever. Hmmm, here's to hoping that secret gets spilled by the end of the season! After Elijah defends the wolves, he shows up to let Hayley know they're all safe. She hugs him, and they were so close to kissing! My favorite scene of the night was when Elijah apologized to Klaus. It even surprised me that Klaus accepts this apology and invites his brother and sister to move in to his new home.
The next episode isn't until January 14th but by the looks of things, it seems like the wait will be worth it!
[Photo via Facebook]