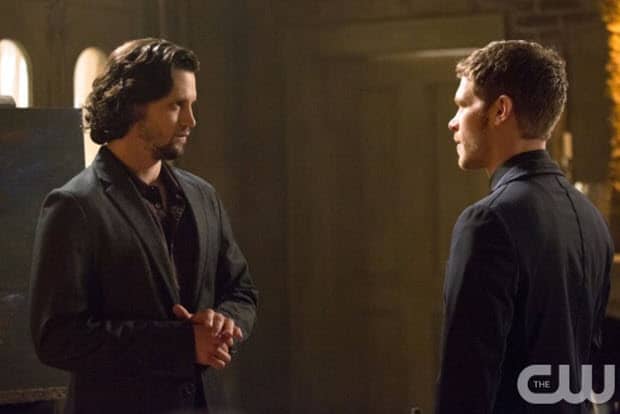 Rebekah's absence was barely noticeable so far because, as usual, there's so much going on in New Orleans. As much as I miss her already, The Originals jumped a month ahead. We see how her brothers have been coping without her, including Klaus' newest distraction in the form of Genevieve. Add a party in the vampire compound to the mix, and we had quite an eventful episode.
Genevieve, the last of the resurrected witches, has been keeping Klaus company much to Elijah's (and probably the viewers') dismay. I don't trust Genevieve, and after seeing that she had taken to spying on Cami through a dream catcher in her apartment, I don't think Klaus should trust her either.
Speaking of Cami, she's been treating and caring for her uncle Kieran as his hex worsens. She's shown giving him pills, and even I had to question what kind of medicines would help with a magical hex? Anyway, Kieran eventually gets too violent and attacks her so she has no other choice but to take advantage of that empty church attic and chain him up there like some kind of animal. It was sweet of Marcel to find a witch to place a boundary spell on the attic so that Kieran can't leave and Cami won't have to feel threatened anymore. This all leads up to a pretty epic Marcel and Cami hook up scene. Their characters have been friendly all season long, so it wasn't entirely unexpected.
Even though Marcel has been exiled from the Quarter, he's been creeping around recruiting allies for his inevitable strike back to regain control of the city. So far he's gotten his best friend Thierry and everyone's favorite newbie vampire Josh on his side.
Meanwhile, Elijah has taken it upon himself to draw up a new set of rules amongst his new summit of advisors from the various communities of the city. Initially it includes humans, vampires, and witches, but once the werewolves hear of what is going on, Hayley demands that Elijah gives them a seat at the table too. I thought it might have been interesting if Jackson (Hayley's destined werewolf husband) was chosen to represent the wolves, but it's definitely better that Hayley is there herself. She's not one to sit back and let the men deal with things, so I like that she's on equal terms with Elijah.
Klaus suggests that Elijah throws a party to promote peace with all the different factions invited, including the werewolves of course. Klaus had a hidden agenda in his suggestion, as he was hoping to be able to speak with Jackson. He proposes that he will give Jackson a moonlight ring, similar to a vampire's daylight ring in the sense that it will shield a wolf from turning every full moon. In a classic Klaus move, he's already scheming behind Elijah's back.
Jackson's seeing a greater advantage to this plan for the wolves to gain control of the city. If all the werewolves had their strength of the wolf even when in human form they could overpower the vampires. Now I know Jackson wouldn't dare to put Hayley in the middle of this, but she's definitely going to get caught up somehow. She has strong ties to the Mikaelsons, Elijah especially, so she won't be happy with her "family" once she learns of the wolves' long term plans to rid the city of vampires.
An all-out supernatural war is brewing for what feels like the 100th time this season. So far the vampires and witches have had their time to shine and show what they're capable of, and it is clear that the werewolves will make their intentions known soon enough. I can't help but hope that the humans end up surprising all the supernatural factions if/when they strike back. With this new woman Francesca worming her way into Elijah's summit in place of Kieran, I'm starting to think that the humans aren't so innocent.
We'll have to wait a month until April 15th when new episodes return. Hopefully this is the last hiatus before the last stretch of the season!
[Photo via Photo: Bob Mahoney/The CW — © 2014 The CW Network, LLC. All rights reserved.]