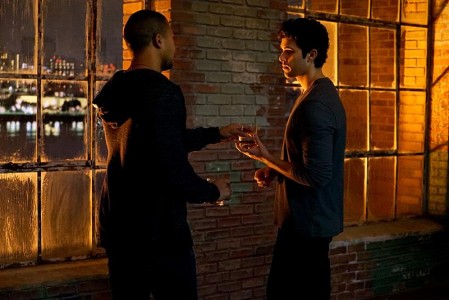 After the shocking episode last week, we shouldn't be surprised that The Originals kept the surprises coming this week. Cami's transformation into a vampire is not going as smoothly as Klaus expected, which only makes it all the more fun to watch!
We got a taste of Cami's new and improved attitude after she finally gave in and drank to complete her transition to become a full fledged vampire. I have to say, I'm so not liking this darker side of her. Maybe it was because I felt I could relate more to her as a smart and independent human amongst the crazy monsters surrounding her, but now she's so sassy. Almost too feisty. She was far from a pushover as a human, which was an admirable trait in a character. Now she's not even caring that she's disrespecting others, including her friend whose life she fought hard to save only a few weeks ago when Lucien had Will under his compulsion.
Cami is going through a lot. I completely get that. She can and should take some time and space away from Klaus as she gets used to this new life. I don't like that she's appearing to betray Klaus and his siblings by taking the one weapon left made of the white oak tree that could kill them. It's very likely that she has a bigger plan in place and she's not exactly planning on turning the white horse toy over to Aurora or Lucien. Not really sure what else she could possibly be doing with it, other than angering Klaus. She made a good point that deep down Klaus is scared he'll be tossed aside when he's no longer needed. Don't we all feel that way though? I think that's a deep seeded human fear to be afraid no one will want us therefore we're unlovable. By turning over this weapon that could kill him and his entire line of sired vampires, Cami would be making a huge mistake.
The most creepy storyline of the night involved Davina aligning herself with the Strix witches in order to bring Kol back to life. Can I just say it's been far too long since we've seen Josh, by the way. It's always a delight when he's around. He tried and failed to talk her out of this but even he realized he would do anything possible to bring Aiden back if he had the chance. He's seriously such a good friend though. I'm not sure what he or Marcel can do to keep Davina safe now that she's gotten herself involved with a super powerful coven, but it's the thought that counts here.
Back to Kol! Of course, Nate Buzolic is reprising the role of vampire Kol. Davina only knew him as a witch when Daniel Sharman played the role last season. I myself was hoping it would be Sharman returning but Buzolic isn't a downgrade by any means. Those scenes in the "freaky ghost land" as Davina called it were downright scary! The ghosts of the ancestors were terrifying. Watching this with the lights off, it started to feel more like a scary movie than a CW show. I don't understand how or why Davina had to even tell Kol about her plan to bring him back. Why put herself in danger instead of just getting started with the spell. At least now we get the gist that this is some dangerous magic she's siding with.
Anything involving the Strix has strings attached, as we already know. Ariane (Haley Ramm) is introduced to Elijah by Aya as the Strix' secret weapon. Elijah isn't trusting anyone completely but he does need help now more than ever. Ariane successfully gets a reading on Elijah (and helps Davina out of her ghostly trance) but then she quietly accepts her death at his hands (or teeth, I should say) without putting up a fight. Sure, she knew "too much" about his past but there's no such thing as secrets with the Mikaelsons. I do wish she survived a little longer. Unlike most of the Strix, she didn't come off as evil necessarily.
Lastly, we have to discuss Hayley. She lost her husband last week and has only been grieving internally which isn't good for anyone. By the end, Elijah catches her at her most vulnerable state when she finally allows herself to cry. He doesn't know what to say or how to act so he just sits there with her as she admits she feels guilty. For some reason beyond her control, her fate is woven in with the Mikaelsons. I think she said it best when she said, "loving any of us is a death sentence, isn't it?" True. Also just one more reason that Elijah and Hayley are meant to be together. Too soon?
What did you think of this episode? Weigh in on vampire Cami (or Campire as I've even seen Leah Pipes refer to her revamped character), Kol's imminent return to the living, and any and all things Haylijah related!
The Originals Season 3 Episode 11 Review: "Wild at Heart"
Summary
Cami adjusts to vampire life as Davina and Elijah make deals with the Strix.