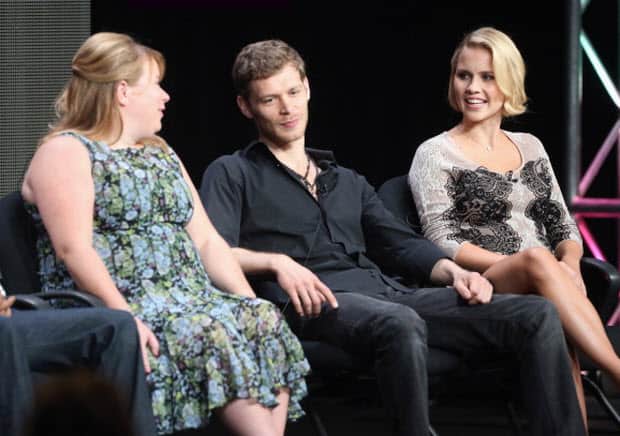 Assuming you tuned in to the CW last night, you already know how intense this episode of The Originals was! I don't think anyone doubts that Davina is truly all-powerful after seeing her forcing Klaus to turn into his werewolf self and making Elijah choke on his own blood, but it seems we will also have another witch to worry about soon.
A running theme of the episode seemed to be that girls have to stick together, and they all did just that. Starting with a flashback to centuries earlier, we learned of the real legend of the Casket Girls. Innocent French girls were being sent to the French Quarter in New Orleans to marry gentlemen who, as Rebekah puts it when she saves them, are "not so gentle". Now, there is a festival held each year to commemorate the courage of the women who were believed to have fought for themselves. I liked when Rebekah made a comment that the day might as well just be celebrating her, since she apparently was responsible for saving the girls.
Another example of girls sticking together is evident when Davina is still undoing all the compulsion that Cami was under by Klaus. Cami freaks out as she remembers everything she was told to forget, but she quickly jumps into action when Davina senses that witches are practicing a locator spell to find her. With no time to spare, they're on the run almost immediately.
Klaus, Marcel, and Elijah are busy working to find Davina as well, but some witches get to her first. What I don't get is why Davina and Cami went to the church of all places. It doesn't take magic to think to find you there, considering she was living in the attic of the church for a while. Anyway, in a very cool scene, Davina throws the advancing witches up into the air simultaneously and snaps their necks.
Klaus is only worried to find Davina so that she is kept in their good graces, because as he said, if she's not a friend of the family she's an enemy. Marcel and Elijah make a secret alliance to not let any harm come to Davina, as they both care for her wellbeing unlike Klaus. Their plan all works out, but poor Tim paid the price of Klaus' rage. Klaus gave Tim poisoned water and compelled him to drink it himself and make Davina drink it too. Davina is only saved by a protection spell that Marcel forced Sabine to cast on her.
Sophie is quickly becoming my least favorite character. How many times will she use people to get what she wants? Her latest scheme is to use Hayley's close relationship with Elijah to find where he buried Celeste centuries ago. Remember Celeste, the witch Elijah dreamt of during his Klaus-induced fever dreams? Well, she's coming back as the newest Big Bad it seems. Davina's sketches of some dark evil power coming soon reveal the picture of Celeste. Elijah just isn't aware yet that Hayley is responsible for telling Sophie where she was buried. In return, Sophie will use whatever powers she thinks she'll receive from Celeste's remains to remove the curse that Hayley's werewolf family is under. Sophie may just be making the worst mistake for everyone involved by digging up Celeste, but we'll all have to wait and see what happens next!
While all this was going on, Rebekah was busy cooking up a plan of her own. She's tired of living in the shadows of men, even if they are her family. She was shown to be secretly feeding Thierry blood to get him out of Marcel's garden of walled up vampires. I'm very interested to see what her next step is. She's working on getting the right people on her side, including Davina. With that kind of power at her side, I would say that anything is possible.
I want to say that every episode is my favorite, but they really do keep getting better. Even the Elijah and Hayley scenes were perfect. His smile was flat out adorable when she asked how his day was and he responded, "better now". With his long dead witch of a girlfriend presumably coming back to life soon, this can only mean there's some drama ahead for them. I just hope that Elijah will be forgiving of Hayley, since she was only divulging the information to save her own family.
[Photo via Frederick M. Brown/Getty]