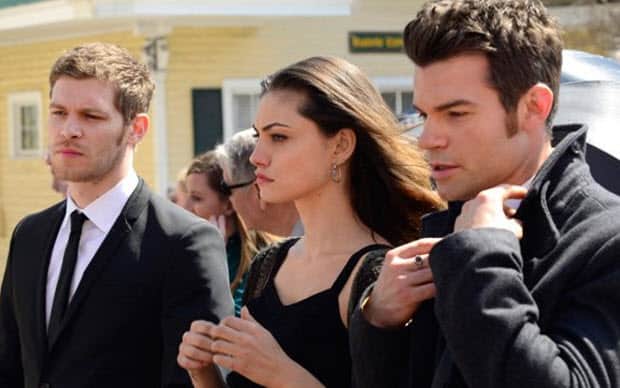 As we get closer to the end of the season, this battle that's been brewing on The Originals all year is so close but first we had to lay the dearly departed Father Kieran to rest. Julie Plec and Carina MacKenzie delivered a flawless episode that I thought was all-around awesome.
Kieran's wake and funeral set the scene for much of the episode. It certainly wasn't a traditional Catholic viewing held in a funeral home. Maybe it's considered an Irish wake to celebrate with the coffin in a bar, no less. I don't understand why Cami had to sit up all night and keep watch over the casket though. The next day a funeral mass was held in the church followed by a procession to the cemetery. Cami must've skipped out on a luncheon after the burial because she and Marcel deducted that whatever Kieran's key opened is probably buried in her brother Sean's tomb.
Last week I was wondering who or what could be coming for that key when Marcel had Josh snag it from the dying priest in order to keep Cami safe. We got some answers, but even more questions about it. Francesca inquired about the key at the wake when Cami was naturally still too distraught over her uncle's untimely death to worry about it. Marcel later fills her in on all he knows about the key, which isn't much other than it unlocks something that can be used by humans against supernaturals if they ever got out of control. With the bad blood among the factions of the city already, it's obviously not the time for the key to fall into the wrong hands.
Interestingly enough, when Marcel and Cami find a box in Sean's tomb that is opened with the key, it is empty except for a secret message scrawled in a language only the O'Connells would understand. For now, Cami's not telling anyone what it says. Hmm! She's friendly with Klaus, and a little more so with Marcel. I wonder if Cami would ever actually resort to using this secret weapon.
Klaus and Elijah have been dreaming of their father Mikael, but they're not the only ones who experience visits from him. Just as I had thought, the Other Side's disintegration on The Vampire Diaries is responsible for his ability to torment his children even from another dimension. He attacks Hayley on the Other Side after Monique put a spell on her that by all means killed her. Elijah noted that she wasn't breathing nor was her heart beating, but he could hear that the baby was still alive.
Hayley fights back against Mikael just as Genevieve is helping Klaus and Elijah to revive her back to life. Afterwards, Hayley realizes that even though she can stand up for herself, it couldn't hurt to move back to the compound as her due date approaches. Klaus was glad to hear of her decision and even shows her the nursery he prepared for their baby. Awww! To complicate things even further, Hayley kisses Elijah after he expresses how upset he was when they nearly lost her. Hallelujah, a Haylijah kiss! I think Hayley pretty much summed up her situation quite nicely when she told Klaus it sounded like a bad reality show with her and their miracle baby living under the same roof as him and Elijah. It will definitely be fun to see how these relationships progress after the baby's born.
Another reason this was such a great episode was how it dealt with Klaus' nerves regarding his impending fatherhood. As he points out to Hayley, he's not entirely new to parenthood. Cue the flashbacks to when he first rescued Marcel as a child from his own torturous father on a plantation. We also saw Marcel's father shoot him later as a free man, and how Klaus made the decision to officially make him a member of his own family when he turned him. Marcel and Klaus are still at odds with each other in the present day, and just as I thought they might make up and be on the same side again, they didn't. Marcel did tell Klaus what he needed to hear though. He didn't know the full extent of Klaus' internal worries, but he probably relieved him of some guilt when they shared this conversation:
Marcel: "You didn't fail me. You raised me. You taught me everything that I know. You taught me that I can't afford to be weak, not when my enemies are stronger. So whatever it is you've got coming with the wolves, just know that I'm gonna fight for my guys. I'm gonna fight for my city, and I will fight when until I am dead."
Klaus: "I would expect nothing less."
As nice as that was for Klaus to hear, I really hope that isn't foreshadowing Marcel dying for the cause by the end of this season!
Last but not least, I have to talk about Davina. She practiced a seance to commune with Tim, but instead her attempt was hijacked by a vengeful Mikael. He proposes that if she brings him back to life, he can "rid you of him [Klaus] forever." Davina's still mad at Klaus for killing Tim, but she really better not be so stupid as to resurrect Mikael. Isn't it common sense to realize that if he was bad enough for Klaus to kill the first time around, maybe he's just bad news for everyone? Fingers crossed that Davina doesn't agree to help him.
Only 2 more episodes left this season! Next week's episode is called "The Battle of New Orleans" so it's safe to assume that things will get intense.
[Photo via The CW]