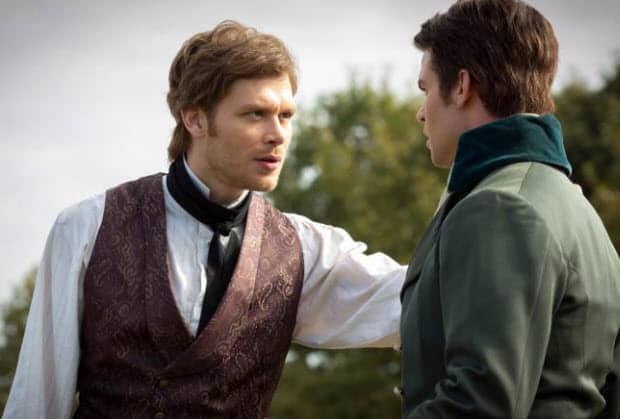 I never thought I'd see Klaus Mikaelson cry. This was a very interesting episode, evoking a psychological study of our favorite mind-controlling vampire. We saw a vulnerable side of him for once, and even though it looks like he's back to his old ways next week, it only means that there's still hope for Klaus' salvation that his siblings have long been fighting for. It just may be that Elijah and Rebekah are the ones who need to change their own way of thinking about their brother. If they can at least start believing that he has nothing but pure intentions for his baby, he might be more forgiving in the future.
Rebekah and Klaus are sharing another awkward breakfast when Klaus finally gets his little sister to open up about why she's been so cold to him lately. Could it be because he bit their older brother? Of course, but Klaus hasn't gone soft yet. "I wouldn't bite you," he states. His chosen method of punishing Rebekah would be a dagger anyway. Rebekah comes back with a sad but true observation ("there is something fundamentally wrong with you") before walking out.
This comment only adds fuel to his fire of words when he has Cami typing up a rant or memoir of some kind (which would be awesome if such a memoir was actually written because he's such an interesting character). He continues spouting the betrayal he feels, not believing how his own family could trust others' opinions of him. Cami must have hit a nerve when she told him that he's the architect of his own unhappiness, because Klaus really does care for her. He then goes to her uncle, Father Kieran, to ask him for help in convincing Cami to leave New Orleans for her own safety. If she keeps poking around, she'll soon find out the truth about her brother's actions, and that knowledge could destroy her. By the end of the episode, it seems like she's almost there. She had been drawing a symbol in a secret code from her childhood while under compulsion to help her figure out what is going on. She cracked the code, and showed her uncle a picture she found from the 19th century of Klaus and Marcel together.
Elijah and Hayley are still holed up in the swamp while he sweats out the fever caused by Klaus' werewolf bite. It is there we discover that Elijah has a power we've never seen yet. He can apparently show Hayley his thoughts and memories by touching her. I'm not sure how or why he can suddenly do this sort of thing, but I guess there's always a chance that we can learn something new about these old vampires. Anyway, we learned that Elijah was once in love with a witch named Celeste and Klaus had her murdered. It is because of these fever dreams that Elijah feels hesitant to get any closer to Hayley. He warns her that there are consequences to those that care, and he doesn't want her to have to pay that price similar to Celeste.
Hayley learns a bit more about her family. A werewolf named Eve tells her that Marcel is responsible for killing most of her family tree. He and fellow vampires hunted the wolves by their crescent moon birthmarks. Whatever wolves did survive, he had a witch perform a spell to swap their true nature to being wolves, so that they can only become human during a full moon. Just as Elijah is healed and ready to return home, Eve leaves Hayley with one last warning to keep her mark hidden for her own safety. This could be tough to do now that Klaus is taking her with him to his old house that Marcel has been living in.
Klaus walks into Marcel and Rebekah's set up to take him down. He appears to be outnumbered by dozens of Marcel's army of vampires, and for a second when he is beaten down and tied up, I did feel sorry for Klaus. Clearly the vampires underestimated his werewolf side, because once he allows them to get their hits in on him, he breaks out of his chains and starts killing every vampire he can get his hands on. Rebekah urges Marcel to surrender because she knows Klaus will not hesitate to kill everyone, including Marcel. Tired and defeated, Marcel surrenders. He pledges his allegiance to Klaus, thereby giving him his throne back. But now what? Marcel only did that out of fear and loyalty to his friends, and as he later points out to Klaus, Klaus will never have that kind of loyalty from anyone.
So where does this leave Klaus? He's the "king" of New Orleans again, but in his eyes he's lost his family in the process. In an emotional scene with his siblings, Klaus pours out his heart to his brother and sister, letting them know how much they've truly hurt him. I really feel so bad for Klaus now. He even said it himself that he makes no excuses for his past sins, but Rebekah and Elijah were so quick to underestimate and betray him, not believing that he could actually care for his baby with no ill intentions. Rebekah pointed this out: "Has history taught you nothing? We don't abandon you, Nik. You drive us away." While that is a valid point, Klaus still wins this argument in my opinion. He's not even driving them away anymore, he's just giving up. He simply hands the white oak dagger to Elijah rather than using it on either of them.
Klaus won't let this moment of weakness keep him down at all. Next week it looks like he'll be encouraging a wolf hunt. Even though Hayley begs him to stop because they're her family, he's still probably sore that his own family could have betrayed him so he's taking it out on the wolves. At this point, the only thing the Mikaelson siblings have in common is their love for Hayley and Klaus' baby. I just hope that they can eventually work together to keep Hayley and the baby safe, as the baby is the only glimmer of hope in their family.
What did you think? Where does you allegiance fall in the Mikaelson family?
[Photo via Facebook]