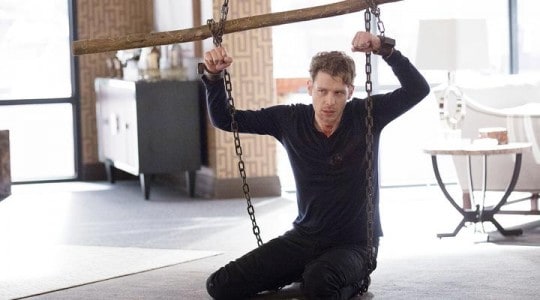 Lucien and Aurora begin their new chapter of vengeance together by torturing Klaus on The Originals last night. It's always tough to see the Original hybrid rendered so powerless but there's no doubt this is only the start of another all-out war.
Elijah comes through as best he can for his brother, by meeting Lucien's demands of him. Of course Lucien had ulterior motives to kill him as a favor for Aurora. The Aurora/Lucien love story never was all too believable in my opinion. Even when they were humans, Aurora was so fixated on Klaus that she never gave Lucien a chance. I just love how Klaus knew Lucien had a nanny cam set up in his loft to catch Aurora's real thoughts about him on tape. Klaus might've been the one chained up but he managed to hit his enemy where it really hurts anyway.
Lucien isn't wasting time drowning his sorrows over Aurora's unrequited love though. He's an old-fashioned guy and sees an eye for an eye as fair revenge. Aurora wasn't killed – in fact she can't be unless/until she's drained of the serum to turn her into an OG hybrid like Lucien. Things aren't looking so good for Cami by the very end of the episode. As much as I love her and Klaus' non-relationship, I don't think she should survive this attack. How many times can she die and be saved in one season? Something needs to stick, and the vampirism loophole card was already played. If she does in fact die in the next episode, I hope Klaus gets the closure and acceptance he needs.
All this talk of Lucien being the big bad might be a bit of a red herring for the final stretch of episodes coming up. The witch ancestors are really the ones pulling the strings here, and I don't know how it's possible to fight an invisible source of power fueling your enemies. This will be an uphill battle for the Mikaelsons from now on, including an internal battle when it comes to Kol. The poor guy's monstrous growls when he can't leave the city limits of New Orleans without starting to dessicated actually made me feel sorry for him. He was trying to do the best thing for Davina and get away to protect her from him, yet he's trapped. The ancestors already view Lucien as this all unstoppable weapon. Once they get a true Original under their complete control, the prophecy of the Mikaelson downfall will come true.
How do you see the rest of this season playing out?
The Originals Season 3 Episode 18 Review: "The Devil Comes Here and Sighs"
Summary
Lucien and Aurora's new chapter of vengeance together isn't all it's cracked up to be on the Originals.