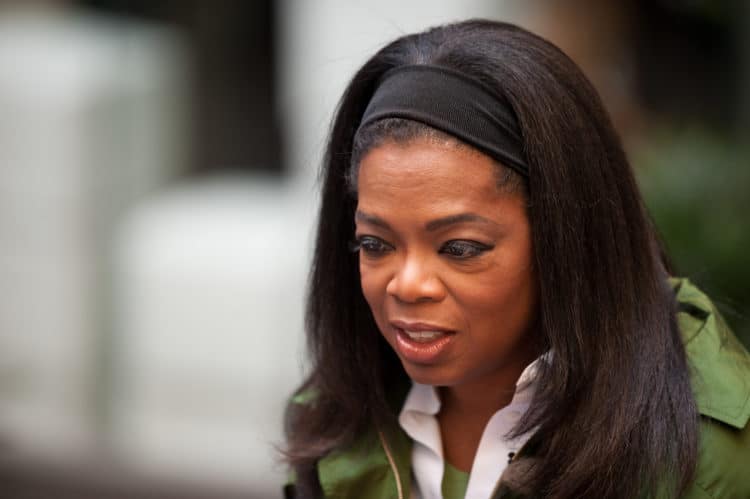 When someone says you are the Oprah to their Gayle or vice versa, it simply means you are likely to have more than forty years with them or already have so many years in that they consider you family. The friendship between Oprah Winfrey and Gayle King began back in 1976 when both of them worked for a Baltimore television station. At the time, they were in their early twenties. Oprah worked as a news anchor, while King was a production assistant. One time, there was a snowstorm and Oprah made Gayle an offer to stay at her house, even though they didn't know each other well. Gayle was hesitant since she didn't have any clothes to change into. " You can wear some of my clothes, " Oprah said. As kindness is her nature, Oprah went further to offer Gayle some of her underwear, given that they were the same size. " I'll stop at the drug store, we'll buy a toothbrush." Oprah added. That night, they found they had so much in common: " We had similar philosophies, similar interests, liked the same people, and we've been friends ever since." Gayle said in a past interview.
Through the years, Oprah and Gayle have served us friendship goals so authentic, it's almost difficult to see a life without them together. We've seen them use the internet for the very first time, receiving emails from Hillary Clinton and Bill Gates himself. One time, Oprah and Gayle went back in time and showed us how it was to live in the 1600s. On The Oprah Winfrey Show, Oprah and Gayle have read each other's love letters and revealed their worst dates ever. It is baffling to see how much of life they have seen each other through. Asked what has sustained their friendship through the years, Oprah said, " One of the reasons we've remained friends is the same thing that I tell people: surround yourself with somebody who is as happy for your happiness as you are for your happiness. Over the years, Gayle has always been happier for my happiness."
The Ultimate Friendship Test: A Road Trip
Back in 2006, Oprah and Gayle had the ultimate friendship test; a drive around parts of the United States. The trip fulfilled Oprah's dream of seeing the United States. So, off they went in a top-down red Chevrolet, inspired by a Chevrolet commercial. Their journey began in Santa Barbara, California, and was set to take place over the course of ten days. Their final destination was New York City, and their arrival was scheduled to be in time for the Tony Awards. Even though they had been friends for a long time, Oprah said she and Gayle hadn't been that close for that number of days. Through the course of their journey, a lot of what they liked and didn't like as far as being on the road is concerned, showed itself. For Instance, Gayle liked to drive whilst listening to music, while Oprah loved to 'be with my thoughts.' Similarly, Oprah didn't like to drive in the night, neither did she like to pass trucks.
Along the way, Oprah and Gayle stopped over at Wichita, Kansas, where they played a game of Bingo. On the sixth day, they got lost but stumbled upon real-life cowboys on the range. Oprah and Gayle spectated as the cowboys, Justice and Cody, put their horses to work. " God, I love to see a man on a horse, " Oprah said, to which Gayle replied, " I know." They then crashed a wedding in Oklahoma, where the bride, Bethany, was speechless upon Oprah's and Gayle's entry. " We wanted to say congratulations to you," Gayle said. At first, the bride's mother was skeptical, but when Oprah lifted her wide wedding hat, she went berserk. Oprah and Gayle were almost reaching the finish line after 3000 miles when Gayle pulled a fast one while driving on a bridge; she couldn't find her glasses. Nevertheless, they made it to New York. Asked what she learned on that trip, Oprah said: " I'm thinking 'I can't believe this freaking thing is over' that's really what I'm thinking, and there's a little bit of excitement about it. It was wonderful in the category of experience and to know not to do it that way ever again. I learned a lot about myself. I learned I should just drive alone. That's what I should do."
A 2021 Joy Ride!
15 years after they first set out on the road, Oprah and Gayle are back at it. This time, they are taking a trip as part of a segment dubbed 'The OG Chronicles' off of Oprah's rebranded magazine, Oprah Daily. Unlike the first time, Oprah and Gayle's trip is limited to Santa Barbara, but we expect to see the same adventure come to play, maybe with some new twists, since there's been a lot of time in between. Not only are Oprah and Gayle taking a ride, but they are also taking questions from best friends and answering them. Oprah and Gayle's first question came from Anderson Cooper and Andy Cohen, besties for 20 years, who asked, " Anderson and I travel a lot together. We have the best time, but there are always moments when I think he's going to ditch me. I can't tell you how tickled I was by every one of your road trips and there were always moments where Oprah seemed done with Gayle. Car singing comes to mind. What is the moment that sticks in Oprah's mind when she was the most annoyed with Gayle?" "
You saw the moment Andy" Oprah replied on the first episode of their 2021 joy ride. A clip rolled of Oprah ordering a helmet back in 2006. " Can you buy me a football helmet, please?" Oprah asked on a radio phone. We can all agree that Oprah's biggest pet peeve is music in the car, and she does like to be alone with her thoughts. As more episodes of the 2021 joy ride role, we're looking forward to seeing what more she's irked by along the way, as Gayle continues to be her cheerful self.