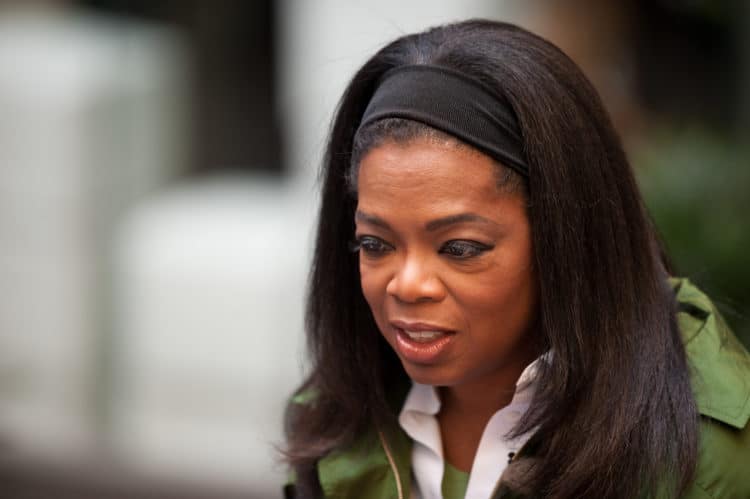 Oprah Winfrey is a woman who needs no introduction. She has been in the game for the longest of times. None knows this too well than a fellow icon, Will Smith, who, in conversation with Steven Colbert, put Oprah's influence into perspective. In an interview following the reveal of sound stages at the Tyler Perry Studios, Smith said: " Oprah got the big stage at the end. That's the one. The Oprah Winfrey Sound Stage. She's Oprah, you know. Cause I was happy with mine [sound stage], you know. Then I saw Oprah's…And you know what's interesting about Oprah? Oprah has been famous so long, that whoever is there when Oprah is there, you're her assistant. You just have to help Oprah. Like, Oprah will just start walking, and you feel like you have to assist… I've seen Barack [Obama] get Oprah something to eat." From The Fresh Prince of Bel Air's description of 'the Oprah effect,' no introduction would do justice to Ms. Winfrey's journey other than her own. The summation of Oprah's legacy can only be done in her own words, through a letter she wrote to her 20-year-old self, as part of CBS's Award-winning series, Note to Self:
Dear Beautiful Brown-Skinned Girl,
And I use the word beautiful because I know, that's never a word you would call yourself. I look into your eyes, and I see the light and hope of myself. In this photo, you're just about to turn 20, posing outside the television station where you were recently hired as a reporter. You look calm. You look happy, but I know how scared you are. If I could say anything to you, it would be, 'relax, it's gonna be okay, girl'. You are proud of yourself for getting this job, but uncertain you'll be able to manage all your college classes before 1.00 and arrive at the station by 1:30 for a full day's work. Even so, your biggest concern is how to manage your love life with Bubba. Yes, you are dating someone named Bubba. On this day you've brought him to the station to see where you work, hoping he'll be proud, too. He seems less than impressed. The truth is, he's intimidated. You don't know this, though, because you can see yourself only through his eyes. A lesson you will have to learn again and again: to see yourself with your own eyes, to love yourself from your own heart.
You've spent too many days and years trying to please others and be what they wanted you to be. You will have to learn that the wounds of your past—rape, molestation, whippings for "stepping out of place," and not being allowed to show anger or cry afterward—damaged your self-esteem. Yet through it all, you've held on to a belief in God and God's belief in you. That will be your single greatest gift: knowing there is a power greater than yourself and trusting that Force to guide you. The trajectory of your life changed the day you answered the call from Chris Clark, the news director at WLAC-TV. Your response was ignited by the words of your then-favorite Bible verse, Philippians 3:14. "I press toward the mark for the prize of the high calling of God in Christ Jesus." Knowing there is a "high calling" is what will sustain and fulfill you. From where I sit now, viewing your journey, there are few regrets. Only months before this picture was taken, you wrote a poem about a "woman becoming." Even then you understood that success was a process and that moving with the flow of life and not against it would be your greatest achievement. Love you deeply, Oprah.
Celebrating 35 Years Since The Debut Of 'The Oprah Winfrey Show'
On the 8th of September, 1986, The Oprah Winfrey Show made its national debut. Asked how she felt about the show, Winfrey said: " It will do well. And if it doesn't, I'll still do well. Because I am not defined by a show. I think we are defined by the way we treat ourselves and the way we treat other people. It would be wonderful to be acclaimed as this talk show host who's made it. That would be wonderful. But if that doesn't happen, there are other important things in my life." Lucky for Oprah, the show did well nationally, and, for twenty-five years she stayed on top of the game. Her formula for success was simple: " Every time, I would feel like…' alright, we've gotta step up our game.' The way you step up your game is not to worry about the other guy in any situation. Because you cannot control the other guy. You only have control over yourself. It's like running a race. The energy that it takes to look back and see where the other guys are doing takes energy away from you."
In celebration of 35 years since the debut of The Oprah Winfrey Show, O Magazine, now named Oprah Daily, shared a clip of Oprah's very first day on the job, accompanied by a heartfelt caption. "35 years ago today The Oprah Winfrey Show premiered—and the rest is history! To celebrate, we have the journal entry Lady O wrote the night before the show debuted. You know, before her life changed forever. In it, she reflects on what the future might hold. Tap the link in our bio to hear Oprah, in her own words! And happy anniversary to The Oprah Show." Part of Oprah's journal entry read: "Midnight, exactly eight hours before my national first show. I keep wondering how much my life will change if it will change, what all this means. Why have I been so blessed? Maybe going national was to help me realize that I have important work, or that this work is important. I just want to acknowledge to the universe right now…to God in all his glory, my praise, and thanksgiving for this experience." Not only did Oprah's own life change through her work, but millions of other lives have also been changed. She has aligned her personality with her purpose, and in turn, paved the way for an entire generation to do the same.The Fresh Prince of Bel Air
Tell us what's wrong with this post? How could we improve it? :)
Let us improve this post!