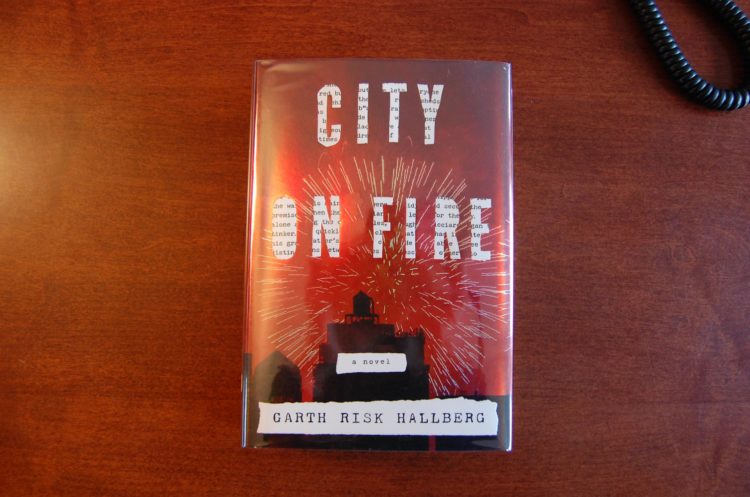 Apple TV+ is snatching up new shows and movies just as much as any streaming site at this time and City On Fire, while not yet adapted for TV, is one of their newest acquisitions as the novel, written by Garth Risk Hallberg, was held up as one of the best books of 2015 and caught the eye of the right people apparently as the subject is going to be the basis for a new series that will be developed by the streaming site. The brief synopsis tells of the shooting of an NYU student named Samantha on the Fourth of July in 2003, and as the crime is investigated it sheds a light on her connection to several city-wide fires that have taken place, the music scene in the downtown area, and a wealthy, uptown family that is slowly but surely falling apart due to the many secrets they've kept for too long. That alone sounds like something that could fuel a series for a while and it's fair to state that it might be an enticing story. The mysterious aspect of the tale is intriguing enough, but fleshing it out is bound to make the story pop just a little more.
There's no doubt that the series will be given some relevance to the current era as well unless it's kept back in 2003, which could happen. At this time many stories that have a tale of some sort of unrest within America are becoming rather popular, though many are still clinging to the fantasy and science fiction stories since they offer a pleasing escape that gets people away from the real world. Fictional stories have been highly valuable for a long time, but in certain eras, it's been seen that they might become less important or more important based on the message they send and the story they tell. The whole judging a book by its cover or title saying is very accurate, but City on Fire definitely grabs the attention and makes it clear that there's something going on that demands to be noticed.
How this story will play out on the screen is anyone's guess at this moment since there's no telling how much of the story will make it in and how much will be altered in order to fit the director's idea of what should happen and why. This is one thing that show business is good at, which is taking a story that might be fine just the way it is and condensing or altering it in some way that will change things just enough that it might not be as recognizable. In some cases, the book version of a story has been faithfully kept and altered just enough here and there to fit with what the director, writers, and producers want, but a lot of times there are plenty of changes that authors might go along with and not entirely approve of, or might not like at all. Given that City on Fire is about a rather touchy subject that could be blown wide open it's very likely that a few things will be changed here and there, and that the story could possibly be altered from its original form.
But there's always the chance that within the eight episodes that have been planned that things won't be altered so much that the story can't be recognized. After all, not everyone in show business that picks up a book is of the mind that they'll alter everything so much that it won't look like the original story. There have been movies and TV shows that have been based on books but don't have much resemblance to them, while others feel like they've been blatant ripoffs. But as far as City on Fire goes we'll just have to wait and see what happens since it's bound to be a while before this project really gets underway. Once it does though it's very likely that there will plenty of information forthcoming such as cast, release date, and so on and so forth. With so many books out there that are attracting the attention of one person or another, it's possible that there are more potential projects being considered than many people know about.
So far the only information that's really known is what's being passed around from site to site, as is pretty common when a new idea comes out. But while this particular idea might take a step back for a while so that it can continue on its way to development, plenty of others are coming from Apple TV+ as well as many other streaming sites as the summer continues to roll on with plenty of hit movies and shows that people can't wait to watch. City of Fire will join that list eventually, but not quite yet.