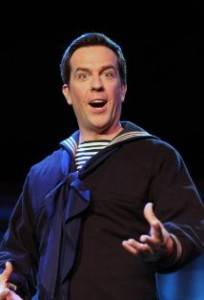 If only I had followed Andy's (Ed Helms) advice about using show tunes to pick up women when I was younger. The valuable lessons we learn from watching TV.
It may not have been the funniest episode so far in the early part of the season, but it certainly had the most heart. It's always endearing to see these characters try so awkwardly to connect, or in this case reconnect, and Andy and Erin (Ellie Kemper) are my favorite non-couple. Through their developmentally challenged innocence, they manage to channel the purest form of courtship. It's like going back in time to when you were in elementary school waiting for that valentine…only to find out that the little red-haired girl forgot your name.
It's always particularly gut-wrenching when Andy gets his heart ripped out. Like watching someone beat up the Easter Bunny. So it felt good to see Michael (Steve Carell) overcome his infantile jealousy long enough to gather the troops in support of one last song.
Dwight (Rainn Wilson) and Angela (Angela Kinsey) are more complicated. Theirs is a Machiavellian romance, with neither willing to give any ground. Tonight Angela played Dwight like a cheap testosterone fiddle. We always want what we can't have. Especially when it's dressed like something out of a sea catalog.
It's a difficult challenge to keep these characters fresh after seven years. Yet The Office manages to do it again and again by appealing to our most basic instinct: the need to be loved. Its genius is in understanding that the ways in which we go about it are infinite, typical childish and usually painful to watch. Whether we perform an entire Law and Order episode in order to get a bit part in a local community play, or check our cell phone on stage for the smallest signs of affection, we can relate because all of us have done something perhaps just as stupid in order to know that someone cared about us.
Perhaps tonight's funniest moment was it's shortest: Creed (Creed Bratton) calling in a review of the play. Creed takes my top vote for the person to next manage The Office. Now that would be funny.
Grade: A-
Tell us what's wrong with this post? How could we improve it? :)
Let us improve this post!