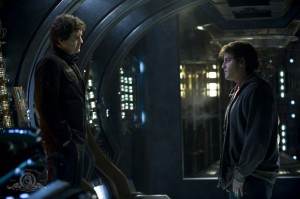 The ending for Stargate Universe was just that… an ending. However, "Gauntlet" doesn't necessarily have to be seen as just a 'ending,' just an ending 'right now' for the Stargate franchise in general.
Earlier, I wrote my thoughts on how I felt that with a bit of tweaking and editing in the story, "Epilogue" would have served as a better conclusion to the series than what was proposed to have been a cliffhanger ending with tonight's "Gauntlet." Let me shamelessly take those words back, eat them, and ask for seconds, because "Gauntlet" served as a perfect series finale for a show that was cut right when it started to find its walking legs.
From the title of the episode down to the interactions between the characters tonight, Stargate Universe "Gauntlet" gave the sense that Joseph Mallozzi, Brad Wright, and crew knew that the end was coming and if they didn't then they surely fooled the hell out of me. As stated before, reports of tonight's episode gave fans the inclination of being a season ending cliffhanger with everyone's lives in the balance. I came into the episode expecting another space battle with the Drones with maybe a couple of people's lives being in danger to wrap up the series, leaving several plots dangling with nothing being solved, which in turn would frustrate viewers for years to come. Instead, I witnessed proper farewells, few loose ends, and most importantly, some sense of closure.
On top of all that, I seriously couldn't ignore the irony within the episode given the circumstances of the overall picture of the Stargate franchise in general. Let me explain. The crew was met with opposition from the Drones, which had pretty much planted themselves at every viable gate on the path ready to attack when the chance came. In our world, Stargate Universe was met with tons of opposition from fans and critics alike and was attacked from all cylinders when the opportunity raised itself. The crew of the Destiny came up with a solution to bypass the attacks, they should go into stasis for about three years. The Stargate franchise has been put on hold indefinitely until someone finds the right time to return it to our television and movie screens. Do you see a pattern here? Plus, you can't help but notice how the series regulars were the last to go into the stasis chamber, so they could have their final moments together. The scene fit perfectly with the finality of it all and Col. Everett Young's speech to his crew/family sealed the deal that this was a final goodbye.
The final hour didn't disappoint in terms of closure and wrapping up things in a loose, but nicely dressed bow. The Lucian Alliance thing never got a feasible conclusion, but I seriously never understood how the crew of the Destiny could have helped in that fiasco after dumping most of the Alliance members on a planet and not being on Earth to help in the invasion itself. Sure, communication stones could have been a conduit to assist in stopping the invasion, but I digress. We had closure for lot of characters, for instance Camile having time to tell Sharon to move on, Matt being able to see his son one last time, and Dr. Lisa Park being able to see one last time before going into a deep sleep. All of those moments, and more, served as a satisfying conclusion to characters we've come to know in the last two years and Stargate Universe in general.
But the most satisfying character conclusion for me had to have been that of Eli Wallace, because it made sense for us to end with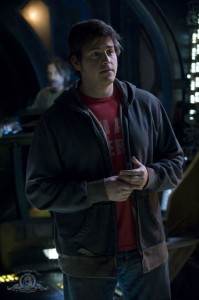 him since he was basically the audience's 'avatar' into this adventure. He was the heart of the show and it was a nice touch to end with him gazing at the stars of what could possibly be ahead of him. Plus, a little voice inside my head is still telling me that Eli found a way (or will find a way) to fix the his stasis pod and is sleeping right along with his newfound family, because as he stated in the episode, he is smarter than Dr. Rush and more reliable when the going gets tough. At least he won't try to jettison who he thinks is the least valuable to the overall mission.
There is so much to go on with this finale, but I will save some of it for the upcoming Two Guys Discuss Stargate Universe with our editor Jon Lachonis so I will wrap this piece up with a last few thoughts. First, the shutting down of the Destiny was like the closing of the Stargate franchise in general. Very nicely done. Secondly, if SGU was renewed for a third season and this was the season finale, I don't think it would've held such an emotional punch, unless we knew some characters wouldn't wake from that slumber. This is why I feel as if the writers went back to the drawing board once the cancellation was announced and wrote a proper ending. Albeit, I could be wrong, but at least, again, we got closure. Finally, the "Gauntlet" might have come down on the Stargate franchise, but after watching this episode, I don't think of it as being 'completely' dead right now.
It's just in stasis at the moment.
See you on the other side, folks! Hopefully…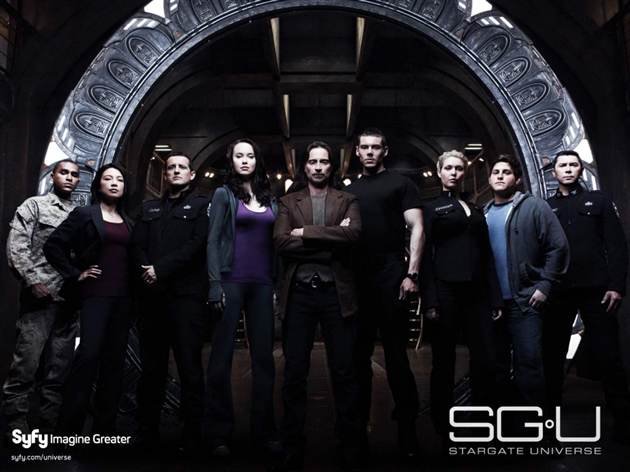 Tell us what's wrong with this post? How could we improve it? :)
Let us improve this post!