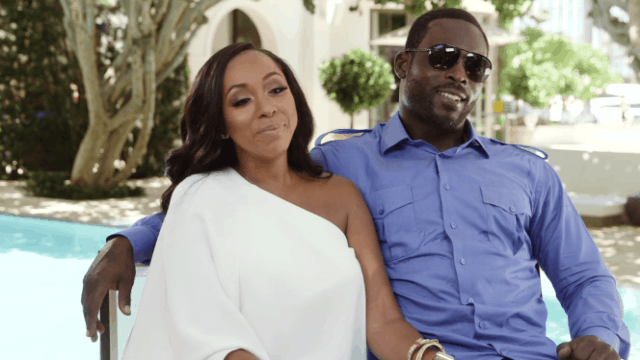 Baller Wives is a new VH1 reality series that follows the lives of the wives and girlfriends of professional football players who are in the National Football League. Starring in the show is Miko and Brent Grimes, Kelly and Julius Jones, Aja and Channing Crowder, Stacey and Chris Chambers, Kijafa and Michael Vick, and Jeniva and Asante Samuel. Three other cast members who will feature throughout the series are Crystal, Miko, and Emmaly. Viewers get an insight into their relationships, luxury lifestyles and home lives. The show, which is based in Miami, premiered on August 14, 2017. Here are five facts about 'Baller Wives' that you might not know.
1. Stacey Chambers Was Arrested for Stalking
Before marrying Chris Chambers, a retired wide receiver for Miami, Stacey was his mistress. She harassed Chris' first wife and other members of his family, including his mother-in-law and sister-in-law. Stacey was arrested and Chris took out a restraining order even though they continued to have an affair. Despite this, her perseverance paid off and Chris finally left his wife and married Stacey as soon as his divorce was finalized. The couple are now happy together and they have two daughters, Crystal and Chanel.
2. Miko Grimes Has a Crazy Streak
Miko Grimes is well-known for having a crazy streak and for her attention-seeking antics when she attends games in which her husband Brent's games. He has said that her craziness is one of the reasons why he married her. Their relationship has had many ups and downs and Miko even finished with Brent just three weeks into their relationship as she had accused him of being gay. Brent's family do not like Miko and it has put a strain on family relations.
3. Kijafa and Michael Vick are Co-Producers of the Show
In addition to starring in the cast of 'Ballers Wives', Kijafa and Michael Vick are co-producers of the show. For this reason, they know all the deepest and darkest secrets of all the other cast members. However, they also have their own secrets and troubled history. Just one year into their relationship, which began in 2002, it was reported that Michael had an affair and gave his mistress a sexually transmitted infection. Kijafa forgave him and they married in 2012.
4. Kelly and Julius Jones Share an Instagram Account
Kelly and Julius Jones have one of the strongest and most stable relationships on the show. In fact, they are so close that they share an Instagram account. The couple married in 2009 and have two sons together, who Julius refuses to allow to play football.
5. Emmaly Has a Famous Baby Daddy
Emmaly is not one of the main cast members but she will appear repeatedly in the show. She is a former video vixen and a self-confessed party girl. She is also a single parent to two children. It is reported that the father of one of her children is Larry Fitzgerald who is an American football wide receiver who plays for the Arizona Cardinals in the National Football League.