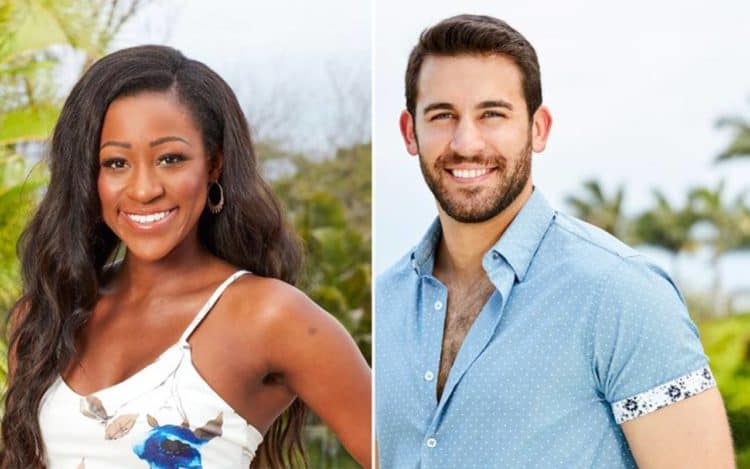 Finding true love can be a daunting task, and sometimes we need a little nudge in the right direction. Bachelor in Paradise season 6 aims to do just that, bringing singles together once again in a season that premiered on August 7, 2019. Let's take a look at the hopeful romantics we can expect to see on this emotional rollercoaster.
Bibiana Julian: A Change of Heart
Bibiana once claimed she was off the market and wouldn't return to Bachelor in Paradise, believing she had found her soulmate. However, it seems she may have jumped the gun, as she's back on the show searching for Mr. Right.
Sydney Lotuaco: A Woman Who Knows What She Wants
Professional dancer Sydney is on the hunt for something real and magical. Her maturity led her to leave Bachelor season 23, as she felt Colton wasn't the right man for her based on the women he chose to keep. With a clear vision of her ideal partner, Sydney might just find her match this time around.
Tayshia Adams: Can She Overcome Commitment Issues?
Tayshia's history suggests she may struggle with commitment, and it's uncertain whether Bachelor in Paradise will change that. After leaving her boyfriend of 10 months to pursue a stranger on The Bachelor season 23, we can only hope Tayshia discovers what she's truly seeking among the men in paradise.
Onyeka Ehie: A Bold and Unapologetic Woman
Onyeka, who has never been in love before, was willing to give Colton a chance and openly discussed her bedroom prowess. It will be interesting to see which man is ready to take a chance on this self-proclaimed weird and obnoxious woman, who also desires a Christian guy.
Wills Reid: A Fan Favorite
Wills captured the hearts of many viewers, who hoped he would become the Bachelor if he didn't find love on The Bachelorette. Unfortunately, that didn't happen, and now he must choose his life partner from the lovely ladies on Bachelor in Paradise. If he leaves the show without a partner, perhaps he'll make history as the first African-American Bachelor, if the producers listen to the fans.
Nicole Lopez-Alvar: Searching for the Real Deal
Nicole admits there's no shortage of single men in Miami, but she's looking for something more than just a hookup. After being eliminated in the fifth week of her previous Bachelor stint, she's back to try her luck once more.
Kevin Fortenberry: A Man with a Past
Kevin's past DUI arrest may hinder his chances of finding love, but everyone deserves a shot at redemption. Hopefully, the women on the show won't judge him too harshly and will give romance a chance to blossom. His impressive six-pack might just help sway a few hearts.
Demi Burnett: Learning from Past Heartbreak
Demi experienced heartbreak when Colton eliminated her shortly after she confessed her love for him. This time around, she should take things slow and gauge her partner's feelings before baring her soul.
John Paul Jones: A Charming Enigma
John Paul didn't seem particularly interested in winning Hannah's heart, so it's no surprise he didn't succeed. However, his charm is sure to captivate one of the ladies on the show, with many fans speculating that Demi Burnett could be his perfect match. Only time will tell, as hearts often have a mind of their own.
Cam Ayala: A Man with a Tarnished Reputation
Cam initially won Hannah's favor, but his past has since been exposed, revealing some less-than-glamorous details. Despite this, we hope these revelations won't stand in the way of his pursuit of happiness on Paradise.
Clay Harbor: Back on the Market
After a seemingly blissful seven-month relationship with Angela, Clay is once again single and ready to mingle. Having previously put his search for love on hold due to an injury, we hope nothing stands in his way on Bachelor in Paradise.
Blake Horstmann: A Man Who Never Gives Up on Love
Blake experienced heartbreak when Becca rejected his proposal in favor of Garret Yrigoyen. Undeterred, he's heading to Mexico to give love another shot.
Katie Morton: A Woman Ready to Settle Down
Katie competed for Colton's heart in Bachelor season 23 and later returned to help Hannah on The Bachelorette as her spy. She stirred up drama by warning Colton that some of the remaining women weren't ready for marriage. Now that she believes she's ready to settle down, let's see if she finds her ideal man on Paradise.
Derek Peth: Searching for Love After Heartbreak
Derek thought he had found his happily ever after with Taylor Nolan, but their engagement ended in June 2018. While Taylor has seemingly moved on, Derek is looking to find love once more on Paradise.
Chris Bukowski: A Man with a Reality TV Past
Despite appearing on multiple seasons of The Bachelorette, Bachelor Pad, and Bachelor in Paradise, Chris has yet to find his dream woman. He's back on the show, even though he previously claimed that reality TV nearly ruined his career and life.
Caelynn Miller-Keyes: A Brave Survivor
The former Miss North Carolina USA has openly discussed her sexual assault experience. Instead of shying away from relationships, Caelynn is courageously living her life to the fullest and is ready to make memories in Mexico.
Annaliese Puccini: Overcoming Childhood Trauma
Annaliese struggled on The Bachelor due to her childhood experiences, which prevented her from participating in some group dates. With no connection forming as a result, she's determined to give love another shot on Paradise, hoping her past won't hold her back.
Jane Averbukh: A Second Chance at Love
Jane appeared on Bachelor season 23, but was eliminated in the first week before we could see if Colton would warm up to her. This time, she might have better luck and leave the show with her soulmate.
Hannah Godwin: Letting Love Take Its Course
Hannah has asked fans to stop pressuring her into a relationship with Blake. Now that both are on Bachelor in Paradise, we'll let their hearts decide their fate.